Weekly Updates Vol.6 (2018/12/15 – 2018/12/21)
Weekly Market Review
As of 18:00 GMT on Friday (December 21st),the total market cap of cryptocurrencies reached 132.771 billion dollars, and transaction volume of cryptocurrencies reached 27.03 billion dollars. Compared with last Friday (with a total market cap of $105.079billion and 24h trading volume of $11.895 billion) the total market cap rose about 26.4% and transaction volume rose about 127%.
The price of mainstream cryptocurrencies is rising rapidly, which is shown in the following table.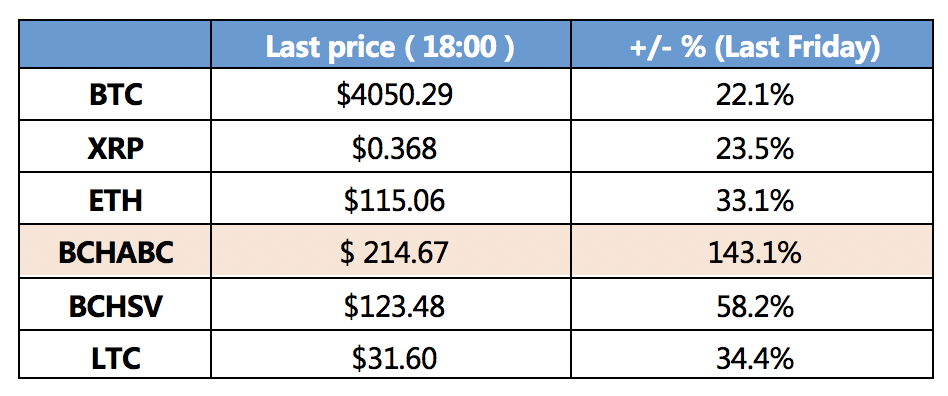 Weekly Industry News
Brazilian Football Club Launch Crypto Token for Fans
Atletico Mineiro – a Brazilian Premier League club – is making the news for creating its own Galo Coins, which is a crypto for fans. It can be used to buy match tickets and merchandise as well as obtaining numerous discounts at the club.
BitUSD Divorces Wildly From $1 Target
According to recent market data, bitUSD, an elder stable coin with a similar design and functionality to Dai, is currently worth 30% less than the dollar it was intended to be worth of. BitShare, the platform designed to issue BitUSD, works id that if the network lacks liquidity for the shares issued, the tokens automatically go into "global settlement" mode. The means they can no longer be issued. All than can be done at this point with BitUSD token is a redemption against BTS—currently at a rate of about 70 cents on the dollar.
The First Cryptocurrency Payment Platform in Hong Kong
On Dec.18,CSPay – a third-party cryptocurrency payment platform – announced to enter the Hong Kong Market. This payment platform will accept cryptocurrency recharge and users can use the mobile App to make payment. Meanwhile, people in Hong Kong can buy bitcoin directly on the platform with their credit card.
67% People in England Preferred Receiving Christmas Gift through Digital Currency
Recently,Bank of England, the Central Bank of United Kingdom conducted a poll on their official Twitter handle regarding digital currencies. The central bank laid out the question on people's most preferred method of receiving money this Christmas. The options that were laid out by the bank were cash, bank transfer, gift voucher, and digital currency.
The result slowed that the majority of the partakers preferred receiving theirChristmas money through digital currency as the option received a whopping 67%votes. The second most preferred money was cash, which received over 23% votes.Bank transfer got placed in the third position with over 8% votes and gift voucher turned out to be the least preferred with 2% votes.
Policy Tracking
Egypt's Central Bank is Studying the Issuance of Digital Currency
The central bank of Egypt wants to introduce a digital version of the Egyptian pound to reduce costs. Ayman Hussein, sub-governor of the Central Bank of Egypt (CBE), told an Abu Dhabi conference on Sunday that "feasibility studies" were currently ongoing.
This Brazilian Bank Is Using Ethereum to Issue a Stablecoin
Revealed exclusively to CoinDesk, the Brazilian National Social Development Bank will launch a pilot in January2019 for the BNDES token, which runs on the Ethereum blockchain and is backed1-for-1 by Brazilian real. The bank has been experimenting with the stablecoin throughout 2018 and will now use it for tax-deductible contributions to cultural institutions.
Russians to Be Allowed ICO Investments up to $9,000 per Year
Russian lawmakers have revised another bill regarding the regulation of the industry built around cryptocurrencies. In its latest version, the draft law on crowdfunding sets the maximum amount of money ordinary Russians will be permitted to invest in projects such as ICOs at less than $9,000 per year.
France Rejects Crypto-Friendly Tax Amendments
The French National Assembly rejected a number of tax amendments designed to benefit cryptocurrency traders and users on Monday, local media reported.One of the rejected proposals concerns the increase in annual tax exemption from €305 ($347) to either €5,000 or €3,000.
Promotion
CoinCola is starting the official countdown to Christmas with daily BTC giveaway and a week of LIVE contest in the grand prize! Now,the countdown has begun. It's our 13 days of MEGA giveaway- everybody wins!
Last Friday, CoinCola was launched support for the XRP. Until 31st Dec, Users can get 50% off of the transaction fee, and extra bonus for trading.