Bitcoin Faucets: How to Earn Free Bitcoins in 2019?
Faucet is a system that rewards users when they perform a certain task as stated. Specifically for Bitcoin faucets, users earn Bitcoin in exchange of services they provide to the faucet websites.
Get bitcoin "for free"
Users can earn free bitcoins from a bunch of Bitcoin faucets out there. Normally, these sites require users to complete a small task such as loading a page full of ads, watching videos, filling out a survey. Upon completion, sites will pay out a small amount of BTC to the user as a compensation. The amount of reward depends on each website. It usually varies from 10 Satoshi (0.0000001 btc) to 10000 Satoshi (0.0001 btc). The first bitcoin faucet model was created by Gavin Andresen in 2010, with 5 bitcoins per capita, of course the amount was corresponding to the price of Bitcoin at that time. Today, bitcoin faucets quantity is generally modest that does not necessarily make you rich but it adds up overtime. In fact, most faucets only release the reward to users once they accumulate certain BTC in their ledgers.  
BONUS1: Get $5 Bitcoin Instantly After You Buy Bitcoin With A Gift Card.
Competitve Business Model
The high entrance of obtaining the first BTC seems daunting to many people. Comparing to investing in crypto mining machine or even exchange BTC with fiat currency, bitcoin faucets allow beginners to get a taste of gaining certain amount of Bitcoin easily. As the cryptospace continues to grow, more people see the opportunity in building these low starting cost website to make money through traffics and use Bitcoin as a reward for the contributors. In fact, if a faucet website was to provide more values to the users such as the wallet function, crypto faucets would have grown in a tremendous rate given the popularity of crypto in many developing countries.
Gaining traffic is easy, but it is more challenging to maintain a sustainable development of this business mode. Here are some concerns with starting a bitcoin faucets: In order to run the website smoothly in face of the fierce competition, the advertising income has to cover the bitcoin faucets expenses.
The website should be able to generate profit by providing value-added services in the content or other unique competitive advantages so as to evolve the business model.
This model also faces risks from website operations and hacking attacks. There have been many cases where users reported cases of wallet thefts.
Cashing out BTC Reward
Most faucet websites only accumulate BTC within your account but do not necessarily provide a wallet for you that can transfer or use in reality. A secure wallet and platform to trade BTC are imperative for your next step.
Upon successful registration on CoinCola, you will have a list of wallet based on each cryptocurrency. Click "Assets," and in the BTC column, use the "Deposit Address" to transfer your BTC reward to your CoinCola wallet to start trading!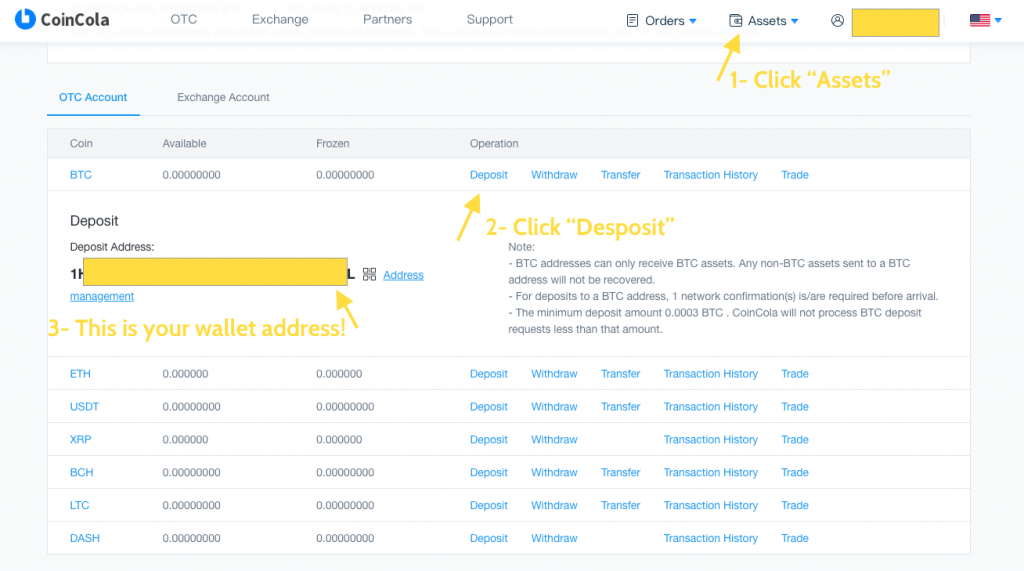 CoinCola is a digital asset platform that integrates storage and transaction services. We are the pioneer in developing crypto OTC platform where users can conduct peer-to-peer cryptocurrency exchange. Furthermore, our exchange service allows you to switch your BTC rewards into stablecoin such as Tether (USDT) and other coins such as ETH, BCH, and more. Buying from and selling to our existing crypto traders are free of charge. If you do not see a desirable price, you can also post an ad with relatively low fee, comparing to other platforms in your country. Register now to start growing your assets!
BONUS2: Nigerians Can Trade Bitcoin On This Page To Get 0.0001BTC Bonus!