Moon Bitcoin: What it is and How Beginners Can Start
Bitcoin's popularity in the financial and digital world has seen the cryptocurrency become the driving force for different innovations. One of such is the creation of Bitcoin Faucet, which is an app or website that rewards users with Bitcoin for completing tasks.
There are hundreds of Bitcoin faucets that claim to reward users for watching ads or completing surveys with a handful of these faucets keeping to their promises. However, there are a few that have emerged as completely legit faucet platforms with the most prominent being Moon Bitcoin.
What Is Moon Bitcoin?
Moon Bitcoin is a popular free Bitcoin faucet that lets users receive rewards for completing tasks and surveys.  One of the driving force behind its popularity is that it allows users to earn rewards multiple times with little restrictions.
Unlike other faucets that limit the number of Bitcoins that a user can claim in a day, Moon Bitcoin has no such problems as the platform runs a mechanism that enables the faucet to fill up within a specific period before rewards are claimed.
How to claim Free Bitcoin on Moon Bitcoin
There are several ways of claiming free Bitcoin on Moon Bitcoin platform, and we would be highlighting some of the methods
Offer Bonus
This is a popular way of earning good amount of Bitcoin as this is claimed after you have completed several offers and survey. The bonus is dependent on several surveys and offers that you can complete within a given time frame.
For example, for each offeror survey completed within a month, users are rewarded with an additional 5% bonus on each faucet they earn.
Loyalty Bonus
This bonus is given to users that have claimed their Bitcoin reward for consecutive days. Users that follow this process are entitled to an additional 1% for claiming their Bitcoin reward for consecutive days, and it is a reward to users that log-in daily.
Referral Bonus
This is an excellent way to earn Moon Bitcoin rewards you for referring new users to the platform. For every successful referral, you will get certain percentage points as rewards. This can be accumulated until it is eligible to be claimed.
Also, for every 50 referrals, users are given a 50% lifetime commission on the faucets claimed by the referrals.
Mystery Bonus
This is a unique bonus as it typically pops up in the bottom page and offers users the ability to claim free Bitcoin. However, from its name Mystery, the rewards may differ depending on what is contained within the bonus.
Mining Bonus
Mining Bonus is the bonus that is paid to users that allow Moon Bitcoin to use their computer as a mining PC. Since Bitcoin uses a Proof-of-Work protocol, earnings are calculated on how powerful the processing power of the particular PC used to mine Bitcoin.
Since mining Bitcoin takes a lot of power, it is usually suitable for users that have spare PCs and cheap power as this would enable them to make more earnings.
How to exchange your Moon Bitcoin for Fiat Currency
After earning a substantial amount of Bitcoin from Moon Bitcoin, there are different things that you could do with the Bitcoins. One of the popular things that many do is to either withdraw the Bitcoins for fiat currency or trade for other cryptocurrencies.
You May Like: Check today's Bitcoin price in USD. 
You can exchange your earned Bitcoin to your local fiat currency or other cryptocurrencies on CoinCola OTC Crypto market which has the following advantages compared to other exchanges.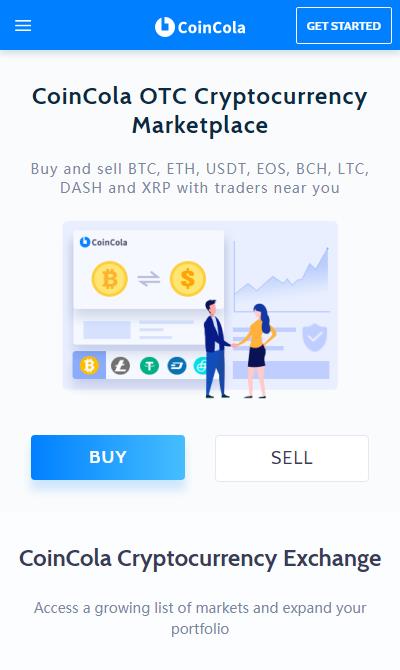 Why You Should Use CoinCola
CoinCola has various security measures to protect traders funds and data. When it comes to choosing the right platform to exchange the Bitcoin gotten from Moon Bitcoin, security is essential.
CoinCola excels in this aspect as the exchange has innovative security practices that ensure that your funds are kept safe. There is an escrow system in place that protects transactions and military-grade algorithms that ensures that your information is kept secure within the platform. CoinCola has one of the lowest trading fees in the market at 0.07%. Transactions within the platform are charged a flat rate of 0.7%, which is lower than other platforms that take close to 5% for similar transactions.
With this, you can get good value for your hard-earned Bitcoins from Moon Bitcoin.
CoinCola allows users to

trade Bitcoin with different gift cards

. Since it is a dual platform, you can always trade your Bitcoins for popular gift cards such as Amazon, Steam, and iTunes gift cards. There is a big demand for Bitcoin on the platform, and you can get good deals for gift cards.

CoinCola lets users choose different means of payments for transactions. You can select the sort of payment that you want for your Bitcoin such as direct deposit, bank transfers, and other means. This makes CoinCola one of the top exchanges for trading Bitcoins.
In conclusion, the article summarizes how to earn free Bitcoin from Moon Bitcoin which can be exchanged to fiat currency or other digital assets on coincola.com.
BONUS: Trading Bitcoin on CoinCola and Get 0.0001 Free Bitcoin Instantly.