How to Buy Bitcoin with Fiat Money?
Can I buy 0.001 BTC?
Absolutely. Beginners who are interested in investing in bitcoin do not always have to buy 1 BTC. Even though most crypto OTC platforms set a minimum order of at least 5 or even 20 BTC, platforms targeting peer-to-peer crypto trading like CoinCola allow users to trade as little as $1 worth of BTC. As an example, consider a crypto newbie who has a friend willing to sell them a small amount of bitcoin. In this case, it's possible for the newbie to buy Bitcoin instantly – they just hand over some cash to the friend in exchange for bitcoin sent to their wallet.
Can I trust the sellers online?
Many platforms allow users to directly interact with other users who want to trade their crypto. Some exchanges do not require users to provide any ID document to verify their identities, causing several safety concerns. Requiring KYC procedure does not only protect traders who are buying and selling crypto, but also ensure users are protected from legal risks around the evolving cryptocurrency regulations. On CoinCola, you can only trade after KYC is passed, minimising the possibilities of getting involved with fraudulent transactions, fraud accounts, and even money laundering.
Why Choose CoinCola?
Buy instantly: CoinCola provides a fast, reliable and secure environment to trade cryptocurrency in one integrated platform. We offer easy-to-use trading services and support a wide range of payment methods. Buy and sell instantly, stay on top of the markets and securely access your account on the move with the CoinCola mobile app.
Safe and secure: At CoinCola, security is always our priority. Our team enforces multiple layers of security including bank-level encryption, cold storage and SSL, ensuring our customers can trade with 100% confidence. CoinCola is committed to building trust and transparency in the blockchain ecosystem and ensuring compliance with KYC/AML regulations. We provide an intuitive and easy verification process, without compromising user safety and security.
Customer first: We value our customers and pride ourselves on providing excellent customer service. Whether you're a knowledgeable cryptocurrency investor or a newcomer, our dedicated support team is always here to help.
Low Fees: CoinCola's competitive fees and exchange rates help your investments go further. Our trading services are well equipped to facilitate and execute large orders at favorable prices. Please check the fee structure on CoinCola here.
Step 1 – Create Your CoinCola Account
1- Create an account on CoinCola.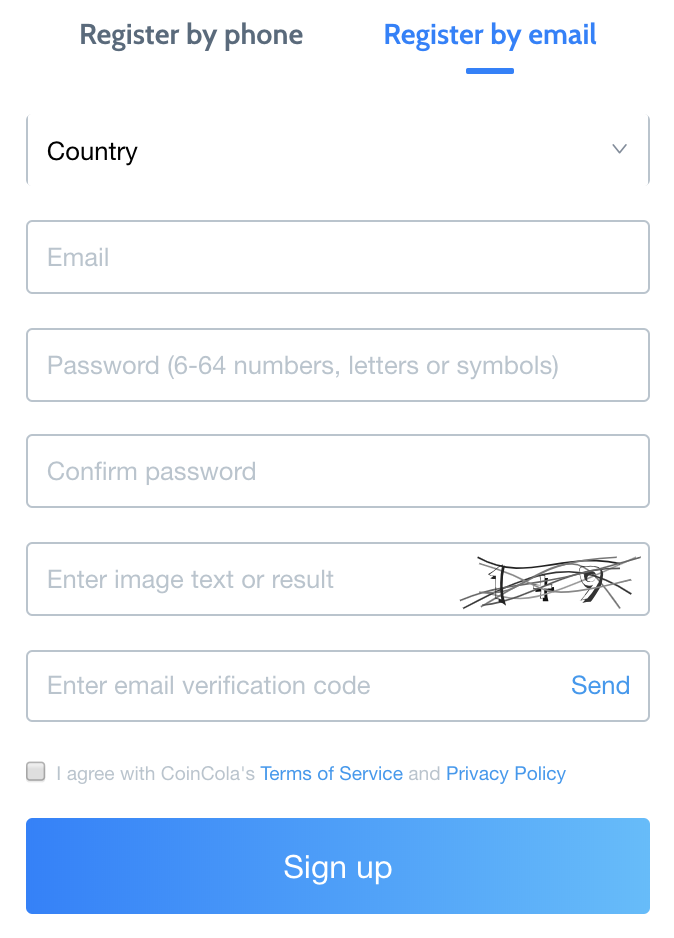 2- Complete your identity authentication (KYC) to ensure user safety.
Step 2 – Navigate to "OTC" Platform
1- Go to https://www.coincola.com and find "OTC" in the header.
2- Choose a seller based on payment method, trader profile, limits and price.
3- Once you decided, click "Buy BTC".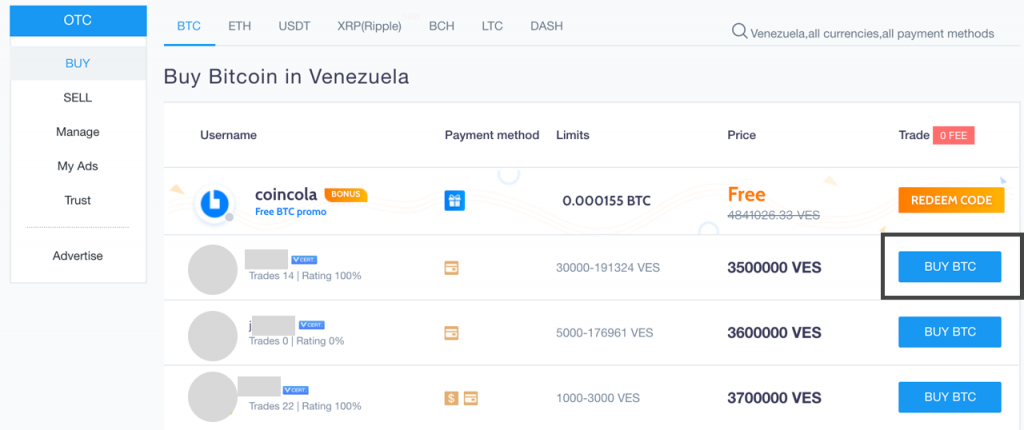 4- Enter the amount you want to purchase and click to proceed to payment.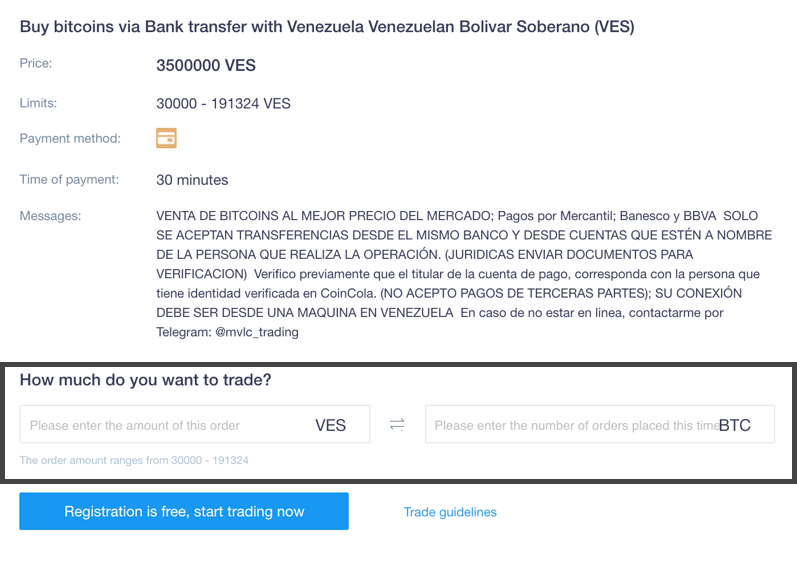 5- At this moment, the amount fo cryptocurrency from the seller profile will be held at our trade escrow, until the transaction is successfully completed.
Step 3 – Complete transactions
1- In the live chat, obtain payment details from the seller.
2- After you completed the payment, click "mark as paid."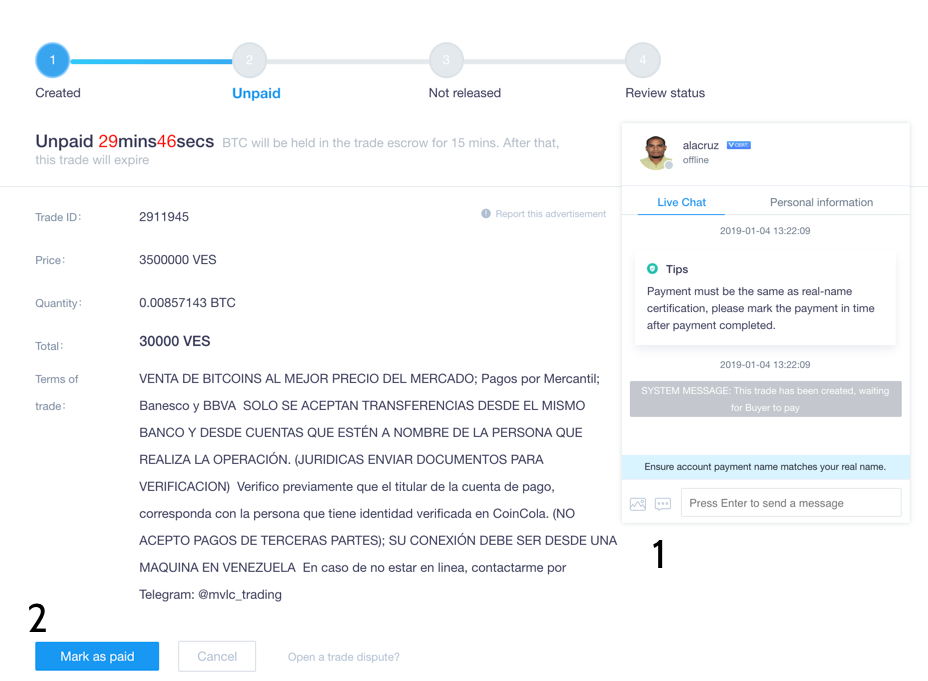 3- The seller will confirm whether payment is received. Upon confirmation, the seller will signal the trade escrow to release the cryptocurrency (BTC) to your wallet.
4- All cryptocurrency transactions are required to be confirmed by the responding network. Note that during times of especially high traffic, your transaction may take longer than normal to be processed. Normally, a transaction will be confirmed within 10 minutes.
There are several key points to remember when trading through a peer-to-peer OTC platform:
it is important to communicate with the counter party (seller) through platform chats, making sure all your chat history is saved.
On CoinCola platform, once a new transaction is initiated, you will have 15-30 minutes to confirm whether payment has been received.
If there is any problem during trading, use the official 24/7 live support to open a dispute.
We recommend that you start with trading a small amount first and familiarize yourself to the process of trading
About CoinCola
Founded in 2016, CoinCola is a Hong Kong based company offering both over-the-counter cryptocurrency trading and crypto-to-crypto pair trading exchange. CoinCola now serves millions of users from over 150 countries with our fast, secure, and reliable trading services. We support BTC, ETH, BCH, LTC, USDT, DASH, and XRP. Visit www.coincola.com for more information.