All Uses of iTunes Gift Card
Before going into the detail of what the iTunes gift card can be used to let consider what iTunes is. iTunes as an Apple's market store where all things like media, software, and entertainment can be bought. And this store has been one of the places to purchase any of the above-mentioned items in other to avoid purchasing fake items. Now let look at what iTunes gift card is.
What is iTunes Gift Card?
An iTunes gift card can be seen as a deposited credit for Apple's iTunes market store. iTunes store as an Apple's media and software market store, in which items like music, movies, apps, and more can be bought. But it is not at the Apple Store, in which Apple Store gift cards can be used to buy physical things like MacBooks or iPhone. And the card can only be redeemed from the iTunes store where it was bought.  iTunes gift cards have been seen as one of an easy way to buy items in international iTunes stores in the absence of valid means of payment (credit card) for a country.
What iTunes Gift Cards can be used for
An iTunes gift card major purpose is for buying items online.  Apple Store online, on an iPhone, in retail locations, on a Windows PC or a Mac with installed iTunes, are the best place to use iTunes gift card. Below are what it can be used for:
The gift card can be used to expend signing for Apple Music;

 

The game, game credits or perform money transactions connected with a computer game, premium applications, the iBookstore, movies or music can be done with iTunes gift card;

It also serves as  credit cards;

In-App purchases and shopping in the App Store (including Netflix, Apple Music, HBO, etc.) can be done, using iTunes gift cards;

The cards are used to enlargement  iCloud storage;

It is used to present an application to a friend;

Sign in to services provided by Apple (such as iTunes Match) can be done with iTunes gift cards;

Buying real products like accessories or electronic gadgets are done with gift cards.
What iTunes Gift cards Can't Be Used For
Those the iTunes gift cards are so good but can not be used with been redeemed and even though it is redeemable, it can only work within the App Store, iTunes, or iBooks stores. Because the gift cards are only useful at the Apple Store either online or retail.
How to redeem iTunes Gift Cards
Though the redeeming of iTunes gift cards is so simple it can be redeemed in this way. This is explained below:
With the iTunes Store app on the device:·       
 

Choose the Music tab on the bottom menu.

 

Move to the bottom of the featured Albums and click on redeem.

Click on Redeem.

Insert the promo code or iTunes gift card number in the box and click redeem at the top right corner.
Buying Bitcoin With iTunes Gift cards
It has been seen that there are many online market place where people buy bitcoin with their iTunes gift cards but one thing that is missing in most of this platform is lack of sincerity. But one of the reliable platforms is Coincola. CoinCola is an OTC Bitcoin Trading platform and allows users to buy and sell Bitcoin with different kinds of gift cards like iTunes gift card, Amazon gift card, Google play gift card, and more.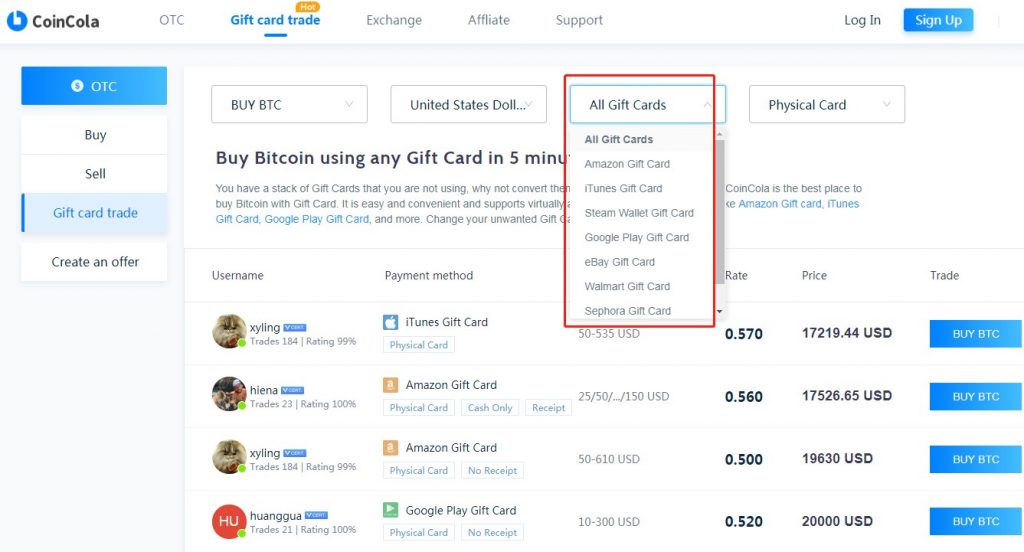 The OTC Gift Card Trading Page on CoinCola
On CoinCola users can exchange their iTunes gift cards to bitcoin with a high conversion rate. CoinCola puts multiple layers of security in place such as cold storage and SSL, bank-level encryption,  ensuring that customers can trade with 100% guarantee. Also, it offers a clear and convenient verification system by ensuring compliance and building trust and transparency in the Blockchain ecosystem and e using KYC/AML regulations.
BONUS: Trading Bitcoin on CoinCola and Get Free 0.0001 Bitcoin.