How To Convert iTunes Gift Card to Naira
Are you looking for credible information on how to convert your iTunes gift card to Naira? You are in the right place. Just read along as we explore the various ways in which you can convert your iTunes gift card to Naira.
What is an iTunes Gift Card?
However, it is important to enumerate what an iTunes gift card is for beginners who want to venture into the business of reselling iTunes gift card. An iTunes gift card is a preloaded debit card that is issued by iTunes stores as an alternative to credit cards.
Users can, therefore, use this gift card to purchase items on the iTunes Store without using a credit card. In -addition, the gift card code is at the back of the card and the code is entered when purchasing items to redeem the amount on the iTunes card.
What Are The Best Exchanges For Converting Gift Card to Naira?
In the past decade, Nigeria has emerged as a major market for gift card trading, and there are several Exchanges that cater to users from Nigeria. These exchanges enable Nigerians to sell their iTunes gift card to buyers and receive payment in Naira.
Some of the popular exchanges that support iTunes gift card include Paxful, Igctrader.com, and CoinCola.
Among the three exchanges listed Paxful is the most popular with lots of buyers, but the platform has become riddled with scams in the past few years.
This has generated negative reviews about the platform in recent years. Igctrader meanwhile has high transaction fees, which makes it not ideal for exchanging a large number of iTunes gift cards.
CoinCola meanwhile balances the strengths of the two exchanges above while providing novel features for users.
Why CoinCola is the Best Exchange for Converting iTunes gift cards to Naira?
Looking at CoinCola features, the platform ticks the right boxes as a reliable platform to securely exchange iTunes gift cards for Naira. When compared to other exchanges, CoinCola has little to no reports of scams on its platform.
Some of the features of CoinCola includes:
Multiple Gift Card Payment Options
Unlike other Gift Card exchange platforms, CoinCola has multiple options available for sellers. You can decide to choose how you want to be paid for your gift card.
For example, you can decide to convert your gift card to Bitcoin and then concert Bitcoin to Naira. This way you could get better value for your gift card if the price of Bitcoin goes up within that period.
This flexibility makes CoinCola an excellent platform for Nigerians to convert gift card to Naira.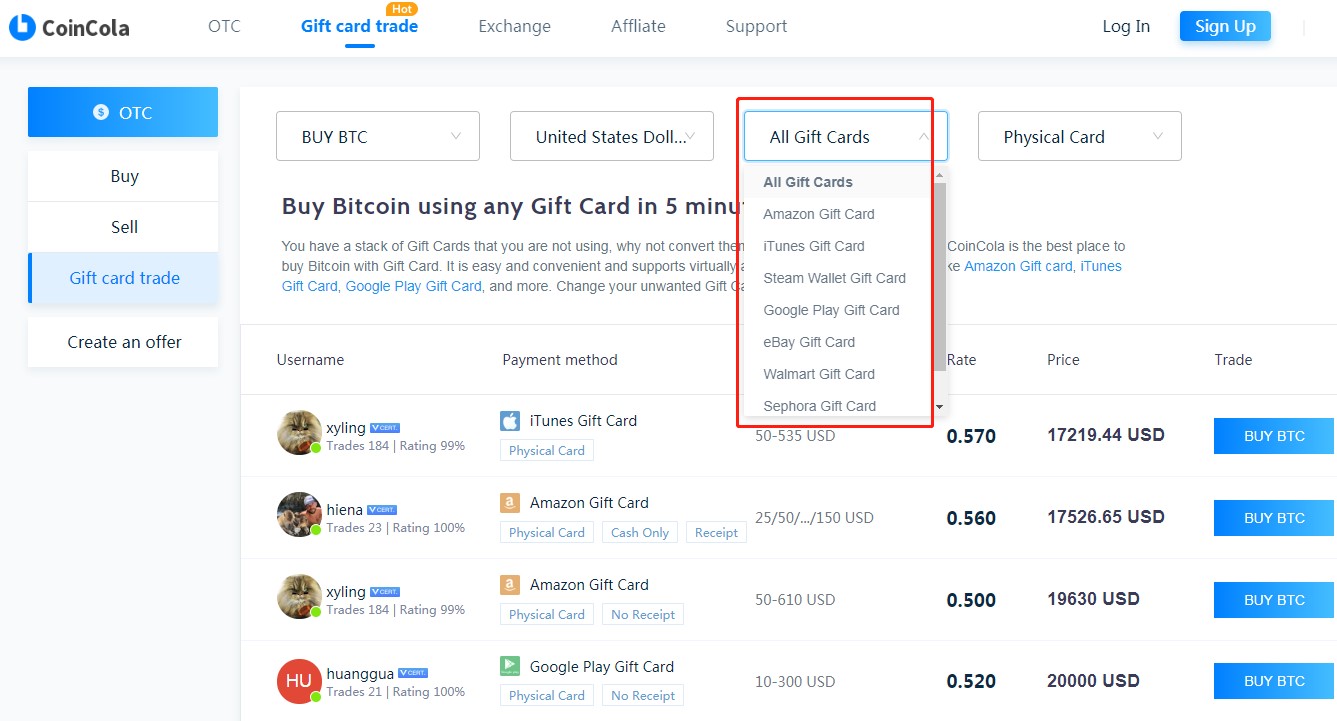 The Gift Card Trading Page on CoinCola
Low Transaction fees and High Conversion Rate
Unlike other exchanges, CoinCola has one of the lowest transaction fees as the exchange takes just 0.7% of your sales. This means that you get close to full value for your iTunes card sales, unlike some platforms that charge between 5%-10% in transaction fees.
Furthermore, CoinCola also has a high conversion rate than other gift card trading services as there a lot of Chinese who truly need iTunes gift cards and are willing to pay at a high price. This means that your product margin is significantly higher on CoinCola than other platforms.
Military-grade Security and Scam free platform
CoinCola prides itself as an OTC exchange that takes its customers security seriously. The exchange uses military-grade encryption to protect transactions on its platform.
In additions, both buyers and sellers are required to upload identity documents as part of KYC security requirements. This helps to prevent scam traders from carting away your iTunes gift cards on the platform.
How to Convert Your iTunes Gift Card to Naira On CoinCola
Converting your iTunes gift card on CoinCola is not difficult to do, and we have highlighted some steps to complete this process.
 1: Check the Validity of Your iTunes Card
This is the first step to take before exchanging your iTunes card on CoinCola as you need to be sure that your gift card is loaded with funds. This is because you would not be credited for an iTunes gift card that is not valid.
Since most iTunes card lasts between 1-3 months, you must check on the iTunes Store to ascertain that the card has not been redeemed by someone else. However, most times if the card is a physical one, there is less probability of losing validity as the pin code is sealed.
But if it is an electronic card, you need to run a check to know whether it is still valid.
2: Register for a free account
The next step after checking for the validity is to register for a free account on CoinCola. The registration process is easy and takes less than five minutes to complete.
You would be required to submit some form of ID for security purposes. After this, you would have to confirm your registration by clicking on the link sent to your email.
3: Create an Offer  
On the menu, you would see a menu with the title create an offer. Click on it and fill the details of your Sell order. On the list, you would see physical gift card or E-codes, pick the one that fits your iTunes gift card format. You would also need to select the currency you want to receive your payments, which is usually USD.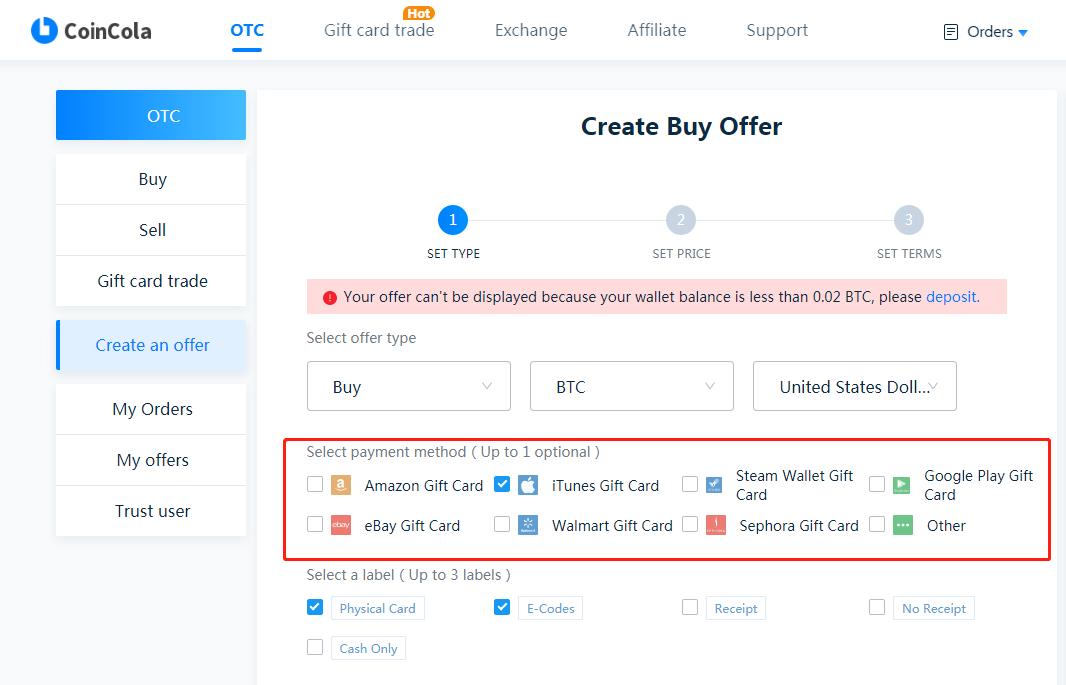 4: Respond to Buyers Request
Once a Buyer responds to your offer, you would be sent a prompt with the offer request on CoinCola. If the offer suits your price, you accept the offer. Once this happens, the buyer's Bitcoin would be held in escrow. After the validity of the gift card is confirmed by the buyer. The Bitcoin would be credited to your account within a few minutes.
Then, you convert the Bitcoin to Naira or just hold them if you expect the Bitcoin price to continue to go up. 
BONUS: Buy Bitcoin in Nigeria and Get Free 0.0001BTC Instantly.