How to Sell Walmart Gift Cards for Bitcoin or Cash
A WalMart gift card is a great gift for those who love shopping online. Holders can sell the Walmart gift card for cash or keep the gift card for further online purchases. But most times, cash is more preferred. So, people with Walmart gift cards seek easy and affordable ways to sell their Walmart gift cards for cash.
Also, with the rise in the popularity and value of Bitcoin, most people are seeking cheap ways to invest in the cryptocurrency, especially small investors who want to invest a little bit. Some years ago, buying Bitcoin is not easy very. But nowadays, there are lots of easy options for purchasing Bitcoin and one of them is buying Bitcoin with Walmart gift card. This option is relatively unknown, even to those who have valid Walmart gift card with them. That is why it is essential to discuss how to sell Walmart gift card for bitcoin or cash.
There are several cryptocurrency exchange platforms or services where one can actually buy Bitcoin with Walmart gift card or sell Walmart gift card for cash. But some offer more convenience, safety, user-friendly services, and customer satisfaction than others. These platforms include Gameflip, LocalBitcoins, Paxful, CoinCola, etc.
The first step involves creating an account on any of these websites. But before you initiate the registration process, it is important to read up a little a bit on each of these platforms to see which one suits you best.
Sell Walmart Gift Card for Cash on Gameflip
Gameflip offers a simple way for people to sell their Walmart gift cards for cash. Any registered user can sell their prepaid, unused, and non-reloadable gift cards on the platform. Aside from Walmart gift card, other cards that can be sold for cash on Gameflip include Google Play cards, iTunes gift cards, Steam gift cards, PSN cards, Xbox Live cards, and Amazon gift cards.
What the platform does is to list your Walmart gift card in front of several buyers in the marketplace. In order to quickly sell off the Walmart gift cards, users are advised to set the selling price between 2 and 15 percent off the original amount. The transaction is completed once the buyer receives the gift card code and redeems it. Proceeds from the sale are deposited immediately into user's Gameflip wallet, where it can be subsequently withdrawn into the user's PayPal or bank account, or converted into Bitcoin if the user wishes to.
Buy Bitcoin with Walmart Gift Card on LocalBitcoins
LocalBitcoins is a popular Finland-based Bitcoin marketplace that facilitates P2P Bitcoin trading. The platform is very reputed for buying Bitcoin from sellers all over the world. LocalBitcoins supports about 30 payment methods, which include Walmart gift cards. Any user, either buyer or seller, who creates ads is charged 1 percent fee for every completed trade.
Sell Walmart Gift Card for Bitcoin on Paxful
Paxful is also a very popular P2P marketplace, where users can buy or sell Bitcoin using Walmart gift cards and other gift cards. Paxful is commonly referred to as eBay for Bitcoin. The platform charges seller 1 percent on every completed transaction but buyers pay to sellers for converting gift cards to Bitcoin.
Note: Though the volume of transactions on these marketplaces above is low, you can still go ahead and Sell Walmart Gift Card for Cash or Bitcoin them. Also, ensure to carefully select a seller with a high reputation for your deal on the platforms.
Buy Bitcoin with Walmart Gift Card on CoinCola
CoinCola is the latest P2P Bitcoin trading platform where users can easily, conveniently, and securely trade their Walmart gift cards for Bitcoin or cash. CoinCola offers an interactive user interface with a variety of useful benefits for users.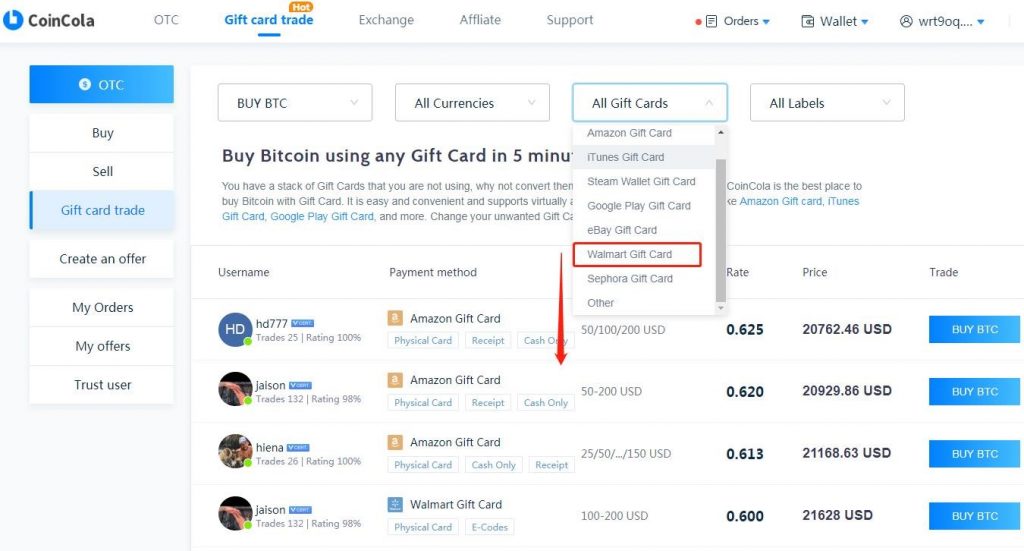 The OTC Gift Card Trading Page on CoinCola
Foremost, CoinCola understands the poor safety features on other gift card exchange platforms as well as the tendency for fraudulent acts to take place. As a result, the platform offers more safety and user protection features.
For instance, for additional users' safety, CoinCola uses an escrow account for the transaction, where Bitcoin is held from the seller into the escrow account. Once the transaction is completed between the buyer and the seller, the Bitcoin is released from escrow to the buyer. Only the buyer can cancel a transaction and when this is done, the Bitcoin in the escrow is released back to the seller. This means that irrespective of a user's reputation, transactions can be conducted on the platform securely.
Furthermore, unlike the 1 percent fee charged by other marketplaces, CoinCola charges a small fee of 0.7 per cent on every completed transaction. Also, CoinCola offers a higher conversion rate than most other platforms.
Finally, CoinCola offers an easy to use and well-secured online wallet, where users can decide to store their purchased Bitcoin till the price rises further and sell them for cash on CoinCola.
CoinCola is the best gift card Bitcoin trading platform. There's never been an easier way to step into the future.
Conclusion
Now you have an option to sell Walmart gift card for Bitcoin, if you have some Walmart gift cards, visit and register on CoinCola today to convert them into cryptocurrency.