Sell eBay Gift Card for Cash or Bitcoin
With the expansion of global e-commerce, the usage for gift cards is constantly on the rise. Popular e-commerce platforms like Amazon and eBay have introduced gift cards for its customers long back.
But what if your gift card is lying unused and you want to redeem it instantly. Moreover, it is advisable that you redeem your gift cards in time as some do have an expiry date on it while others may become useless if you change your country or location.
There are a number of ways to convert the eBay gift card into cash. You can ask a friend who wants to purchase something on eBay to use your gift and give you the equivalent cash in return. There are also several other online marketplaces that give users cash in return for their eBay gift cards.
CoinCola – The Perfect Place to Redeem Your eBay Gift Card
Founded in 2016, CoinCola is a Hong Kong-based peer-to-peer Bitcoin trading platform. The platform helps buyers and sellers to exchange cryptocurrencies and value by acting as an ESCROW agent in between them. Riding on the ongoing crypto wave, CoinCola provides gift card users an option to redeem them against cryptocurrencies.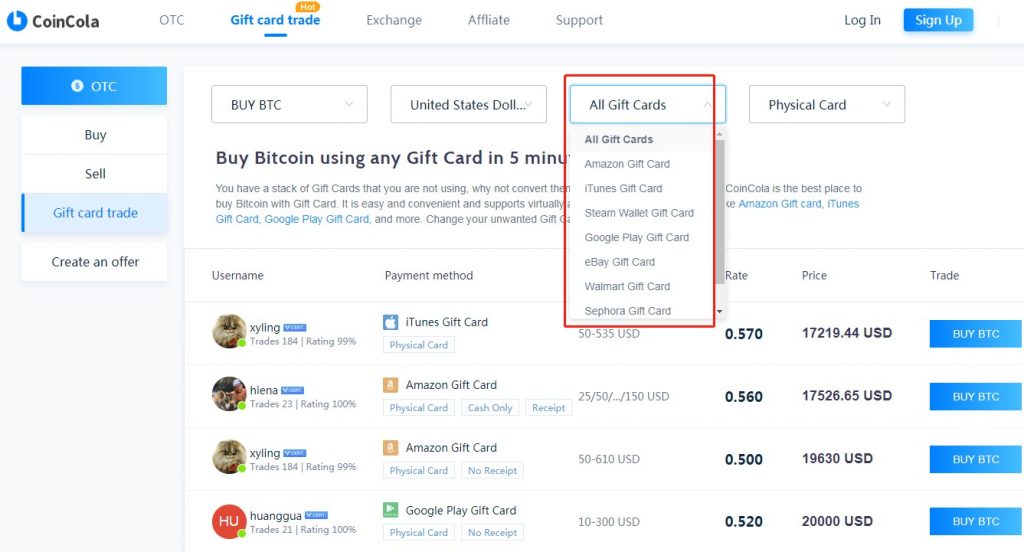 CoinCola 'Gift Card Trade' zone where you can buy bitcoin with any Gift Cards
CoinCola is gaining a lot of popularity in African markets along with markets like China and India. Furthermore, CoinCola has very low service rate charges in comparison to its peers like LocalBitcoins and Paxful.
How to Sell eBay Gift Card Instantly on CoinCola
To sell an eBay gift card, you first need to create an account on CoinCola and sign up using your e-mail address and other essential details. Note that to ensure the safety and security of its users, CoinCola mandates that you first complete your KYC before using different services on the platform.
Then proceed to the "Gift Card Trade" from the home page of CoinCola. Here you need to select the country location and the gift card, which is eBay in our case.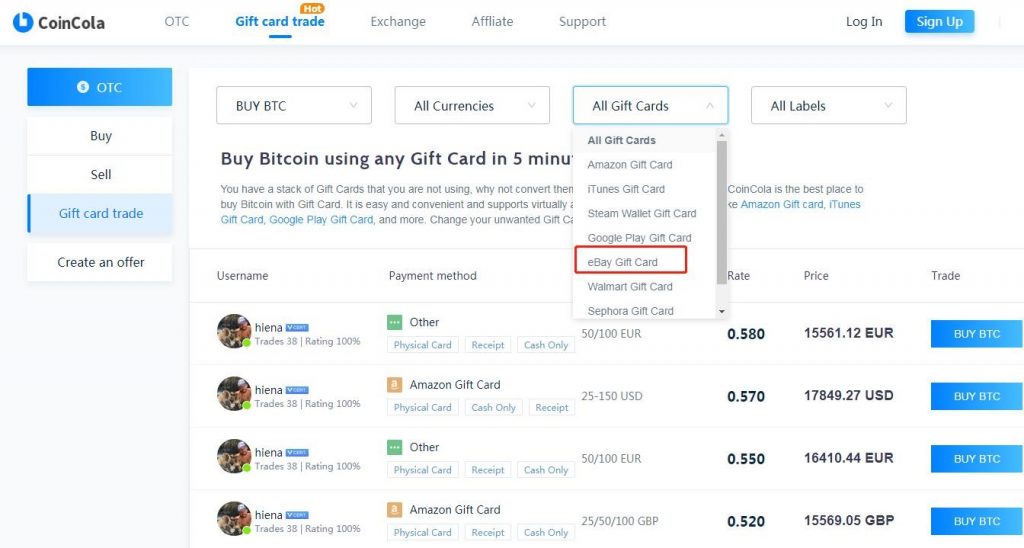 The 'Buy Bitcoin with eBay Gift Card' Page 
Looking at the different available options, you can choose with whom you are willing to transact. Once you initiate the trade, your eBay gift card gets submitted to the CoinCola escrow. The buyer on his/her side will see your selling trade and will release Bitcoin.
Note that if you're ok with holding cryptocurrencies, selling your eBay gift card for Bitcoin is better than selling it for cash. As you redeem the eBay gift card against cash you will get a fixed value. However, if you redeem it against Bitcoin, you can hold the cryptocurrency and see its value grow with time.
CoinCola – The Best OTC gift card Bitcoin trading platform
This way CoinCola presents users with a unique opportunity to get some Bitcoins by selling their gift card. Just like eBay, CoinCola also allows users to sell their Amazon gift cards, iTunes gift cards, and also Google Play gift cards.
Moreover, the platform offers you a good rate for purchasing Bitcoins through the gift cards. As stated earlier, CoinCola charges less than 1% of the transaction value as its service fee. Besides, once you buy Bitcoins selling your eBay gift cards, you can exchange it for your preferred FAIT currencies like USD, GBP, EUR, CNY, JPY, and more on the same platform in a peer-to-peer trade.
Tip: Use CoinCola's BTC to USD Converter to see today's Bitcoin price in US dollars.