How to Buy Bitcoin with No Verification in Nigeria
Bitcoin trading is something that has taken over Nigeria by storm with a large number of people rushing to own a piece of this cryptocurrency. Initially, buying bitcoin used to be very easy as you could buy the cryptocurrency without the use of ID verification.
However, due to increasing government regulations, it has become difficult to buy Bitcoins from major exchanges without ID verification. As a newbie trader, you may be curious to know the pros and cons of buying Bitcoin without verification.
Therefore, we would be addressing this issue by first revealing the pros of purchasing Bitcoin without Verification.
Pros of Buying Bitcoin Without ID
According to the United Nations, 1/3 of the world's population do not have an ID, and this statistic applies to Nigerians.
 

Since most Bitcoin Exchanges request a formal ID such as National Passport, National ID or Drivers License, it can be difficult for an average Nigerian to possess these IDs thereby depriving the trader of the ability to buy Bitcoin
 

Another major advantage is its Security. Bitcoin exchanges are prone to hacking with the largest exchange in the world Binance, suffering a severe hack in February.  There have also been some cases where a crypto exchange was hacked, and valuable information of users stolen.
 

Buying Bitcoin without an ID card means that your personal information cannot be accessed in the event of a hack of an exchange.

 

Another reason why many prefer to buy Bitcoin without ID is due to the cumbersome process of verification on many exchanges. It is quicker to purchase Bitcoin on platforms without the ID process than on those that make it mandatory to provide an ID verification. 
This appeals to traders that want to purchase little amount of Bitcoin as transactions are completed within minutes.
Cons of Buying Bitcoin without ID Verification
 

One of the major drawbacks of buying Bitcoin without ID verification is that the process could be a little bit complicated. Most top exchange platforms tend to have a simple user interface, unlike platforms that don't demand ID verification. 

 

Secondly, it is common knowledge that buying Bitcoin without ID tends to be more expensive, unlike regular exchanges. Sellers on these platforms tend to increase their prices as they look to take advantage of the situation.

 

There is a limit to the number of Bitcoin that you can purchase before being asked to provide ID. This is partly due to regulations that demand that Bitcoin purchases over a certain amount must be verified.

 

Lastly, many online crypto transactions are not as anonymous as many think, and this purchases can be traced to your ID canceling out the benefit of purchasing Bitcoin without an ID.
Where can you buy Bitcoin without ID verification In Nigeria?
Due to the relative new Bitcoin culture in Nigeria, several exchanges allow Nigerians to purchase Bitcoin without ID. Some of the popular platforms include Paxful, Luno, and Nairaex.
However, these platforms have endured their fair share of criticism and complaint over the years, which may discourage potential buyers. This is why more and more bitcoin traders and investors switch to CoinCola. 
What is CoinCola
CoinCola is a dual purpose exchange that combines OTC bitcoin trading and gift card market. CoinCola extended its services to Nigeria in 2018 and has emerged as one of the safest and best platforms for bitcoin trading.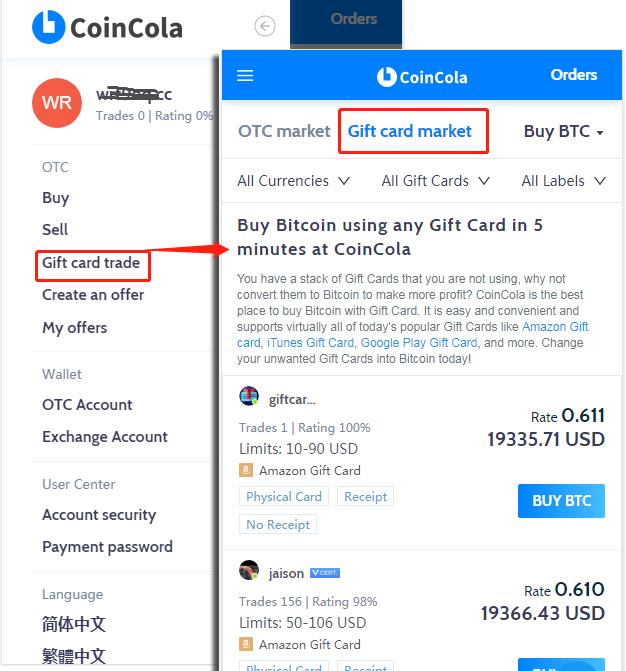 How Does CoinCola Stand out from the Rest
CoinCola OTC marketplace does not require verification for account creation and allows unverified accounts to do trades of below USD 10,000. 
This makes the platform one of the flexible platforms for Nigerians as 10,000 dollars is equivalent to 3.5million naira, which is a lot of money in Nigeria. There is also no trading volume limit for accounts that have done a verification.
You May Like: Check today's Bitcoin price in USD or Naira. 
Active Marketplace for Bitcoin
Secondly, CoinCola has a vibrant marketplace for Bitcoin and requests to purchase bitcoin can be processed within minutes of registration. This is vital when you need Bitcoin urgently to make transactions.
Novel Security Policy
Coincola is one of the safest platforms for Nigerians due to its multifaceted approach to security. Whether you register with an ID or not, your transactions are secure from hacks and security breaches.
Furthermore, during transactions with a seller, the funds are kept in an escrow account which protects both the buyer and seller.
Unlike other platforms that have been hit with a wave of scams, CoinCola has managed to retain its reputation intact, which testifies to their security policy.
Low Transaction Fees
CoinCola also charges one of the lowest transaction fees with the platform collecting 0.7% on all transactions.
When you buy Bitcoin on the platform, you only part away with 0.7%, which is favourable when compared with other platforms that charge close to 5% on transactions.
In conclusion, you can take advantage of CoinCola features by visiting coincola.com to buy your Bitcoin without ID verification. 
BONUS: Buy Bitcoin in Nigeria and Get 0.0001 Free BTC Instantly.