How to Make Money Online with Google in Nigeria 2023
In this digital age, earning money online has become a popular source of income for people around the world. Google, the world's largest search engine, offers many opportunities to earn money online. Nigeria, the largest economy in Africa, has a growing population of internet users, which makes it an attractive market for online earning opportunities. In this article, we will discuss how to make money online with Google in Nigeria.

There are several opportunities for making a regular income from several Goggle online jobs available online. Nigerians have also begun to maximise the opportunities that Google presents, and many are making a healthy income from various online jobs.
We would be revealing some of the best ways to make a steady income from Google. All you need is to read along and take the necessary steps required.
Understanding Google AdSense
Google AdSense is a program that allows website owners to monetize their website by displaying ads on their website. The ads are generated by Google's advertising network, and website owners earn money when users click on the ads. In order to participate in the AdSense program, website owners must apply and meet certain criteria, such as having a website with original and quality content.
Creating a Website or Blog
To participate in the AdSense program, you need to have a website or blog. Creating a website or blog is easy and can be done in a few simple steps. First, choose a domain name and web hosting service. Then, install a content management system such as WordPress. Once your website is up and running, you can start creating quality content that will attract visitors to your site.
Choosing a Niche
Choosing a niche is important because it helps you to focus on a specific topic and create quality content that will attract visitors to your site. A niche can be anything from health and fitness to finance and travel. It is important to choose a niche that you are passionate about and have knowledge of, as this will make it easier for you to create quality content.
You May Like: Top 5 Highest Rate Gift Cards 2023
Search Engine Optimization (SEO)
Search engine optimization (SEO) is the process of optimizing your website to rank higher in search engine results pages (SERPs). This is important because the higher your website ranks in SERPs, the more traffic you will receive. SEO involves using keywords, meta descriptions, and other techniques to make your website more visible to search engines.
Creating Quality Content
Creating quality content is essential to attract visitors to your website and keep them coming back. Quality content should be original, informative, and engaging. It should also be optimized for search engines so that it ranks higher in SERPs.
Applying for AdSense
Once you have created quality content and your website meets the AdSense criteria, you can apply for the AdSense program. Google will review your website to ensure that it meets their guidelines. If your website is approved, you can start displaying ads on your website and earning money.
Other Ways to Make Money with Google
Apart from AdSense, there are other ways to make money with Google in Nigeria. These include:
Google Opinion Rewards
Google Opinion Rewards is a program that rewards users for answering surveys. Surveys are sent to your email, and you earn money for each survey you complete.
Google Play
Google Play is an online store that sells digital products such as apps, games, music, and books. You can earn money by selling your own digital products on Google Play.
YouTube
YouTube is a video-sharing platform that allows users to upload, view, and share videos. You can monetize your YouTube channel by displaying ads on your videos. To monetize your YouTube channel, you need to have at least 1,000 subscribers and 4,000 watch hours in the past 12 months.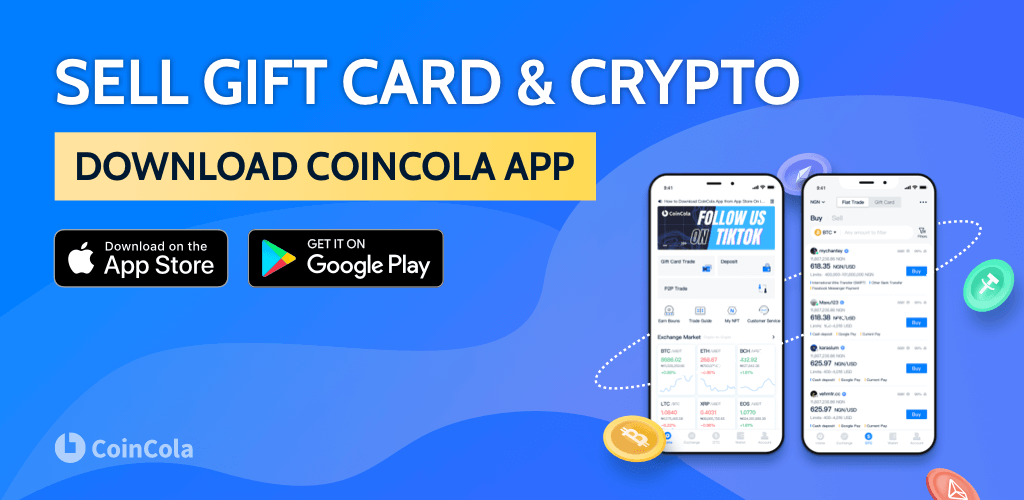 Selling Gift Cards
Another way to make money online with Google in Nigeria is by selling gift cards. Google Play gift cards are popular in Nigeria, and there is a growing demand for them. You can buy Google Play gift cards at a discount and sell them at a higher price to make a profit.
To sell gift cards, you can use online marketplaces such as eBay or CoinCola. Alternatively, you can create your own website or social media page to sell gift cards. It is important to be cautious when buying and selling gift cards to avoid scams and fraudulent activities.
The major platforms that Nigerians use are Paxful and CoinCola. Paxful is popular as there are tons of buyers and sellers on the platform. However, its continuous history of scam traders in its platform leads many people switch to CoinCola which is a securer P2P Bitcoin trading platform and allows users to sell different gift cards for Bitcoin and then convert Bitcoin to Naira. 
How to sell gift cards for Bitcoin on CoinCola?
Many Nigerians are making money reselling gift cards on CoinCola, and you can also partake by following these easy steps.
Firstly you register on CoinCola by inputting your details, and the platform would also request for an ID as part of its KYC requirements.
After registration, head over to the "create offer" menu where you pick the option for gift cards. Input the details of your Sell Offer and save. After this step, your offer would be posted to the market place, and you would be promoted when a buyer is interested in your offer.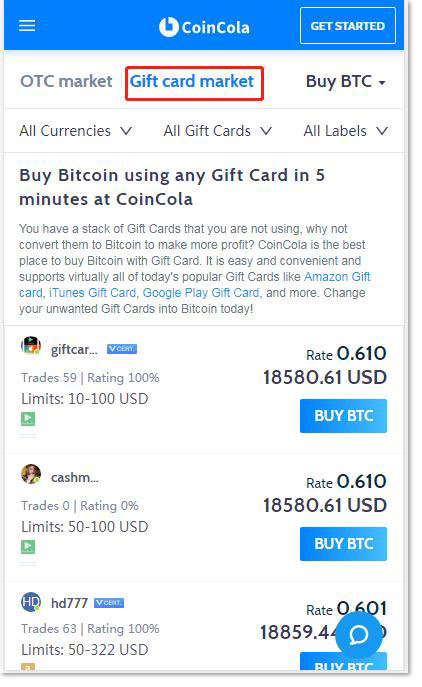 The Gift card market on CoinCola
Gift card reselling on CoinCola is a cool and comfortable way to make money. You can also earn 20% commission by joining CoinCola referral program.