How to Make Money Online with Google in Nigeria
Google is the biggest search engine in the world and dominates the internet as it is a crucial element in how we surf the internet. In the last decade, Google has become a popular tool in which many uses to make money from home.
There are several opportunities for making a regular income from several Goggle online jobs available online. Nigerians have also begun to maximise the opportunities that Google presents, and many are making a healthy income from various online jobs.
We would be revealing some of the best ways to make a steady income from Google. All you need is to read along and take the necessary steps required.
Google Opinion Rewards
Google Opinion Reward is a way of making money from Google. The initiative by Google rewards users with Google Play Credits for answering online surveys. To take advantage of this, you only need to fill up survey forms provided by Google.
You get rewarded with Google Play Credits which can be exchanged in popular gift card market place for fiat currency, or you can use the credits to purchase paid apps on Play Store.
All you need to do download the Google Opinion Reward app on the Android Play Store or iOS App Store on your respective mobile device. Google Opinion Reward is the right way of making money online for free, but you need to take tons of survey to make decent earnings.
Google AdSense
Google AdSense is the most popular way to make money with Google. The popular affiliate reward program pays you for running ads on your website. There are different mechanisms in which it works, but the general formula is that anytime a visitor clicks on an ad, you earn a commission.
Google AdSense is a cool way of making money from Google but requires a bit of investment in terms of getting a blog or website. However, this is minor expenses compared to the level of income you can make in the long run via the AdSense network.
All you need to do is to create a blog, some prefer self-hosted blogs, but you can create a free one from Google using Blogspot. You need to publish content on your blog regularly on the aspect that you're interested in which could be a sport, entertainment, etc.
After getting regular traffic to your site, apply for Google Adsense. Once you get approved, you can place the AdSense ads on your website and begin to earn per click.
You have to note that Google Adsense publishers are under strict rules from Google, and you have to ensure that you're not breaking any regulation or you could risk getting a ban.
Gift Card Retailing
Gift Card Retailing is a substantial online business in Nigeria as many youths are venturing into gift card reselling as a way of making money online. One of the primary reasons why this business is thriving is due to the demand for gift cards online.
Gift cards are mostly debit cards that have been loaded by online stores and electronic stores as a form of reward to customers. There are tons of gift cards online, but only a few are of high commercial value for resellers. The trio of gift cards that have the most demand is iTunes gift card, Amazon gift card, and Walmart gift card.
Since the three gift cards are issued by three of the biggest firms in the world, it is no surprise that there is a massive demand for them. There is nothing to worry about when it comes to reselling these gift cards? Several online platforms enable such transactions.
The major platforms that Nigerians use are Paxful and CoinCola. Paxful is popular as there are tons of buyers and sellers on the platform. However, its continuous history of scam traders in its platform leads many people switch to CoinCola which is a securer P2P Bitcoin trading platform and allows users to sell different gift cards for Bitcoin and then convert Bitcoin to Naira. 
Many Nigerians are making money reselling gift cards on CoinCola, and you can also partake by following these easy steps.
Firstly you register on CoinCola by inputting your details, and the platform would also request for an ID as part of its KYC requirements.
After registration, head over to the "create offer" menu where you pick the option for gift cards. Input the details of your Sell Offer and save. After this step, your offer would be posted to the market place, and you would be promoted when a buyer is interested in your offer.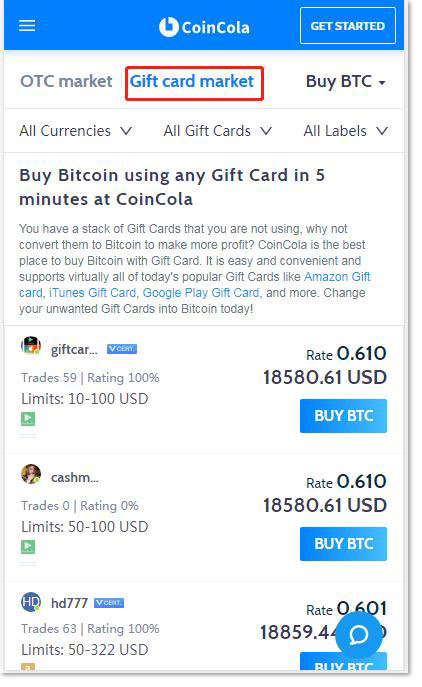 The Gift card market on CoinCola
Gift card reselling on CoinCola is a cool and comfortable way to make money. You can also earn 20% commission by joining CoinCola referral program.
Moving Forward
Making money from Google is easy when you focus, you can decide to combine any of the three options listed in this article to maximize your earnings. 
BONUS: Trading Bitcoin in Nigeria and Get 0.0001 Free Bitcoin.