We are recruiting Coincola Agent NOW!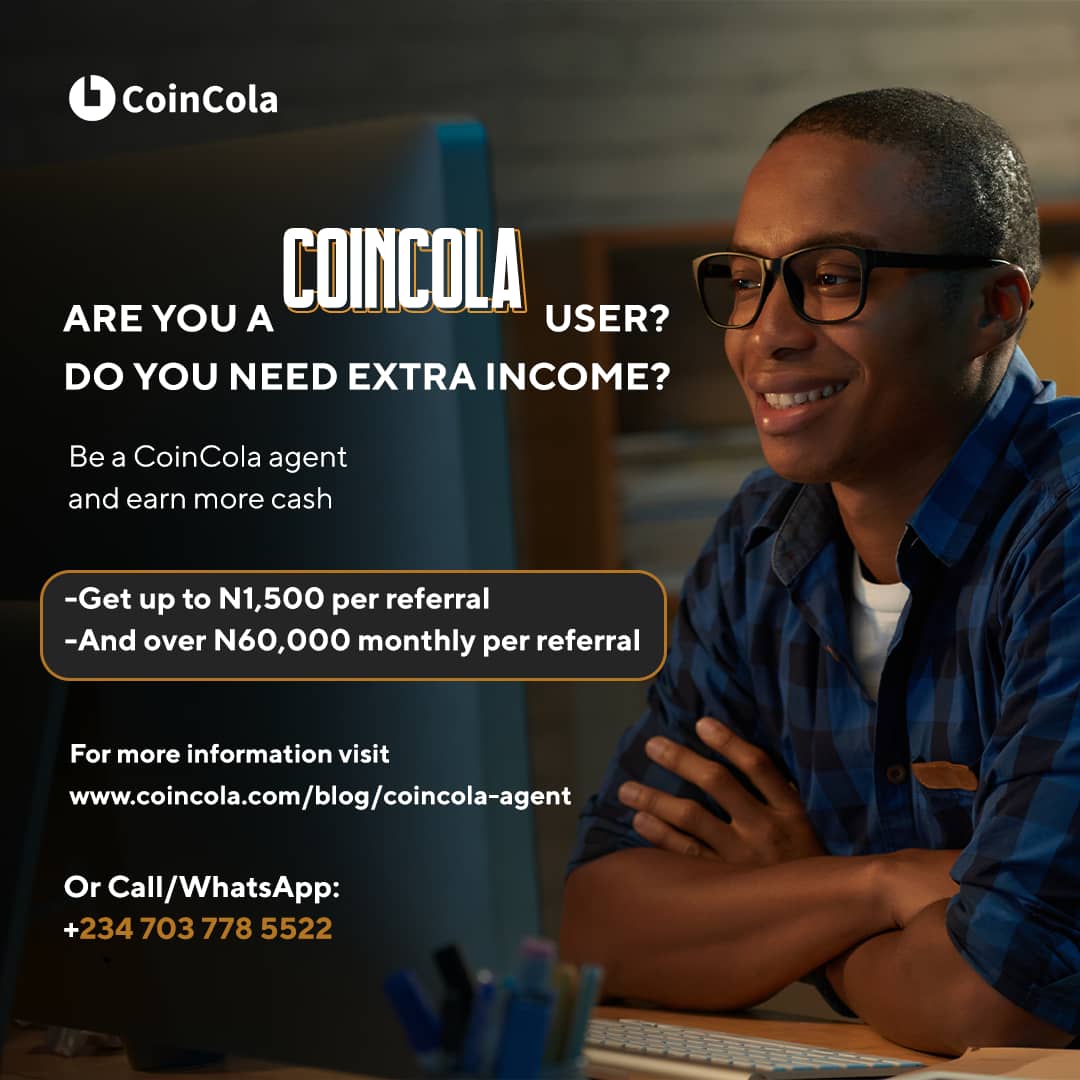 CoinCola Agent (called as Agent) is an internal program for existing CoinCola user who wants to have a long-term partnership with CoinCola by promoting CoinCola brand to your local communities. 
Through this program, Agent will earn a weekly and monthly bonus from referring new users and commission from referrals' trading.
Bonus Reward
As an agent, you'll get a Bonus Reward Package if your referrals complete a certain amount of trades based on weekly and monthly. The bonus is paid in one time only. 
Weekly Bonus
The weekly bonus will be released if the referral complete $100 worth of any crypto in OTC or gift card trade (both buying and selling will be counted). More amounts of bonus stated below:
| | |
| --- | --- |
| Weekly trade Amount per referral | Total bonus per referral |
| $100 | N 500 |
| $300 | N 1000 |
| $500 | N 1500 |
* Agent will only get one-time bonus from one referral or any subsidiary of the referral.
Monthly Bonus
The Monthly bonus is an extra bonus if the referral reach a monthly trade amount of 1 BTC (both buying and selling will be counted) by the end of 6 months after the referral's registration. More amounts of bonus stated below:
| | |
| --- | --- |
| Monthly Amount | Total bonus |
| 1 BTC | N 10,000 |
| 2 BTC | N 25,000 |
| 5 BTC | N 60,000 |
* If referral can not complete 1 BTC this month but reach it in the next month, the agent still get rewarded from the 2nd month's trade, which should be within 6 months of referral's registration. 
* Agent will only get one time bonus from one referral or any subsidiary of the referral.
How to process?
Sign up

and finish

user verification

.

Send WhatsApp to +234 703 778 5522 with your username to register as a free agent. 

Share your

invitation (referral) code

to your communities.

The weekly bonus for this week will be released next Wednesday. 

The monthly bonus for this month will be released on the 3rd of next month. 
Term & Conditions
This promotion is only for the Nigerian, Ghana, South Africa market, agents must verify in the following countries.

CoinCola checks for duplicate or fake accounts and doesn't pay out bonus or rewards on these accounts. Duplicate or shared credentials will cause disqualification.

CoinCola reserves the right to investigate any suspicious or inappropriate activities related to any CoinCola promotions, and to disable any inappropriate accounts at any given time.
FAQ 
Do all referrals need to finish verifications to get bonus?
No. If your referrals trade with the required amount without verification, the Agent will also receive the bonus.
What is the commission share?
Commission share is the share of the transaction fee. 
For example, the regular transaction fee is 0.7%, if your referral completes a trade of 0.05BTC (Avg monthly volume), the fee of this trade is 0.00035 BTC, and you take a certain percentage from 0.00035 BTC. If the share is 20%, then you will earn 0.00007 BTC from this trade. 
To know more, check the CoinCola Affiliate.   
How to check my rewards?
You could find the affiliate dashboard in check CoinCola Affiliate.