OTC Crypto Trading & Investing Courses for Beginners
Do you want to know how to do OTC trading on your own without losing your hard earned money to scammers? Will teach you how to make passive income buying and selling BITCOIN, Gift cards and other crypto asset.
I'm Adebiyi Ayoyinka, one of CoinCola coaches, will have a class on Zoom at 7 PM every WEDNESDAY to teach you the fundamentals of Cryptocurrency and how to effectively and profitably use CoinCola and also the mobile app like a pro.
What you'll learn 
Have a technical know-how and confidence when investing in the Crypto market and also using the CoinCola platform

Learn how to trade on the CoinCola OTC platform with little or no loss

Learn the benefit of using CoinCola over other OTC platform when trading gift cards and bitcoin
Description
Join the Over 120+  intending traders in the #1 Largest OTC Bitcoin trading platforms in Asia, and fastest-growing OTC bitcoin trading platforms in Nigeria with over  1 million users registered.
Over-the-counter or off-exchange trading is done directly between two parties, without the supervision of an exchange. It is contrasted with exchange trading, which occurs via exchanges. A cryptocurrency exchange has the benefit of facilitating liquidity, providing transparency, and maintaining the current market price.
Investing in the crypto market can be mastered by anyone and for those who really learn the key concepts and best practices they will be able to reach their most challenging financial goals and lead the life they dream about.
How to attend the course:
Join via zoom app: https://us04web.zoom.us/j/8309052079
Join our whatsapp group: https://chat.whatsapp.com/KqIdfSv2ETq2rPJ1n6KMI9
Looking forward to meeting you then!
About me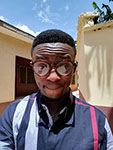 I bagged a bachelor of technology in Architecture at the best state university in Nigeria (Lautech), where I developed my interest in cryptocurrency trading at early 2016 with a lot of trading experience. I process hundreds of trades every day and the first group of users in Nigeria, witnessing the growth of CoinCola and working with CoinCola up to date.