Cryptocurrency Penetration in Nigeria
According to google trend, the growth of bitcoin's knowledge and adoption is exploding in Nigeria. The country ranks number 1 as seen in the screenshot above, followed by South Africa and Ghana in 3rd place. It clearly shows Nigerians are uncommonly yearning for the future of finance.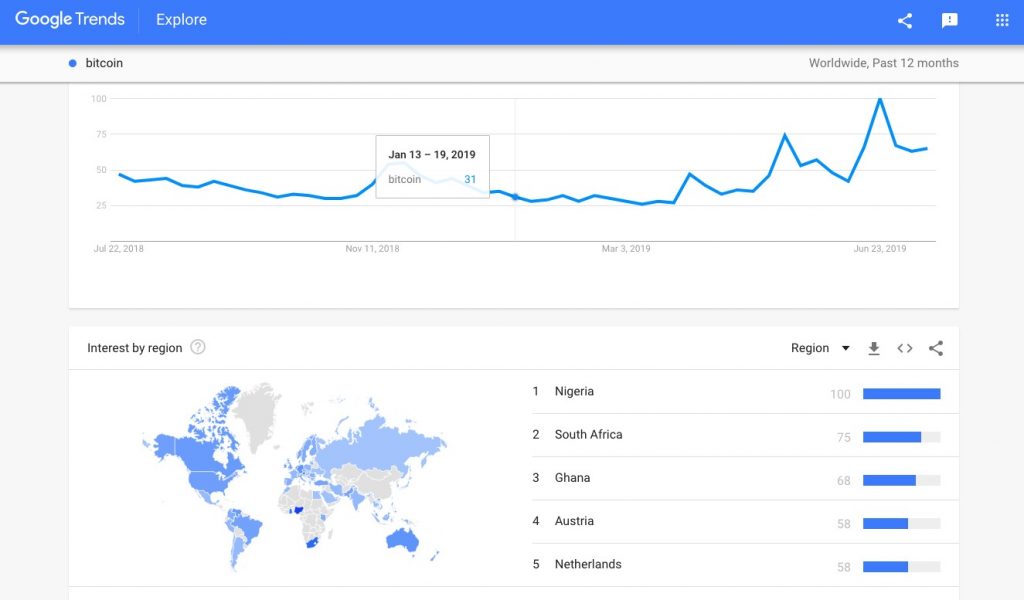 That's the reason why the CoinCola meet up in unilag attracted so many people to come to learn about the future of finance. 
Chat Dialogue with some crypto users in Nigeria: 
CoinCola Team: How well do you think Nigerians are embracing cryptocurrency and what is the current limitation to crypto adoption in Nigeria?
David Zoe: 
I will say out of 100%, Nigerians are embracing it (bitcoin) with 40% currently interest, the current limitation is just ignorance; Nigerians heard about cryptocurrency first from wrong sources, so many still don't know bitcoin and crypto is here to stay. I hope coincola helps crypto adoption by investing in crypto education too.
Rotc:
The popularity of cryptocurrency is growing like a wildfire in Nigeria majorly because people see them as an investment vehicle due to rising inflation in the national currency (Naira), while others use them carry out actual transactions, cross border payments, and micropayments for goods and services, especially with  Dash cryptocurrency. Dash offers people the opportunity to pay for a cup of coffee with just a few cents. 
CoinCola Team: How has your experience on CoinCola been?
David Benjamin: 
CoinCola presents the best opportunity for everyone in the Nigerian ecosystem for users to trade cryptocurrencies and gift cards with the best level of trust and this in itself is a milestone and first of its kind in Africa.  
According to research, Nigeria is the 2nd top region searching about coincola on the internet and we are working hard at making our services smooth and easy for Nigerians to use. We have educational articles to educate Nigerians about cryptocurrencies, we have Whatsapp groups and telegram groups, all geared towards helping the community come on board to the future of finance. 
In a related story about the growth of cryptocurrency in Nigeria, Femi Gbajabiamila, a speaker at the House of Representatives in Nigeria, expressed the need for Nigeria as a country to develop clear regulations for digital assets so that the country does not get left behind as cryptocurrencies become widely adopted around the world.
"On the issue of cryptocurrency, I think blockchain technology is novel and coming up strong. We don't want to be left behind. […] I think the world is taking the issue of cryptocurrency and block-chain technology seriously…".
The lawmaker also spoke about the role of the Nigeria Deposit Insurance Corporation (NDIC) in developing clear structures for the banks in Nigeria as regard cryptocurrencies and blockchain. According to some resource persons in the crypto space, most top banks in Nigeria are already considering investing in building infrastructure for blockchain and cryptocurrencies. 
Facebook: https://www.facebook.com/CoinCola
Telegram: https://t.me/coincolainternational
LinkedIN: https://www.linkedin.com/company/coincola/
Twitter: https://twitter.com/CoinCola_Global
Medium: https://www.instagram.com/coincola/