Paxful closing down? No worries, the best Paxful alternative got your back
Are you a Paxful user? If yes, then you must have heard about the shocking news of Paxful's upcoming closure. Paxful has been one of the most popular peer-to-peer cryptocurrency exchanges for years, but now it's time to move on to a new platform. But where to go next? Don't worry, we've got you covered.
CoinCola, a leading cryptocurrency exchange platform, is here to provide you with the perfect Paxful alternative. Not only is CoinCola a reliable and secure platform, but it also offers various features and benefits that you won't find on other platforms.
In this article, we'll discuss why CoinCola is the best alternative to Paxful, and how you can take advantage of our exclusive campaigns for new users.
Why Choose CoinCola as Your Paxful Alternative?
User-Friendly Interface
CoinCola's user interface is intuitive and easy to navigate, even for beginners. Our platform has a clean and organized layout that makes it easy for users to buy, sell, and trade cryptocurrency.
Wide Range of Payment Options
We understand that everyone has different payment preferences, which is why we offer a wide range of payment options. You can use bank transfers, online payment systems, or even gift cards to buy or sell cryptocurrencies on CoinCola.
Advanced Trading Features
CoinCola offers advanced trading features, such as a built-in OTC (over-the-counter) trading desk, which allows for faster and more efficient trading. We also provide advanced charting tools and order book data, so you can make informed trading decisions.
High Liquidity
We have high liquidity for all our supported cryptocurrencies, which means you can buy and sell large amounts of cryptocurrency without affecting the market price.
Secure Platform
At CoinCola, we take security seriously. We use advanced security measures to ensure that our platform and our users' funds are safe and secure.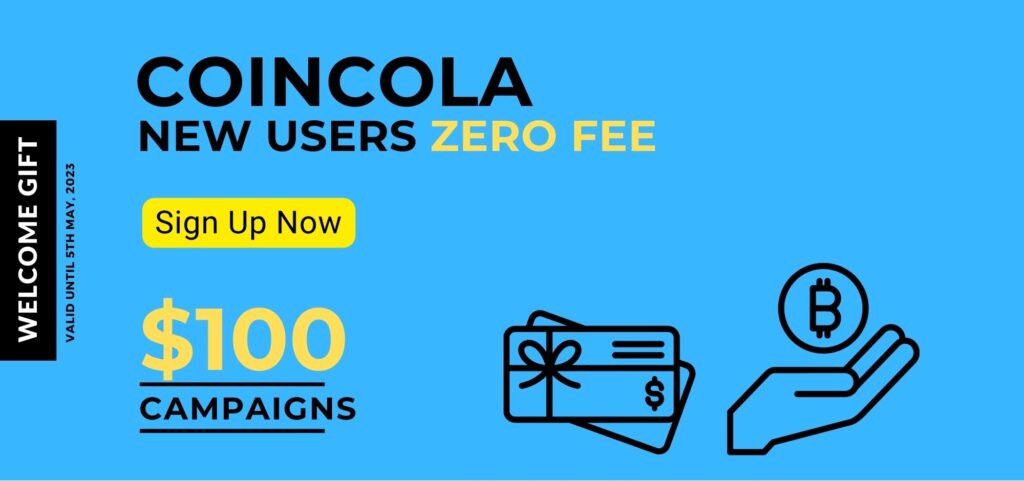 CoinCola's Exclusive Campaigns for New Users
To show our appreciation for your support, CoinCola is launching exclusive campaigns just for new users from 6th April to 5th May 2023. Here are the details:
Campaign 1: Permanent Zero Trading Fees
When you initiate a trade as a buyer or seller on CoinCola, you won't be charged any trading fees. This is a permanent feature on CoinCola. That's right, enjoy free-fee selling of your cryptocurrencies on our platform.
Campaign 2: $100 Coupons for New Registrations
Any user who registers on CoinCola during the campaign period can receive 5 coupons (worth $100 BTC in total). Check out the rules for redeeming each coupon below:
| | | | | |
| --- | --- | --- | --- | --- |
| No. | Make | Volume | KYC Yes/No | Coupon Reward |
| 1 | At least one trade | No limit | No | $2 BTC |
| 2 | At least four trades | No limit | Yes | $5 BTC |
| 3 | Any trade at least | $3,000 BTC | Yes | $15 BTC |
| 4 | Any trade at least | $8,000 BTC | Yes | $20 BTC |
| 5 | Any trade at least | $25,000 BTC | Yes | $58 BTC |
Please note that $100 worth of coupons will be sent to your CoinCola account on the next day of registration.
How to Use CoinCola Coupons:
Login to your CoinCola account and click on "Account" to access your account dashboard.
Click on "Coupon" to access your coupon dashboard.
Select the specified coupon before placing an order in the OTC market.
Complete the trade and the reward will be automatically credited to your OTC wallet.
Please note that the coupons can only be used in the OTC market and are only valid for a limited time. Make sure to use them before they expire.
Campaign 3: VIP Benefits for Loyal Users of Paxful
If you're a loyal user of Paxful, you can enjoy VIP benefits on CoinCola. Here's how:
Deposit BTC to CoinCola for the first time and we'll compensate you the first BTC transfer fee. This means you can withdraw for free to CoinCola. Only new users are eligible for this compensation. You will receive the compensation in your CoinCola wallet within seven days after the end of the campaign.
Stay tuned for more VIP benefits in the future, such as monthly rewards, holiday benefits, birthday benefits, and more.
To apply for CoinCola VIP benefits, simply send an email to vip@coincola.com. Include your phone number or email address when you registered with CoinCola and your transaction records from other platforms in the last 14 days (screenshots or videos). We'll reply to you within 3 days.
All rights are reserved by CoinCola, including the right to cancel the qualification in cases of any cheating behavior.
Thank you for choosing CoinCola as your Paxful alternative. We are committed to providing you with the best trading experience and the most competitive rates in the market. Join us now and start trading with zero fees today!

Follow CoinCola on Social Media
Twitter: https://twitter.com/CoinCola_Global
Facebook: https://www.facebook.com/CoinColaGlobal/
Instagram: https://www.instagram.com/CoinCola/
LinkedIn: https://www.linkedin.com/company/coincola/
About CoinCola
Founded in 2016, CoinCola is a Hong Kong based company offering both over-the-counter cryptocurrency trading and crypto-to-crypto pair trading exchange. CoinCola now serves millions of users from over 150 countries with our fast, secure, and reliable trading services. We support BTC, ETH, BCH, LTC, USDT, DASH, and XRP. Visit www.coincola.com to invest in digital assets.

Disclaimer: Trading and investing in cryptocurrencies, also called digital currencies, crypto assets, and so on) involves substantial risk of loss. All informations are used at your own risk, and any content on this site should not be relied upon as advice or construed as providing recommendation of any kind.