How to Make Money Online in Nigeria As A Student
So many Nigerian students are eager to earn some money for themselves, either through a part-time or a full-time online job. There are several advantages when you work online, but this requires having the necessary skills, planning properly, and executing your plans the right way.
There are several ways in which Nigerian students earn money online, which can be categorized majorly into four: Full-time online jobs, Part-time online jobs, Freelancing and Running a Business online. However, out of all these methods, many Nigerians make money when they resell gift card.
Recently, the online purchase and sales of gift cards in Nigeria has been on the rise and anyone paying little or no attention to it is really missing out. Nigerians do not really believe in using gift cards to make online payments; when they get any gift card, they decide to trade it for cash and then use the money to do something better instead of buying something with it on iTunes.
This is why some individuals have established online platforms to solve this issue, making it possible for people to sell their gift cards without stress in Nigeria.
What is CoinCola?
CoinCola is a fast-growing OTC Bitcoin trading platform and allows people to buy Bitcoin with different types of gift cards. CoinCola is based in Hong Kong, which was launched in March 2017. We have customers in at least 100 countries, Nigeria inclusive.
BONUS: Buy Bitcoin with Gift Card on CoinCola and Get Free 0.0001BTC Instantly!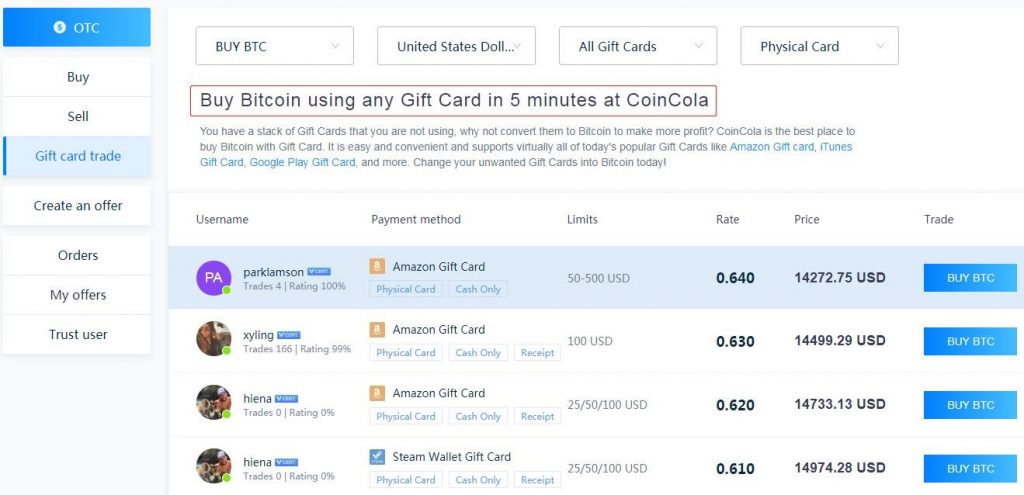 Why you should make use of CoinCola?
CoinCola has great benefits. As a student, you can get discounted gift cards and re-sell them for bitcoin instantly on CoinCola and make a profit from it when the price of BTC increases or you can just convert the BTC to Naira instantly.
Below are some other benefits of using CoinCola:

       

Trading with other users is allowed

       

Lower fees charged per transaction

       

Registration is 100% free

       

Resell gift card

       

Crypto exchange present within the platform

       

Less workload and so faster customer support response

       

Buy Bitcoin with gift card

       

Very fast delivery for transactions

       

Very good customer service: live chat support open 24/7 and email service available for customers on the website.
 Better Fees of CoinCola Compared to other Exchange Sites
Compared to other platforms, CoinCola offers a lower transaction fee. Paxful charges 1% from the seller on each transaction. Localbitcoins.com also charges 1% as a fee for every transaction.
CoinCola charges 0.0005btc for withdrawal fees. We also allows you to send Bitcoin to other users of the website without a fee, so far the amount of the accumulated transfer is not up to 0.5btc for any particular month.
Also, CoinCola has a "trading exchange" feature. This unusual feature makes it possible for users to exchange Bitcoins for other listed altcoins like Ethereum. For this, we charge a fee of 0.2%. Cryptocurrencies available for trading on CoinCola include: BTC, ETH, EOS, XRP, LTC, BCH, USDT, GUSD, while the payment options available include: Amazon gift card, iTunes gift card, Google Play gift card, Western Union, PayPal, Alipay, Kakao pay, MoneyGram, Bank transfer, Payeer, Wechat pay, AdvCash, etc.
Making Extra Cash on CoinCola by Referring Traders
If you don't trade but you know those that do, you can invite them to CoinCola via your referral link which you'll get once you complete your registration. When those you invite to register and make trades, you will earn some money from these transactions.
Also, there's another advertised option where you make 1000NGN after referring one person to the platform, and this person also gets 700NGN. There's enough bonus to go round.
Getting Started
To start enjoying the benefits of CoinCola, you have to first of all create an account. To register, you can use either your email address or your phone number. You will get a verification code after completing the first step of the registration. Below are the steps:
       

Go to the sign-up page

on CoinCola.

       

Pick a registration method, either your email address or your phone number. You'll get a verification code

       

Type the verification code sent to your phone contact or email, and click sign up. You'll then get a notification informing you that your registration is successful.
Conclusion
Reselling Gift Card has been on the rise in Nigeria and one of the platforms you can rely on is CoinCola. Asides the lesser transaction fee we offer, there are other benefits choosing our platform over the other.
Start to Resell Gift Cards on CoinCola Today!