CoinCola Invites You To Lagos Bitcoin and Trading Seminar
After having so much participation in bitcoin parties, participating and hosting meet-ups and seminars in Nigeria, we deemed it necessary to provide more education on cryptocurrency tradings to Nigerians as a basic social responsibility for a trading platform. Therefore, we launched a CoinCola Academy cooperated with professional and verified coaches, which aims to educate from basic to advance levels.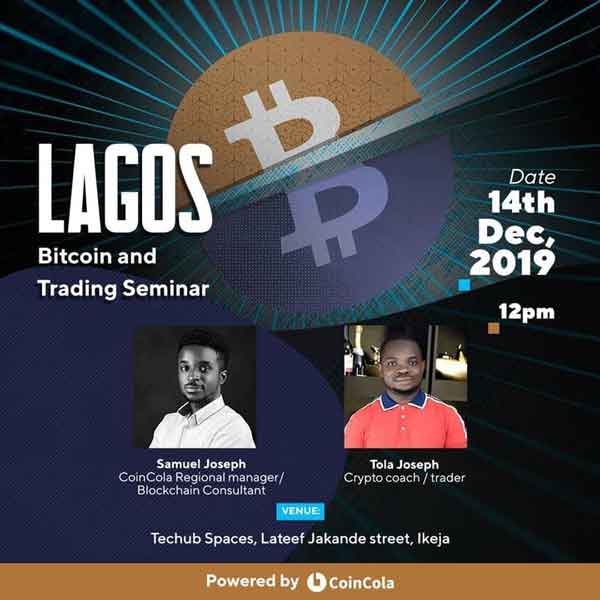 The Lagos Bitcoin and Trading Seminar is our first offline event that focuses on the core trading and investment for cryptocurrencies, which provided by our verified coach Mr. Tola Joseph.
We invite anyone in Lagos who is interested in learning how to make money with cryptocurrency trading to attend our first ever CoinCola Bitcoin trading seminar that will hold in Techub Spaces, Lateef Jakande street, Ikeja. 
This seminar, our coaches will analyze both Bitcoin and altcoins as potential crypto investments, based on underlying fundamental and technical analysis used over the years.
The seminar is targeted at all levels of crypto investors – from beginners to advanced level, this Bitcoin investing seminar will introduce you to:
Cryptocurrency and BlockChain Investment Basics
Introduction to cryptocurrency and blockchain

Introduction to cryptocurrency trading
Getting Started With Crypto Trading, Crypto Trading Basics
Type of coins on CoinCola and why those coins.
Coins versus Tokens – Proofs of Work, Proofs of Stake, delegated PoS

Trading pairs
Alt-Folio Breakdown, Blue Chip versus Speculative Crypto Assets 
Correlation of AltCoins with BitCoin

Tips for diversifying your AltFolio:

How much to put in each AltCoin Category

Portfolio composition – Fiat versus BitCoin versus Altcoin
Alt Coins, Crypto Investment Research Tips, Deep Dive Comparisons (Bonus Content *)
Market Caps, Percent Increases, Volumes – Which to use when?

Working Product, Team, Github check ins

Social Media Presence, Website, Twitter, Telegram, Reddit

Deep Dive comparisons- Bitcoin Cash vs. Bitcoin, EOS vs. Cardano vs. Ethereum, ZCash vs. Monero
Recap – Summary – Questions
To join the trading seminar, click [here].
To get a customized image click here.
CoinCola Black Friday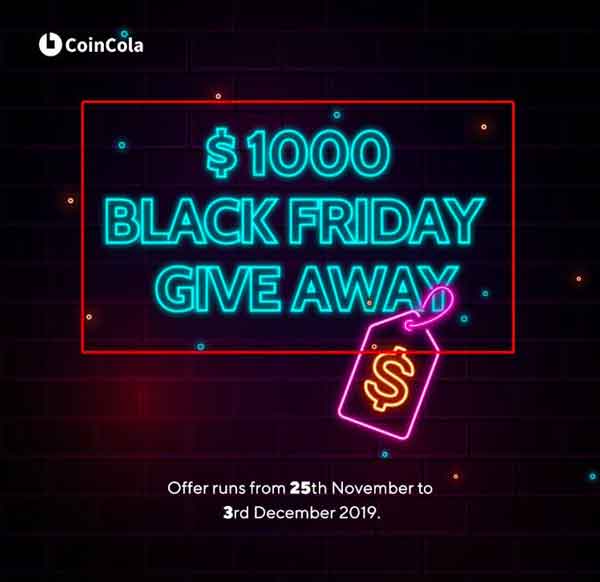 CoinCola is giving away $1,000 USD in BITCOIN this DECEMBER. All you have to do is BUY BITCOIN with GIFT CARDS on COINCOLA:
$25-50 cards✅

$51-100✅

$101-200✅

$201-500✅

$501 and above✅
Visit http://bit.ly/coincola-blackfriday for more information Or click here for a head start.