Crypto Training From Newbie to Expert
This course will guide you into the core knowledge of cryptocurrency trading and best crypto practices in maximizing frequent profits from all kinds of crypto price movement.
Course Duration:
120 minutes, 3 sessions of 40 minutes each.
Course Fee:
USD150
CLICK TO ENROL INTO THE COURSE
PREREQUISITE KNOWLEDGE 
Crypto is still very new and trading of crypto is also still at its infant, so students don't need to have much prior knowledge, all that is needed is just the right motivation to learn and be comfortable with our amazing coaches and an account with www.coincola.com.
WHAT CAN YOU LEARN?
This course covers areas on introduction to crypto trading, cryptocurrency trading techniques (technical and fundamental analysis) and strategies. 
Each course is an interactive session that features live trading sessions, pre-recorded video classes, quizzes, and projects. 
Chapter 1:
Introduction to Cryptocurrency and Money
(40 mins) (Online Video)
Evolution of Money

Emergence of cryptocurrency – Bitcoin

Introduction to cryptocurrency trading
i. Satoshi/gwei value
ii. Market volume
iii. Market cap
Chapter 2:
Introduction to Trading Techniques (40 mins)
Technical analysis (Support and resistance, Relative Strength Index, MACD)

Fundamental analysis

Sentimental/Psychology analysis
i. Discussion
ii. Cryptocurrency use cases
iii. Problem solving/feasibility study
Chapter 3:
How to trade cryptocurrency for Profit (40 mins)
How to trade.
i. Trading on cryptos/gift cards on CoinCola
ii. Risk management – Stop loss
iii. Arbitrage trading – Understanding price actions
How to calculate profit/loss

Wallet security
CLICK TO ENROL INTO THE COURSE:USD150
All buyers for this program will have the following benefits
Unlimited and timely trade signals for major coins (BTC, ETH etc)

VIP group/forum discussions, questions

Daily top crypto updates
About me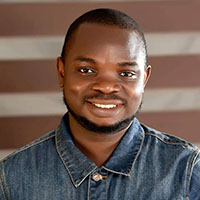 Tola Joseph is the founder, Crypto Masterclass. A cryptocurrency education platform that focuses on cryptocurrency awareness, education and benefits. Tola is a vibrant cryptocurrency fundamentalist. He's well known to be part of the forces spreading cryptocurrency and blockchain education in Nigeria and abroad.
Tola has been hailed severally my global blockchain startups, the best known is Electroneum among others. Recently, Tola signed a partnership with CoinCola as academy coach and also recognised as Huobi Global Knight. Learn more about CoinCola Academy>>>