How to Sell Bitcoin in 5 Steps in Kenya?
As cryptocurrency gains popularity in Kenya, more people are interested in buying and selling Bitcoin. If you're new to the world of cryptocurrency, selling Bitcoin can seem like a daunting task. However, the process is relatively straightforward if you know what to do. In this article, we'll go over the five steps you need to follow to sell Bitcoin in Kenya.
Selling Bitcoin can be a bit of a daunting task, but it doesn't have to be. The easiest and most secure way to sell Bitcoin is through a cryptocurrency exchange. If your Bitcoin assets are already on an exchange, then you can jump to step 4. However, if they're not, you'll need to deposit your Bitcoin onto an exchange to sell it on the market.
Before registering on an exchange, it's essential to consider several factors when selling BTC. First, make sure that the exchange you're considering lists Bitcoin as one of its assets, and that your preferred fiat currency is supported for withdrawals to a bank account. Additionally, compare various exchanges to find the lowest deposit, withdrawal, and trading fees in order to maximize the amount of fiat currency you'll receive.
Step 1: Choose a Bitcoin Exchange Platform
To make an informed decision, evaluating your circumstances and considering some important questions is essential. Here are the key points to remember when choosing a trustworthy and reliable exchange platform to sell your Bitcoin:
Conduct extensive research and select an exchange platform that has a good reputation and a proven track record of securely handling transactions.
Evaluate your circumstances and consider important questions, such as whether you intend to sell your Bitcoin for fiat currency or another cryptocurrency.
Assess how urgently you need to sell your Bitcoin to decide on the most appropriate exchange platform that can facilitate a speedy transaction.
Consider whether you are willing to sell your Bitcoin below the market rate or if you want to negotiate the best possible price.
If you are selling your Bitcoin for fiat currency, consider how you would prefer to receive payment.
After carefully answering these questions, you can decide on the best way to sell your Bitcoin and select a suitable exchange platform that meets your requirements. In Kenya, some of the most popular Bitcoin exchange platforms include CoinCola, Paxful, and BitPesa.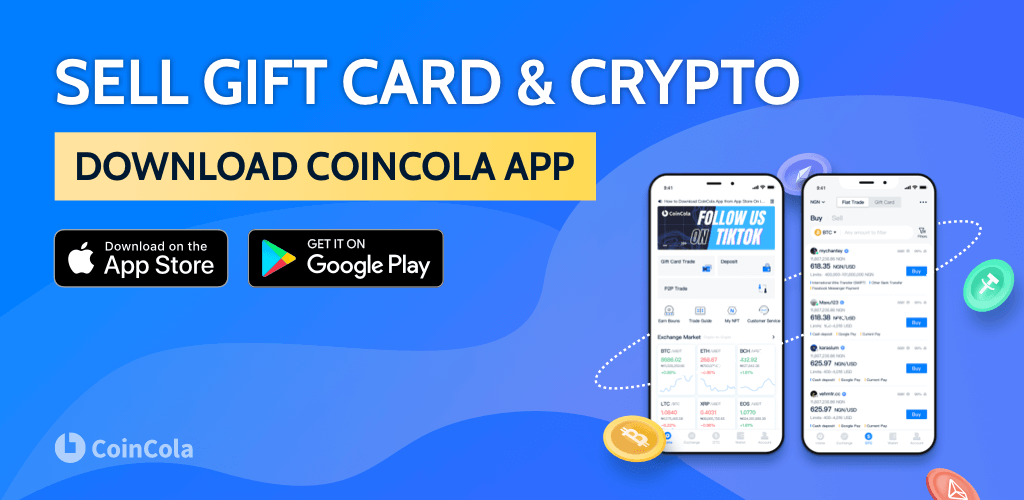 Step 2: Create an Account
Once you have made the decision to sell your Bitcoin on a cryptocurrency exchange, the first step is to create an account on the platform. You can easily do this by locating the "Sign up" or "Register" button on the exchange's homepage and following the simple steps below:
Provide your email address or phone number
Create a strong password
Verify your email or phone number by entering the unique code that was sent to it
Agree to the exchange's terms and conditions
Click on the "Sign up" or "Register" button
Then, you will then need to complete the KYC (Know Your Customer) process in order to verify your identity. This usually involves:
Entering your personal information, such as your name, date of birth, and address
Uploading a clear photo or scan of your ID, such as a passport or driver's license
Uploading a copy of a utility bill or bank statement that matches the address and name on your ID
Taking a selfie while holding a piece of paper with your name and the current date on it
In order to further enhance the security of your account, it is recommended that you activate 2-factor authentication. This adds an extra layer of protection to your account and helps to prevent unauthorized access.
Step 3: Transfer Bitcoin to Your Exchange Wallet
To transfer your Bitcoin to the exchange's wallet so that you can sell it. By accomplishing this, you will first need to generate a Bitcoin address on the exchange platform and then send your Bitcoin from your personal wallet to the exchange's wallet. It is essential to verify the address before making the transaction to ensure that you are sending it to the correct address.
Here are the steps to deposit your Bitcoin on the exchange:
Go to the wallets or balances page on the exchange platform.
Locate the "Bitcoin" option.
Click on the "Deposit" button.
Copy the unique address provided by the exchange platform for your BTC deposit.
Paste the address into your external Bitcoin wallet.
Double-check the address to ensure it matches the address on the exchange platform.
Consider sending a small test amount first to ensure everything works correctly.
Send the transaction and select the network fee. A higher fee will result in faster processing.
Wait for the deposit to be confirmed by the exchange platform, which may take several minutes or up to an hour depending on the exchange and network congestion.
By following these steps, you can deposit your Bitcoin onto the exchange platform and prepare to sell it. It's crucial to take the necessary precautions and ensure that you have entered the correct address to avoid any loss of funds.
Step 4: Sell Your Bitcoin
Once your Bitcoin is in your exchange account wallet, you're ready to sell it. There are various ways to sell BTC through an exchange, including OTC trading, Instant Sell, Market Order, and Limit Order. It's important to remember that you can sell Bitcoin for fiat currency or other cryptocurrencies.
OTC Trading
Here are the steps to sell Bitcoin through OTC trading:
1. Specify your requirements
Choose your preferred payment method
Select your location and currency preference
Let the filter find relevant offers
2. Evaluate offers
Look into the buyer's identity, reputation, and rate per Bitcoin
Click Sell BTC to assess the terms and conditions set by the buyer
Select a suitable offer
3. Start the transaction
Input the amount you're willing to trade for
Click Sell Now to commence a live trade chat
Relocate your Bitcoin to the platform's fortified escrow
Follow the instructions provided attentively
Release the Bitcoin after the buyer completes their end of the deal and you receive payment
4. Provide feedback
After successfully selling your Bitcoin, leave feedback for your trade partner
Bolster their reputation on the platform.
Instant Sell
To execute an instant sell, you need to link a bank account or a withdrawal destination previously. Instant sales have the highest fees and are executed at the current market price, resulting in a lower net compared to using the spot market. However, instant sell options are popular because of their convenience and speed. You can choose how much to sell and where to deposit, and you will receive a preview of the transaction to review its details before confirming and finalizing the sale.
Market/Limit Orders
Here are the steps to access the market and limit orders on a cryptocurrency exchange:
Navigate to the "spot trading," "trade," or "exchange" section on the exchange, which may vary by exchange.
Look for the options to place market or limit orders.
Market orders involve selling Bitcoin immediately at the current market price, incurring higher fees than limit orders but lower fees than instant sell. This option is ideal if you want to sell quickly.
Limit orders involve selling Bitcoin only when it reaches a specific price set by you, resulting in lower fees than market orders and instant sales. This option is suitable if you want to sell at a specific price.
Select the type of order you want to place and enter the necessary details, such as the amount of Bitcoin you want to sell and the price at which you want to sell it.
Review your order details and confirm the transaction.
Wait for the order to be filled, which may take some time depending on market conditions.
Once the order is filled, you will receive the proceeds from the sale in your exchange account.
Maker/Taker Fees
Here are some key points to remember regarding maker and taker fees and executing market and limit orders on a spot trade:
Maker and taker fees apply to spot trades on cryptocurrency exchanges.
Maker fees apply when you add liquidity to the exchange by placing an order that is not already on the books.
Taker fees apply when you take liquidity off the exchange by placing an order that is already on the books and immediately filled.
Taker fees are charged when a market order is executed immediately, or if a limit order is executed at the current market price.
If you place a limit order at a price that is not the current market price, it is considered a maker order and has lower fees.
Some exchanges may charge the same fees for both maker and taker trades.
To execute a market order, choose the amount of Bitcoin to sell and place the order.
To execute a limit order, choose the amount of Bitcoin to sell and at what price and wait for the order to be filled.
If the order is not filled, you can cancel it at any time.
Remember to check the fees and terms of your specific exchange before executing any trades.
Step 5: Withdraw Your Funds
The final step is to withdraw your funds to your bank account. You'll need to provide your bank details, including the account number and bank code, to receive the money. Once the funds are in your account, you can then withdraw them at any time.
Conclusion
Selling Bitcoin in Kenya is a straightforward process that can be done in just a few steps. By choosing a reliable exchange platform, creating an account, transferring your Bitcoin, selling it, and withdrawing your funds, you can quickly turn your Bitcoin into cash.
If you have any questions or concerns about selling Bitcoin in Kenya, here are some FAQs to help you out.
FAQs
1. What fees do Bitcoin exchanges charge for selling Bitcoin in Kenya?
Bitcoin exchanges charge a transaction fee for every sale. The fee varies depending on the exchange platform, so it's important to research and compare fees before choosing a platform.
2. How long does it take to sell Bitcoin in Kenya?
The time it takes to sell Bitcoin in Kenya depends on the exchange platform and the amount you sell. Some exchanges offer instant sales, while others may take a few hours or days to process your transaction.
3. Is it safe to sell Bitcoin in Kenya?
Selling Bitcoin in Kenya is generally safe, but it's important to choose a reputable exchange platform to minimize the risk of fraud or theft.
4. Can I sell Bitcoin for any currency in Kenya?
Yes, most Bitcoin exchange platforms in Kenya allow you to sell Bitcoin for any currency of your choice, including Kenyan shillings, US dollars, or euros.
5. Can I withdraw my funds from any bank in Kenya?
You can withdraw your funds from any bank in Kenya as long as you provide your correct bank details.