How do Ghanaians sell bitcoin on CoinCola?
Numerous Ghanaian users have a Coincola account and hold some bitcoin in their wallets, but they still confuse how to sell bitcoin. Don't worry, this article will be your guide.
Let's  make an introduction about CoinCola first
CoinCola is a crypto platform where new users can sell a gift card, buy or sell cryptocurrencies(such as BTC, USDT, ETH). After selling gift cards, users will receive bitcoin. So, gift card holders also want to know how to sell bitcoin.
Two methods for Ghanaian users to sell bitcoin
The peer-to-peer market (OTC market) can be the best choice for new Ghanian users to sell bitcoin and receive fiat currency immediately. In this market, retail users trade with vendors who posted offers and would like to buy bitcoin.
As the below picture showed, go to the"OTC" market, choose "Ghana" and "Sell", then you can find some vendors are on the list. Next step, trade with one of the vendors. After creating an order, you need to chat with the vendor first and confirm he is available to trade with you. While you both reach each other, the vendor will tell you to send the bank account code to him. Ghanaian traders can use MTN, bank account, or other to receive payment.
Remember, once you already receive payment, please release bitcoin to the vendor. Until now, the whole selling of bitcoin is over.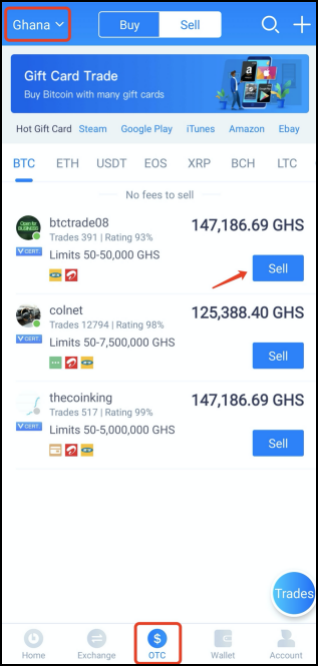 The exchange market provides Ghanaian users another way to sell bitcoin for another coin. In this market, users can exchange BTC for USDT. USDT is one kind of stablecoins, with a stable price that is nearly equal to the dollar(USD). Most investors prefer to sell bitcoin and get USDT when the bitcoin price is at a high level. Also, they will buy it back with USDT at a low price.
Look at the picture, "BTC/USDT" means that these two coins can exchange each other. On CoinCola App, go to the"Exchange" market, choose"BTC/USDT" and click "SELL BTC". After selling, you will receive USDT in your wallet.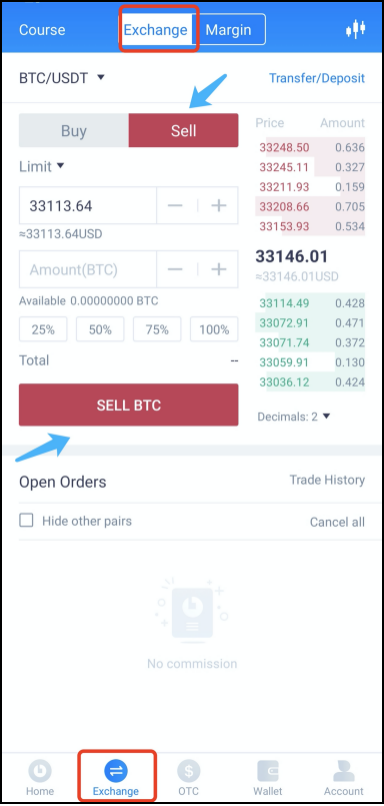 The Activity for Ghanaian users
At present,New Ghanaian users who finish one trade can win $2 bitcoin, also post an offer to become a vendor can get the reward of $10 bitcoin.
Besides, you can also share the bonus for your friend and get $2 bitcoin for each successful referral.
Without an account, Sign up and get $2 BTC
Please feel free to reach us: +852 90653442(WhatsApp)