Cryptocurrency Exchange and the Far It Has Come
The cryptocurrency industry is evolving at a fast pace. Along with it, the means through which people can exchange crypto has continued to mature. This maturity is a function of increasing interest in the digital currencies as well as the continued development of the technology which underlies crypto. 
A brief history of digital currency exchange
The story of cryptocurrencies dates back to the '90s when computer wizards and cryptocurrency pioneers Wei Dai and Nick Szabo attempted to create digital money separately. Although their creations did not make it far into the public, the idea lived on. 
Similarly, the exchange of digital currency dates back to pre-Bitcoin years. To be sure, there have been various digital currency exchanges that have been shut down for violating banking rules. In 2004, various businesses based in Australia and focused on the exchange of digital currencies shut down voluntarily after authorities indicted them for operating without requisite licenses. 
In the US, businesses like GoldAge Inc. were flagged and also shut down and the operators charged with a felony. Other businesses that have been involved in an exchange of digital currency have disappeared quietly due to the same reason; lack of proper documentation and license to operate.
Enter bitcoin and bitcoin exchange
Bitcoin is by and large an improvement of the concepts initially proposed by Dai and Szabo. However, the difference is that Bitcoin and the altcoins which came later have found favor in the mainstream. 
In the initial days of bitcoin, holders had no channel to exchange the digital currency. Add to that the fact that the currency was of negligible value. The cryptocurrency had so little value that 10,000 BTC bought two pizzas in May 2010.  Perhaps this is a clear reflection of how difficult it was to exchange bitcoin. After all, what you cannot exchange lacks value. 
But the first bitcoin exchange had gone live just two months ago in March 2010. Bitcoinmarket.com was a simple platform where holders could exchange bitcoin for bitcoin and even bitcoin for fiat. However, a series of pitfalls, scams, and scandals saw the platform collapse into oblivion.
Later that year, Mt. Gox went life, and it turned out to be the largest Bitcoin exchange at the time. But that was before disaster struck.
By early 2011, BTC was on parity with the US dollar. This spoke to the value that BTC was gaining and the fact that the public was embracing the digital currency. Perhaps more important was the fact that people could exchange the currency via a public platform but keep their anonymity. 
In June 2011, Mt.Gox got hacked, and 2,000 BTC disappeared. The exchange later recovered and went on to handle more than 70% of all BTC transactions in 2013. Unfortunately for the users, hackers struck for the second time, and this time made away with 850,000 BTC. 
At the time, this amounted to $460 million ($5.046 trillion by the time of writing). 
Enter Coinbase and other exchanges
The Mt Gox hack and the eventual declaring of bankruptcy did not faze the crypto community as development in exchange continued to happen. In the later years, Coinbase and Bitstamp, among other exchanges appeared, and they are still going strong today.
The problem of hacking did not go away with Mt Gox however. Bitstamp was hacked in 2015 and BTC worth $5 million at that time was stolen. As such, it has always been a struggle to keep hackers away from exchange platforms ever since. 
Hacking and other issues like money laundering have been hard on the crypto community. In fact, regulators have used them as the basis for denying cryptocurrency clarity in terms of a legal framework. 
Other means of exchanging cryptocurrency
Up until this point, it is clear that the most common means to exchange cryptocurrency was through an exchange. Perhaps that is why hackers have largely targeted the exchanges since cryptocurrency became a thing for the mainstream. 
But there are other means of bitcoin exchange, among other altcoins. We discuss some of the below:
Initially, the only way one could access digital coins was through mining. But cryptocurrency mining is a cumbersome task and hefty in terms of costs. In response, platforms emerged where one could buy coins using fiat currency.
One of those platforms is CoinCola.com. To be sure, CoinCola.com allows traders to transact directly without the intervention of a central authority. This person-to-person arrangement ensures that users can use their local fiat to buy Bitcoin.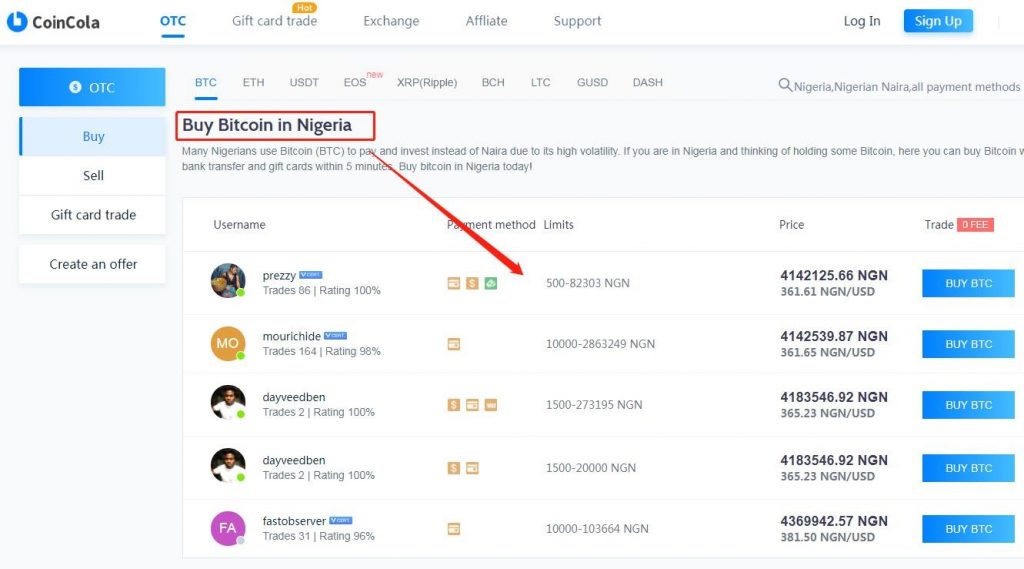 Nigerians can buy bitcoin with Naira on CoinCola
The greatest advantage of using CoinCola.com to trade is that one experiences less charges as compared to other platforms. Here, the platform only charges a facility fee, which is just 0.7% of the amount traded. Further, the platform gives users access to a larger pool of crypto apart from BTC. Also, the platform is supported by the mobile device, and users can make trades on the go from wherever they are.
Another positive feature of CoinCola.com is that users can trade crypto for crypto over the counter. This is to say that one can buy BTC using Dash or any other altcoin supported by the platform. The beauty with exchanges like CoinCola.com is that one does not need to have or maintain a cryptocurrency wallet.
There is another way to exchange cryptocurrency. This is where holders get to exchange their coins without the need for a third party to complete the transaction. However, one will need to own a cryptocurrency wallet to be able to complete such transactions. 
For starters, a cryptocurrency wallet enables the holder to receive and send crypto to other people or entities. Also, owners of this software program will be able to monitor the status of the amount of crypto in possession, just like any other money account.  
These private transactions are mostly for crypto-to-crypto exchange. This is to say that one will exchange crypto like BTC for another one like ETH based on the existing market rates or at rates mutually agreed upon. 
However, users can also exchange crypto fiat. For instance, a holder of BTC can send a certain amount of the coins to the private wallet of another party who, in return, sends fiat cash to the sender.
BONUS: Trading Bitcoin on CoinCola Today and Get 0.0001BTC Bonus Instantly!