CoinCola Meet Up in Lagos, Nigeria
Join our first CoinCola MeetUp in Nigeria!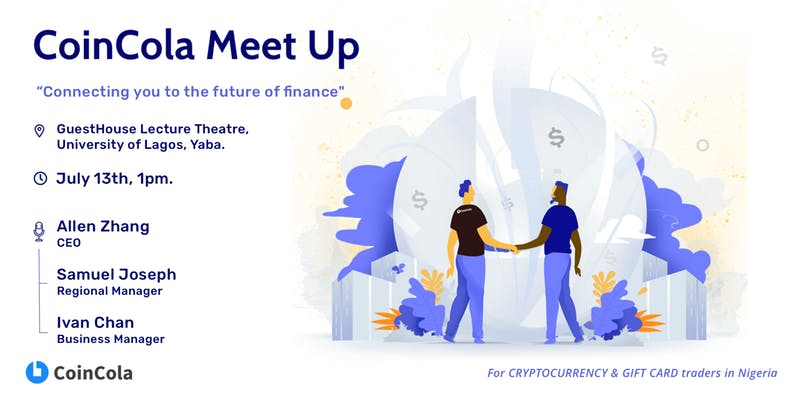 CoinCola is pleased to host the first meetup in Nigeria, aimed to provide an introduction of Coincola's P2P platform as well as Coincola's coin exchange platform. CoinCola will also take this opportunity to engage in discussion with the local community and institutions.
In this meetup, Mr. Allan Zhang – CoinCola CEO, Mr. Ivan Chen – CoinCola Business Development Manager, and Mr. Samuel Joseph – CoinCola Regional Manager will talk about CoinCola's features, the future of finance in Africa and how to use CoinCola mobile app – the easiest way to buy and sell cryptocurrency with FIAT.
Follow by a talk and tips on how users can make money with CoinCola. 
Via P2P platform

With gift card selling

Create your business venture with Chinese wholesalers 
We will also have a round table with local influencers and traders to discuss on the crypto situation in African, the potential of cryptocurrency and its implication on African financial inclusion.
You will have a chance to win free swag and bitcoin at the event!
After the event, we will provide catering and a post-event networking session with our speakers for everyone attending.
Seats are limited: Register now. For further information about our Meetup, visit our Telegram group, where you'll be able to ask any questions directly to our admins: https://t.me/coincolainternational
———————————
Disclaimer: Pictures and/or videos will be taken during the meetup. The photos and/or videos maybe be used as CoinCola's promotional materials. By registering to this event and participating in the meetup, you permit CoinCola to use the photos and/or videos shot therein and agree that this conduct does not infringe your Portraiture Rights.