How To Check Your iTunes Gift Card Balance
 With the number of Apple users growing every day, the popularity of iTunes gift cards is also increasing. It happens to be just another form of payment method that you could use instead of a credit card. It eases the process and also provides a great deal of security, which is not otherwise available in the case of credit cards.
Please note that this gift card can be used for a variety of purposes, including the purchase of shows, movies, apps, music, etc. Just like cryptocurrencies, these cards are not bound by any geographical parameters. It implies that anyone with an appropriate wallet to receive the gift card credits can enjoy this functionality.
Unfortunately, people who do not make purchases using this payment method often forget the remaining amount in their account. So let's explore a simple method for checking your iTunes gift card balance:
Redeeming the card
   

Open iTunes:

You can do that from any Apple device. Apart from clicking the regular app icon, iTunes can also be accessed from App Store or iBooks Store

   

Visit iTunes Store:

If you are accessing it from an iOS device, click the 'featured' button on the navigation menu located at the bottom of the screen. If you are using a laptop, click the 'Store' button at the top of the screen

     

Hit Redeem:

If you are using an iOS device, simply scroll down and click on 'Redeem'. However, in case you are on a computer, hit the 'Account' button, go down in the given menu and click 'Redeem'.
Please note that in order to extend the use case, iTunes even allows Android users to redeem the gift cards. Just click on the menu icon situated at the upper left corner and hit 'Redeem' in the dropdown menu

   

Sign in to your account:

In order to assign the value of your gift card to an account, proceed to sign in. As soon as you perform the step 'c', a popup will appear, seeking your login credentials. Enter your ID and password or you may create another account if required

   

Enter the code:

Turn your card and enter the 16-digit code on iTunes app. You can also use the camera to scan the code. If the card has any balance, it will show on your screen and deposited into your account
Checking your balance
Once you have performed the steps mentioned above, you only need to access the app 'iTunes' whenever you need to check the balance and repeat every step except 'Entering the code'.
What's the alternative?
As mentioned above, gift cards are now widely accepted for their feasibility and ease. However, there is yet another novel way – the one introduced by CoinCola, which offers the best OTC Bitcoin trading service and allows people to buy and sell Bitcoin with virtually all kinds of gift cards.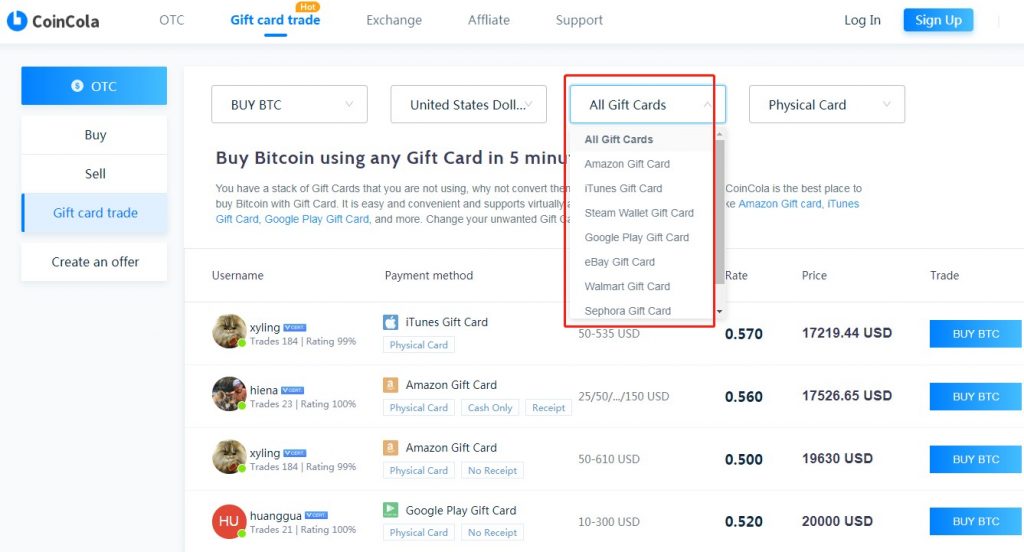 The Gift Card Trading Zone on CoinCola

It does not only allow the users to purchase BTCs and make international payments, but they can also make an investment. For instance, just imagine that you have $100 in your gift card and you do not plan to use the balance. In the long run, the value of your money will depreciate, so it is better to convert this rather unwanted balance into an equivalent amount of BTCs and then trade them off whenever the price increases.

It is worth mentioning that buying bitcoins with a gift card is just one use case which opens the doors for an array of opportunities. One of the coolest perks offered by CoinCola is that our OTC trades are never made public so that the users enjoy unparalleled security.
Buy Bitcoin with Your iTunes Gift Cards!