Where to Buy DASH in Nigeria
DASH is one of the most popular proof of work cryptocurrencies popularly known for its DASH masternode and its instant feature that increases the speed of DASH transactions DASH is also among the 8 different cryptocurrencies available on CoinCola OTC and exchange. DASH is a form of decentralized autonomous organization (DAO) run by a set of DASH users, called "masternodes" holders. DASH was forked from the Bitcoin protocol , hence has most properties of the bitcoin network apart from traceability.
According to DASH news, DASH is currently one of the most secure and fastest proof of work blockchain in the entire crypto space. It takes DASH network just 2 sec to confirm a transaction on the network. This  reason makes lots of people who want to carry out cross border payments opt for DASH as a faster alternative. You can buy and sell DASH on CoinCola here.
What makes DASH so secure?
Proof of work chains follow the rule that states "the longest chain wins and whoever has the most mining power or hash rates wins", this diffrent on DASH network, to win on the DASH network, you need to own 50% + of mining power plus 50% + of master node, making attacks harder. DASH team developed DASH for speed and a concept called "DASH CHAIN LOCK"  for security. According to researchers and developers, DASH is now very immune to 51% attack, thanks CHAIN LOCKS upgrade.
5 features you might like about DASH:
Speed is very important in almost every kind of service, most especially financial services. DASH is well known for its huge transaction speed and low . DASH harnesses the power of its Masternode network to power an innovative technology called InstantX. 
DASH protocol uses advanced encryption for complete on chain security in payments and DASH's transactions. Users of DASH can choose to make anonymous transactions or normal transactions on the DASH network.
The DASH network has miners and masternodes owners running nodes all around the world, therefore making it possible for  DASH network to have no downtime. Anyone can send DASH anywhere in the world with great speed. 
Every POW has transaction and when there is network congestion,  transaction spikes up. On the DASH network, transaction fees are mostly within a few cents to send, which is considerably cheaper than services like Western Union, PayPal, or Moneygram.
Because blockchain is an open public ledger, the DASH decided to make transactions on the DASH network private, so that users of the platform could have total and absolute privacy. 
DASH MARKET
DASH was introduced into conimarketcap.com on Feb 14th, 2014 and saw massive gain from $0.2 per DASH with a market capitalization of $702,527 to about $1400+ and a market cap of $11 billion dollars during the last bull run in 2017. Although the price came crashing down as a result of the general 2018 bear market, but DASH is still pulling strong with a market cap of $853,000 and a circulating supply of 8,989,674 DASH. 
Where to Buy and Sell DASH with fiat:
You can easily Buy or Sell DASH on CoinCola with the following steps
Create an account on

coincola.com

and get your verification done so as to have access to all kinds of traders because some traders only sell to certified traders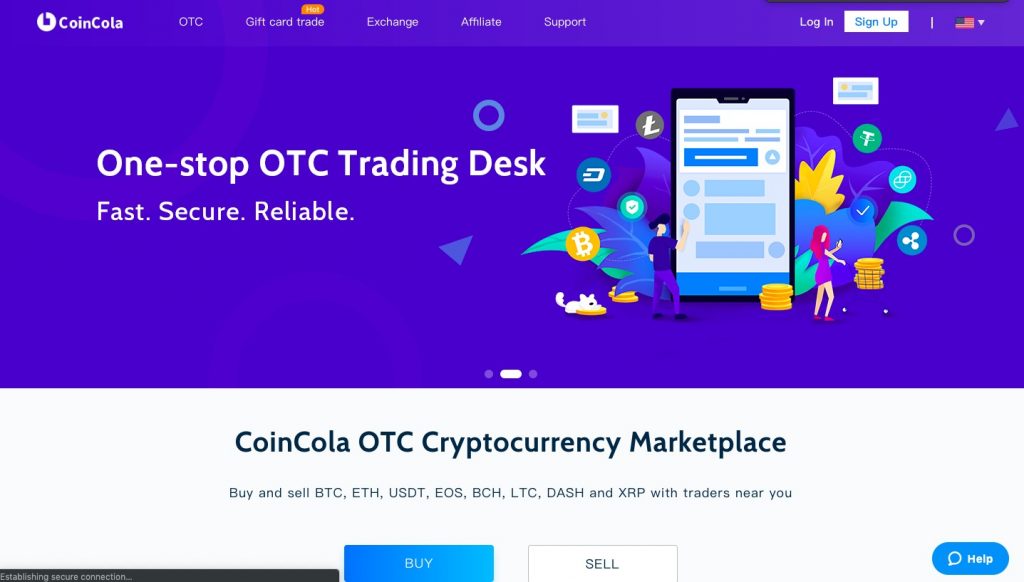 When you click DASH , you will see different merchants to Buy or Sell with: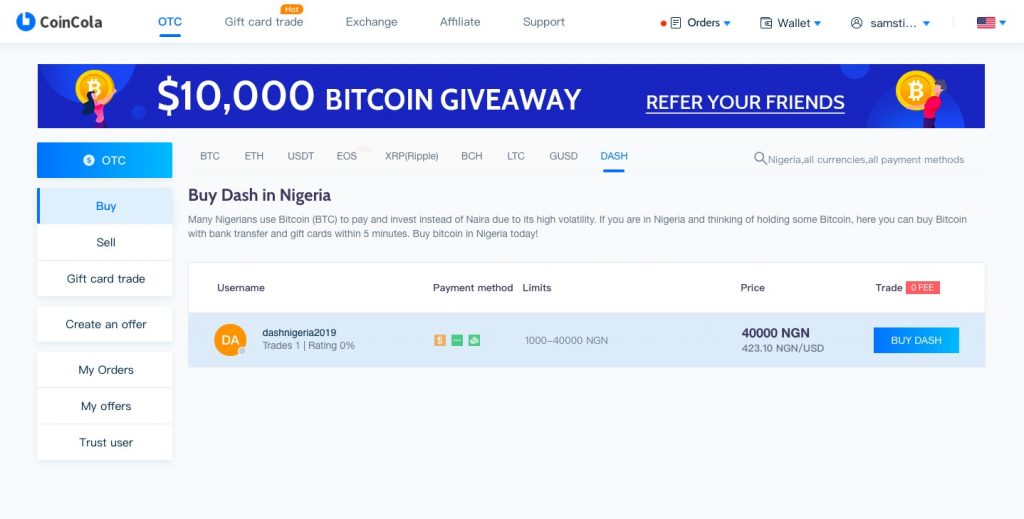 Make sure you follow all instructions while Buying or Selling. After buying, the Dash you bought will be released to your DASH wallet on CoinCola. Make sure to leave a trade feedback after each trade and be sincere about your trade remarks. 
Make passive income on CoinCola.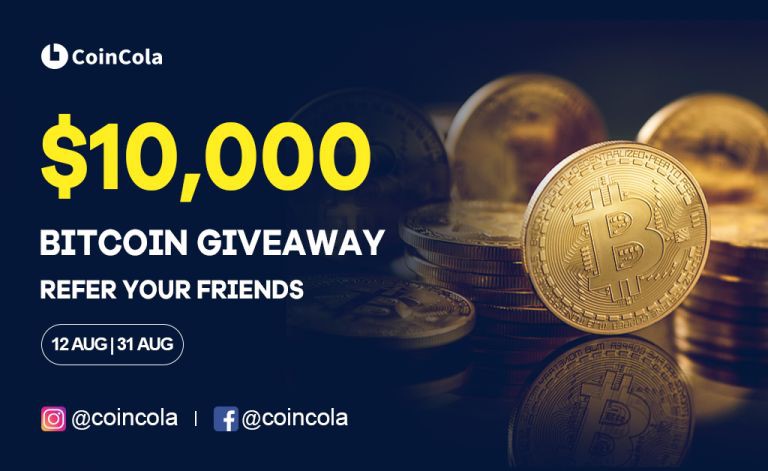 COINCOLA IS DISTRIBUTING HIS AFFILIATES, UP TO 10,000 USD IN BTC:
You can win through the following ways:
Get 2 USD bonus for trading a gift card.

Reward of 1 USD and 20% commission for each transaction made by a friend    referred by you.
You will find all the details by clicking here: https://www.coincola.com/blog/10000usd-bitcoin-giveaway/
This promotion is valid from August 12 (07:00) to August 31 (07:00) of 2019, time (Hong Kong). Share this Promo with your friends.