6 Tips to Avoid Gift Card Scams
Gift cards are an increasingly common present, way to store value, and form of online currency. Unfortunately, buying and selling them can be risky because of their digital nature.
The good news is that with a few basic tips, you can protect your money and your card(s) from scammers and fraudsters. To help you do so, here are 6 tips for avoiding gift card scams online and offline.
1. Use escrow services that protect buyers and sellers
Some marketplaces let buyers and sellers settle their own arguments. Some – like eBay – appear to have a slight bias towards customers. With gift cards, it's important that the platform you choose has a fair way to decide the outcomes of any dispute.
CoinCola just launched a dedicated gift card trading zone that provides 24/7 dispute center.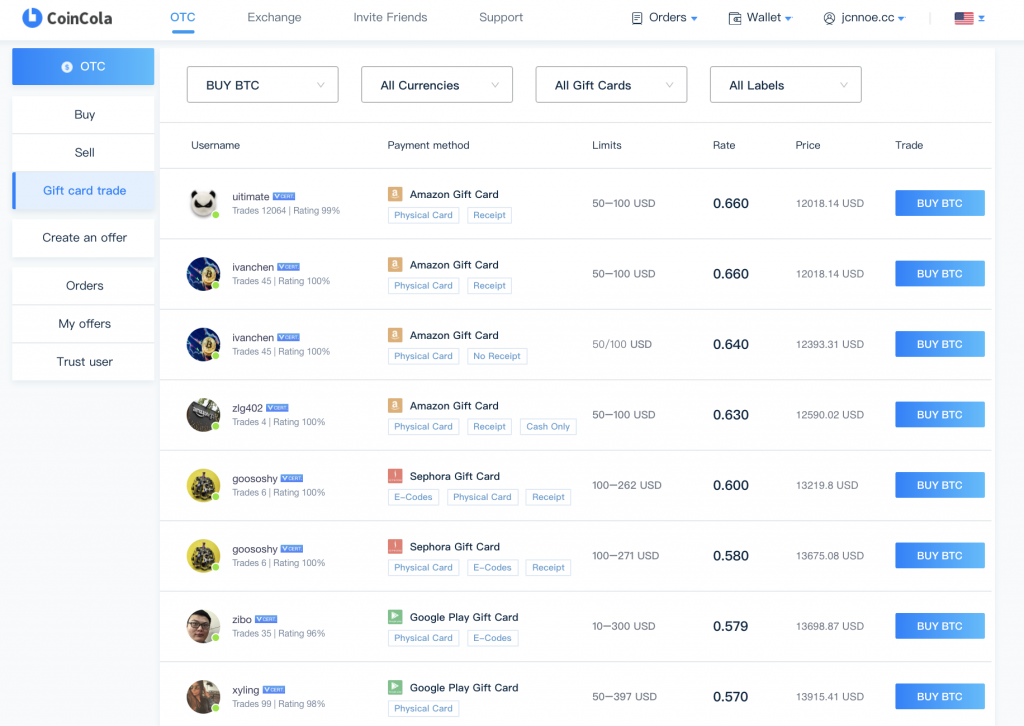 Not only do we strive to make sure all our buyers are verified, we also have a 24/7 customer support center that acts as a neutral party on our escrow platform. For any conflicts involving gift card balance, rate, payment issue, you can open a dispute easily from the trading window and a specialist with get to you within an hour. Learn how to open a dispute. 

P.s. Nigerians who want to trade bitcoin with Naira simply Click Here. 
2. Inspect physical cards
Physical cards are a bit of a rarity in the modern world. They are still fairly common with physical stores – but for online services, from Amazon to iTunes to Google Play, most people use their digital counterparts.
Still, if you do buy a physical gift card, inspect it closely. Make sure that all protective stickers are present and that no PIN numbers or secret codes have been scratched off.
Do this even if you buy a gift card from a trusted source. Some cards get tampered with before they reach their seller, so it's important to remain diligent at all times.
3. Look at previous reviews
If you're buying and selling gift cards online, which more and more people are doing, look at who you're trading with.
The more positive reviews they have from prior trades, the better. Conversely, if someone has no reviews and no previous feedback, stay on your toes: they could well be a scammer.
4. Know your seller
If a stranger leaves you without a gift card you paid for, or without money for a gift card you just handed over, tracing them can be hard. After all, they can quickly resell your gift card to the next person or use it to shop online without revealing their identity.
That's why it's important to know your seller and document your transaction. The best way to do this is by buying and selling gift cards through a marketplace where all sellers' identities are verified.
If you're shopping offline, get your gift card from a registered business and make sure to hold on to the receipt. If you're shopping online, do so through real-life businesses that have trustworthy Know Your Seller/Customer procedures.
5. Use gift cards quickly!
If you buy a gift card online, understand that even an honest buyer or seller may have exposed it to someone else by accident. Use it quickly; preferably before you release the funds to the other person.
6. Use escrow where possible
When funds are in escrow, they belong to neither the buyer nor the seller. Instead, they are in holding – and are only released once both parties confirm a successful transaction.
This is probably the best way to make sure that you get exactly what you're paying for and vice versa. Escrow services are especially effective when paired with a quality dispute resolution service.
If you want to buy or sell gift cards instantly, at outstanding rates, and through a trusted business that's headquartered in Hong Kong, consider trying CoinCola.

Follow CoinCola on Social Media
Twitter: https://twitter.com/CoinCola_Global
Facebook: https://www.facebook.com/CoinCola/
Instagram: https://www.instagram.com/CoinCola/
LinkedIn: https://www.linkedin.com/company/coincola/
About CoinCola
Founded in 2016, CoinCola is a Hong Kong based company offering both over-the-counter cryptocurrency trading and crypto-to-crypto pair trading exchange. CoinCola now serves millions of users from over 150 countries with our fast, secure, and reliable trading services. We support BTC, ETH, BCH, LTC, USDT, DASH, and XRP. Visit www.coincola.com to invest in digital assets.
Disclaimer: Trading and investing in cryptocurrencies, also called digital currencies, crypto assets, and so on) involves substantial risk of loss. All informations are used at your own risk, and any content on this site should not be relied upon as advice or construed as providing recommendation of any kind.