How to Use a Bitcoin ATM: A Detailed Tutorial
Withdrawing cash today is as easy as drinking water. You don't have to go to the bank to withdraw cash anymore. All you have to do is locate an Bitcoin ATM (automated teller machine) near you, insert your card and withdraw your money.
The same principle can be applied to cryptocurrencies. As more people are adopting this revolutionary technology, the crypto world is also evolving to make it easy to withdraw and trade cryptocurrencies. Hence the Bitcoin ATM was created for. For those who have never heard the term or seen a Bitcoin ATM, we'll explain in detail what a bitcoin ATM is.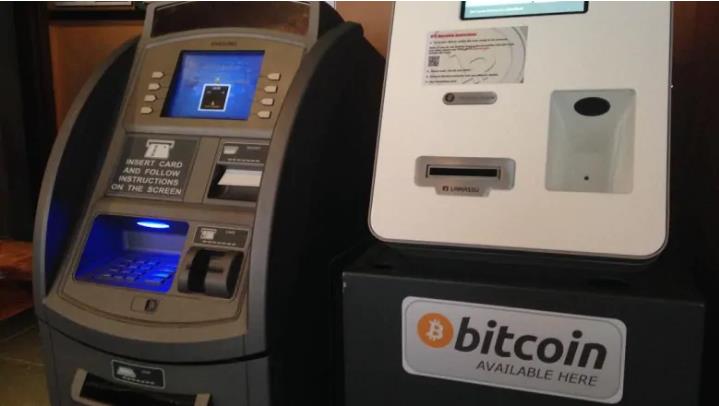 What is a Bitcoin ATM?
Just like the service your regular ATM provides, a Bitcoin ATM allows you to withdraw your Bitcoins. Some ATMs are equipped with a feature that allows you convert your cryptocurrency into fiat. You can also deposit cash into the bitcoin ATM and in turn, it will credit your wallet with bitcoin.
BONUS: Trade Bitcoin on CoinCola and Get 0.0001 Free Bitcoin.
These ATMs do not have a direct connection to your bank account like your traditional bank, instead, they connect you with a cryptocurrency exchange.
A noteworthy aspect of using a Bitcoin ATM is that it lets you trade Bitcoin anonymously. No AML or KYC is needed to perform a transaction if you use a Bitcoin ATM. This comes in handy when you want to secure your privacy and identity.
 However, these amazing features come at a huge cost. Typically, Bitcoin ATMs charge about 7% and sometimes it could be as high as 10% for buying and selling Bitcoin.
How to find a Bitcoin ATM
The major problem facing the use of Bitcoin ATM worldwide is the number of ATM's available. The demand for use far outweighs the supply of these ATMs. There's nothing to worry as this number is sure to increase as the adoption of cryptocurrencies continue to increase worldwide.
 To find a Bitcoin ATM that is close to you, all you have to do is use the Coin ATM Radar service, which gives you the location of Bitcoin ATM's worldwide.
 The service allows you
       

Search for a Bitcoin ATM on a map

       

You can locate Bitcoin ATMs closest to you

       

Get all the details about the ATM (i.e., limits, fees, Sell Only, Buy Only, Buy/Sell)

       

You can also get directions from your present location to the ATM of your choice
 How to Use a Bitcoin ATM
Buying and selling Bitcoins via ATMs can be confusing sometimes because the ATMs come in several types.
 Here's an overview of the type of ATMs we have today:
       

Satoshi1 Bitcoin ATM

       

Satoshi2 Bitcoin ATM

       

Genesis1 Bitcoin ATM

       

BATM2 Bitcoin ATM

       

BATM3 Bitcoin ATM

       

Lamassu Bitcoin ATM

       

Lamassu with Santo Tirso

       

BitXatm Bitcoin machine

       

BitAccess Bitcoin ATM

       

Skyhook bitcoin machine

       

Robocoin kiosk
 Buying Bitcoin with Genesis 1 Bitcoin ATM
       

Click on "Buy Bitcoin"

       

Select the crypto of your choice (i.e. Bitcoin)

       

Click scan QR

       

Next, Scan your wallet's QR

       

Insert your cash into the machine

       

Press "Finish"

       

Take your printed receipt
Selling Bitcoin using Genesis1 Bitcoin ATM
       

Select the withdraw cash option.

       

Select Bitcoin.

       

Choose the sum you want to withdraw.

       

Send the Bitcoins to the address by using the QR code on your mobile wallet.

       

Take your cash.
Buying Bitcoin with Lamassu Bitcoin ATM
       

Scan your Bitcoin address

       

Insert your fiat into the machine.

       

Click on send Bitcoins.
Buying bitcoins with BitAccess Bitcoin ATM
       

Click on Start.

       

Next, enter your mobile number and click on proceed.

       

Enter the verification code that was sent to your phone.

       

Scan QR code of your address.

       

Insert your fiat and proceed.

       

The crypto will be transferred to your BTC address.
Conclusion
As good as the Bitcoin ATM is, there is a better option with which you can buy, sell, and transfer BTC. This method also comes with lesser transfer fees for vendors (0.7 %) and no fees for regular traders. This method is none other than the CoinCola crypto exchange. 
CoinCola is an OTC marketplace where you can trade Bitcoin with different FIAT currencies, altercoins, and even gift cards like iTunes gift card, Amazon gift card, etc. Not only are CoinCola services affordable for traders, the transaction speed is also out of this world as a trade can be completed under 5 minutes. The security of your assets and data is also guaranteed as the platform is known to be an impenetrable fortress.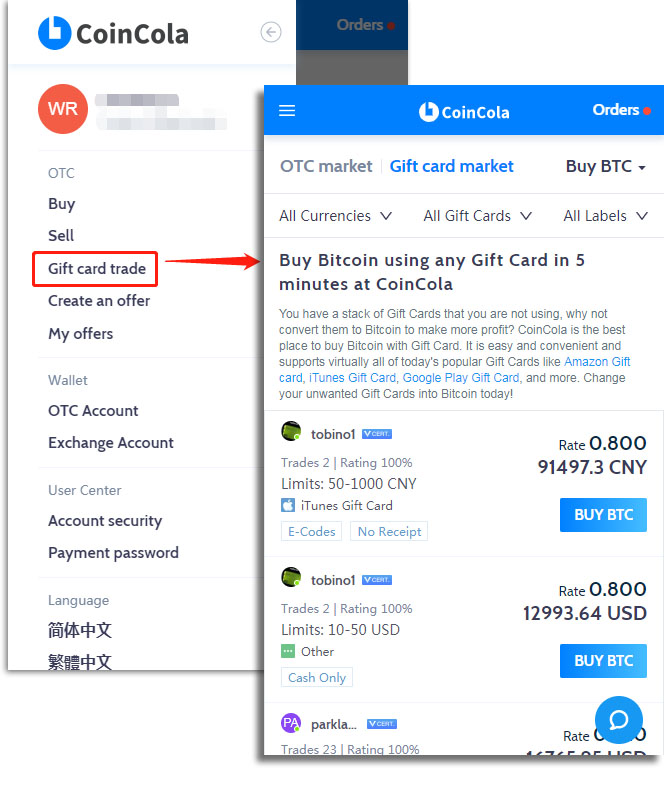 The Buy Bitcoin with Gift Card Page on CoinCola
The CoinCola exchange is a safe haven for crypto traders; it is also easy to use by all and sundry. The interface is easy to use, and it can also be accessed on desktop and on-the-go on both the Android and iOS platform. There are also several cryptocoins and tokens that can be accessed on CoinCola. In the crypto world, CoinCola is the best kept secret for investors and traders.
BONUS: Trade Bitcoin on CoinCola and Get 0.0001 Free Bitcoin.