My Coincola Experience – Take a Video / Share 60,000+ Naira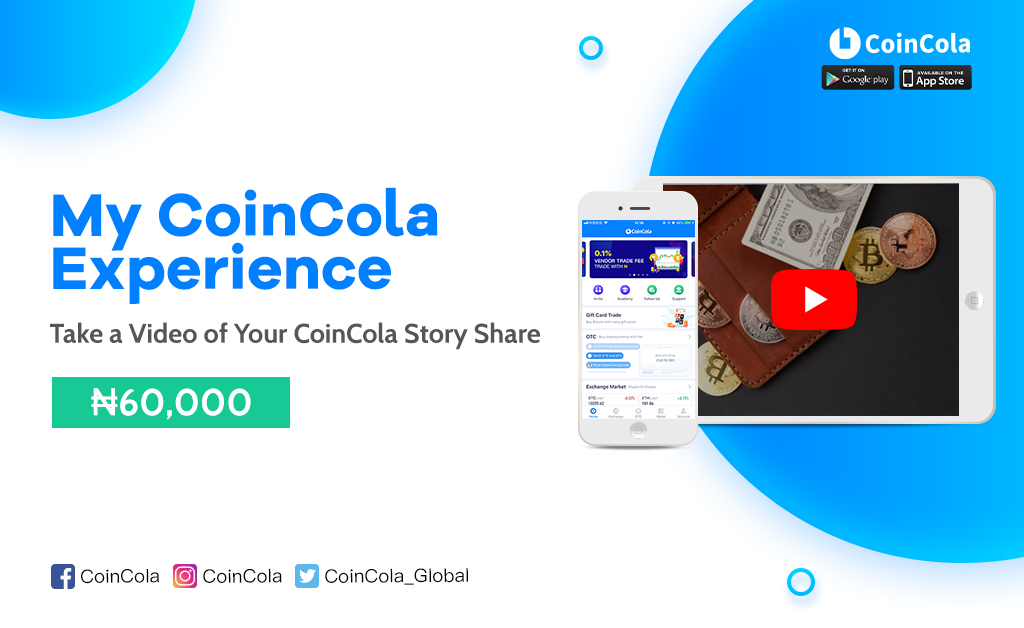 CoinCola is trusted by global users. We want to hear your stories. 
Share your experience on CoinCola in a video. The MOST POPULAR VIDEOs will be selected as our success stories and share 60,000 Naira.
Popularity(Engagements)  = likes + comments + share
the best 3 videos will share:
NO.1 gets N30,000 with at least 50 engagements

NO.2 gets N20,000 with at least 30 engagements

NO.3 gets N10,000 with at least 10 engagements
How to join the challenge?
Take a video with at least 30s of yourself and the feedback of CoinCola includes:

INTRODUCE OF YOURSELF (NAME/CITY)

WHAT YOU DO ON CoinCola

WHY YOU CHOOSE CoinCola

WHAT YOU GAIN FROM USING CoinCola

Post on social media using hashtag 

#CoinColaStory 

@CoinCola
Follow us on FB @CoinCola  IG @CoinCola  TW @CoinCola_Global
Valid until 8th Oct. 2019
Terms:
Only the highest engaging video will be counted if multiple videos are posted by the same person on different platforms. 

Make sure you tag

#CoinColaStory

and @

CoinCola

in the caption otherwise your video is not considered as a participant. 

Any dishonest behavior will be seen as cheating and you will be disqualified from the campaign. 

CoinCola reserves the final right to explain this campaign.