Invite friends to receive $100 worth of Bitcoin
Activity Period: From 2021-04-26 00:00 AM(HKT)
CoinCola is distributing bonuses to users. You can receive $100 worth of Bitcoin and share it with friends who had not signed up on CoinCola yet. The $100 bonus was divided into 20 parts. So that, you can share it with more friends. At the same time the more you share, the larger bonus you will get.
Bonus:
Every friend can win a share of

0.00008 BTC

that you share to.
If your friend trade on CoinCoin within 5 days, you will both win another

0.00004 BTC
How does it work?
Click active page from CoinCola app banner
Click"Share to Get Bonus" and share the bonus with friends.
Your friend will get a bonus by filling in his phone number.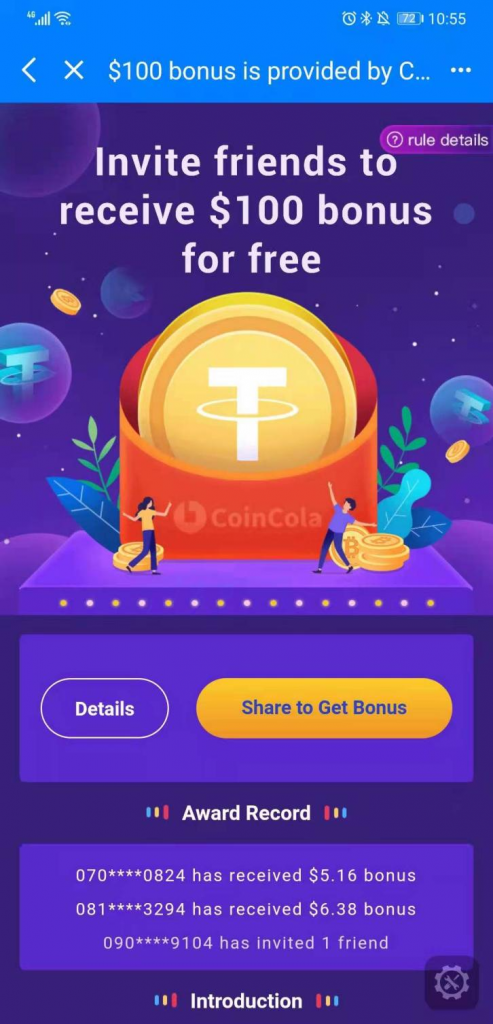 Note:
This activity is not for people in China (include Hong Kong)
The share bonus of 0.00008 bitcoin will be sent directly to the winner's CoinCola wallets.
Another bonus of 0.00004 bitcoin will be distributed within 5 days.
The activity lasts until CoinCola officially ending it.
If you have any questions or concerns, please contact us through WhatsApp: +852 51261971
New User Guide:
1.What/who is Coincola: https://youtu.be/QnoV56zijgk
2.How does escrow work:https://youtu.be/IVgmzDRnjhk
3.How to sell bitcoin on Coincola: https://youtu.be/PRARwZ4KSks
4.How to sell gift cards on Coincola:https://youtu.be/RCPCBmKpDFc