Trade Gift Card or Bitcoin on CoinCola to Earn 60 GHS
Due to popular demand, CoinCola has extended the promotion of Trade Gift Card or Bitcoin on CoinCola to Earn 60 GHS until 2021/09/30 00:00 UTC. Click here to buy bitcoin with GHS.
CoinCola,one of the oldest Gift card and Bitcoin P2P marketplace in Africa, established in 2016, is currently holding a gift card and Bitcoin trade reward campaign which is only for Ghanaian users.
CoinCola is the best marketplace to sell gift cards in Ghana, gathering large gift card vendors and retail traders on the platform. All the popular gift cards can be sold on it, including Amazon, iTunes, Steam, Google Play, eBay, Apply Store, American Express, and a lot more. As the intermediary platform, CoinCola protects both sides of seller and buyer. So that, high rates and low scams are two main features of CoinCola's transaction.
CoinCola is also a cryptocurrency peer-to-peer platform, where users in Ghana can buy Bitcoin with GHS, via MTN Momo, Chipper Cash, Vodafone Cash, Bank Transfers, or other payment methods. Traders can buy or sell BTC, ETH, USDT, LTC without any fee. Also, the deal can be completed instantly and always in less than 5 minutes.
As the above show, users in Ghana can make gift cards or fiat transactions on CoinCola and win bonuses. Now, let's go back to this rewarding campaign.
How to participate in this rewarding campaign?
It is very simple! Sign up for a CoinCola account,sell one gift card or complete one fiat transaction. After that, you can win $10 BTC (about 60GHS) as a reward. You can receive $5 BTC as a coupon instantly after you complete one trade. The other $5 BTC will be sent to your CoinCola wallet at the end of this campaign.
>> Sign up CoinCola account to join in this campaign
What are the rules of this activity?
1. Only Ghanaians who just sign up for an account can take participate in it.
2. New users who sell any kind of gift card for their first CoinCola transaction can win $10 BTC. The value of a gift card is not requested.
3. New users who buy BTC with GHS or sell BTC for GHS as their first transaction on CoinCola can win $10BTC also without the transaction amount requested.
4. Remember to select a $5 BTC coupon when you first trade. After completing one trade, $5 BTC will be sent to your wallet. The other $5 BTC will be distributed to CoinCola wallet on August 31 and September 30.
5. You the best sign up for an account by clicking the link above.
6. CoinCola reserves the right to disqualify any participates when discovering his fraudulent behavior.
Activity Period: August 1st 2021, 00:00 UTC – September 30th, 2021,00:00 UTC
How to sell gift cards or buy bitcoin on CoinCola?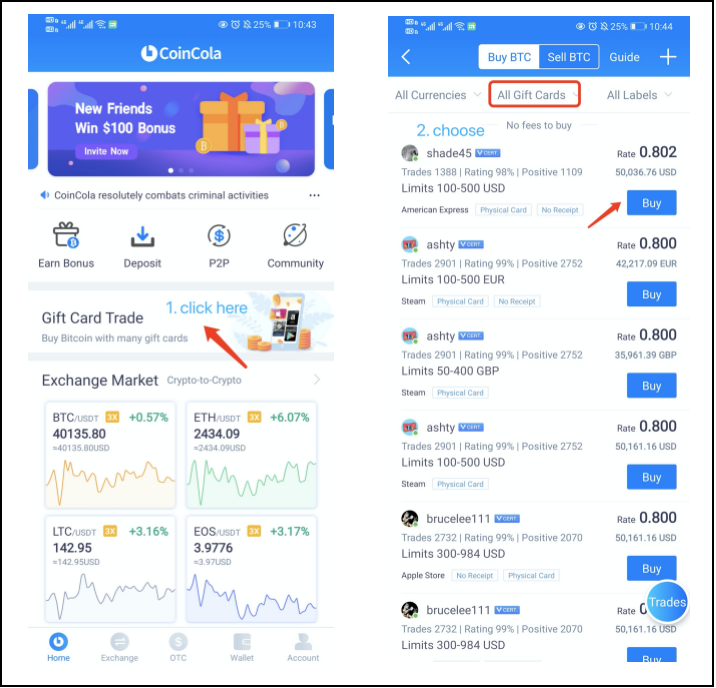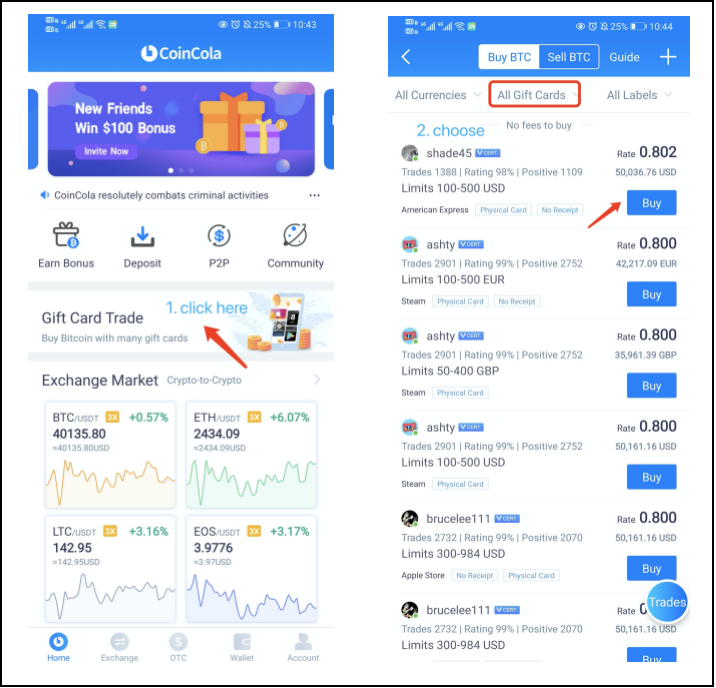 Go to 【Gift Card Trade】page,click【All Gift Card】to choose one type of card, then choose one vendor and click【Buy】. "Buy" means buying bitcoin with a gift card.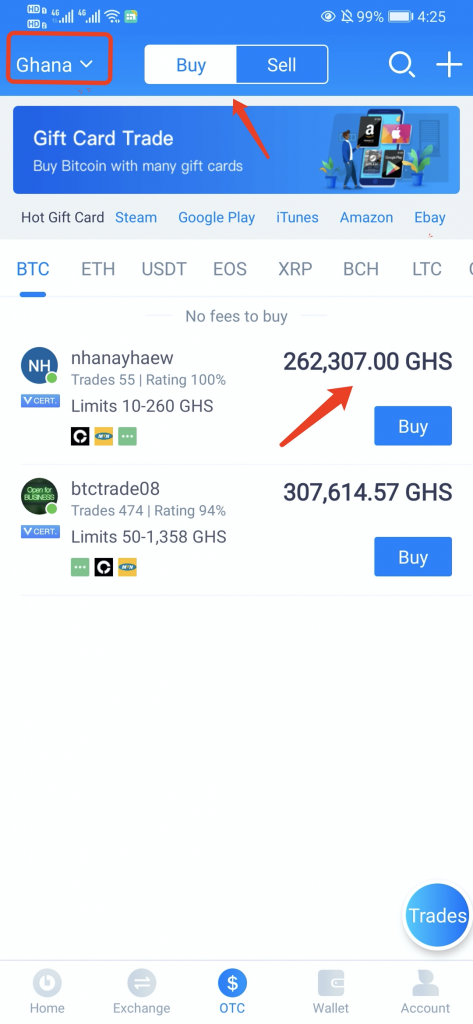 Go to 【OTC】page, choose 【Ghana】country, and choose one vendor to 【Buy】.
How to use the Coupons?
You need to do identity verification (KYC) before using the coupons.
When you want to do your first trade, remember to 【Select a coupon】. After completing a trade, $5 BTC will be sent to your wallet.
Once you finish three trades, you can earn $8 BTC coupons.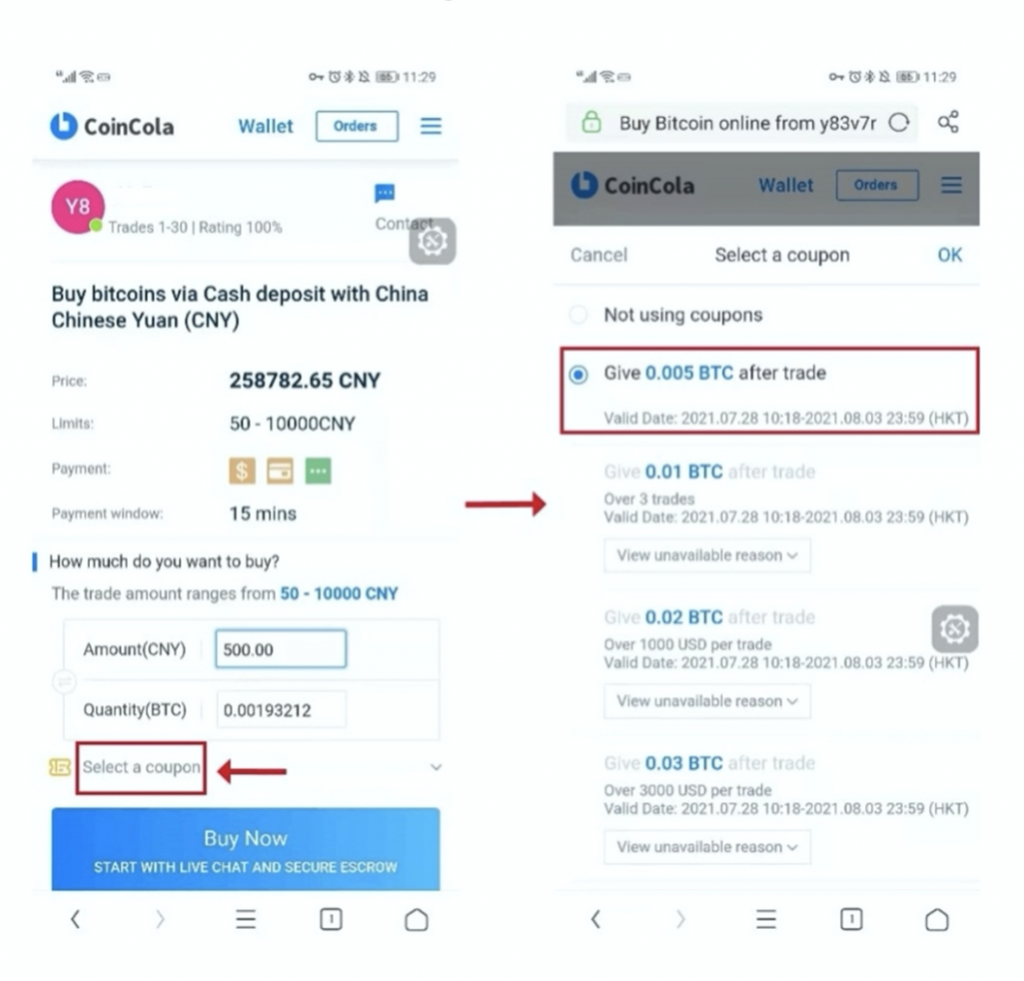 Download CoinCola App and trade instantly
https://www.coincola.com/download-now
Contact us:
WhatsApp: https://api.whatsapp.com/send?phone=85290653442
Twitter: https://twitter.com/CoinCola_Global
Facebook: https://www.facebook.com/CoinCola