How to Redeem iTunes Gift Cards
For some people, it may look like they do the same thing. In principle, an iTunes gift card, an Apple Store gift card, and an Apple Music gift card are quite different. It all depends on the type of gift card you received. 
Difference between an iTunes gift card, an Apple Store gift card, and an Apple Music gift card.
There are 3 types of gift cards from Apple: iTunes, Apple Store, and Apple Music. An iTunes gift card can be used for buying music, software, and other related downloadable products. Look at it as a credit for virtual goods. An iTunes gift card credits your iTunes account which is linked with your Apple ID, only then can you use it for in-app purchases.
While Apple Music gift cards are valid for redeeming your Apple Music subscription. These cards are made in 3 to 12 month flavors. Your account will be charged normally when you run out your gift card, except your auto-renewal is turned off in your Apple Music settings.
On the other hand, Apple Store gift card can only be used on the Apple website, in a physical retail store or over the phone. You can redeem it for any purchase in-store, it could be a third-party accessory, an Apple hardware, or boxed software. It can also be used on the internet or over the phone by using the code on the back.
Redeeming an iTunes gift card
First, you have to confirm that you're running the latest version of iTunes. If you're not, update it.
Launch iTunes on your PC and click on the Store tab on the iTunes app.

Next, go to the Music Quick Links and click Redeem.

When prompted, enter your Apple ID so you can open the Redeem Code screen.

Now enter the code with you. If you wish, you can enter it manually in the field provided or you can use the camera on your computer to capture the bar code found at the back of the gift card.

Click on the Redeem button. 
If the code is valid, it will be accepted and the corresponding credit will be added to your iTunes account.
How to Add Apple/iTunes Gift Card to Wallet App on iPhone
Open the App Store.

Tap on the profile picture in the top right corner.

Tap Code or Redeem Gift Card.

Enter your gift card code or use the camera.
OTC Trading platforms
Although it's easy to redeem iTunes gift cards, the question now is how easy is it when you want to trade it for fiat or any cryptocurrency of your choice? which is a cool way most teens use to earn income now. 
Most people rely on OTC platforms or selling their gift cards to third party agents which carries a lot of risk for both the seller and the buyer. 
Apart from the fact that these cards are sold below their actual value which means the seller is trading at a loss, there have been instances where the sellers fall into the hands of fraudulent people. 
This is where OTC trading platforms come to play and so far Coincola is seen to be heads above the pack. Not only is CoinCola platform intuitive to use for new users and existing users. For the first time in a long time, both buyers and sellers can carry out their trade without any fear whatsoever. This is possible because of the escrow system in place and several other benefits attached to using Coincola.
With CoinCola OTC Bitcoin trading platform, users can easily buy Bitcoin with their iTunes gift card or they can sell it at a higher price to thousands of Chinese buyers at a higher price. Users are not limited to selling their iTunes card for Bitcoin alone, they can also sell these iTunes gift cards for other cryptocurrencies too.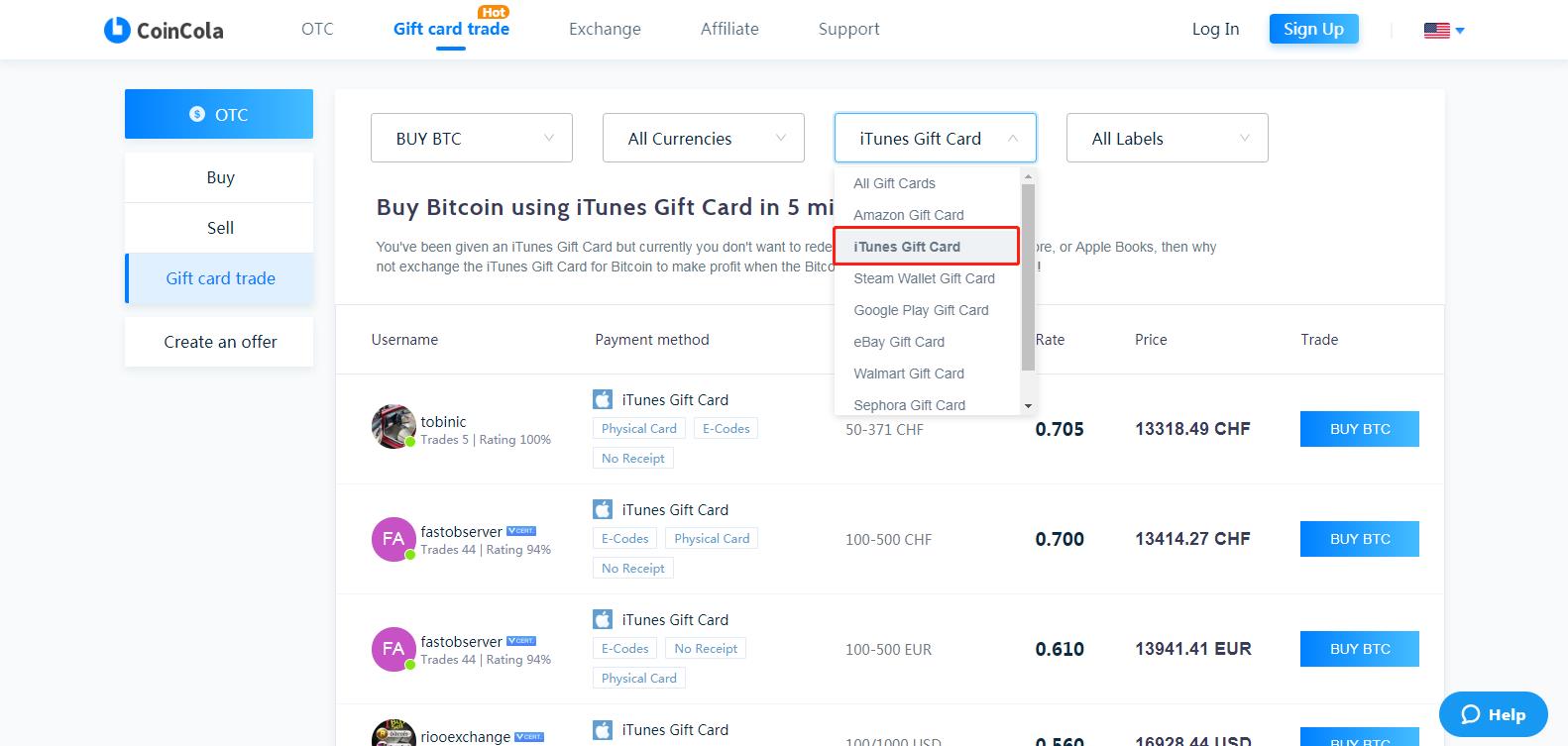 The Buy Bitcoin with iTunes Gift Card Page on CoinCola
The platform also has a rating system where sellers can see how trustworthy a buyer is and how many trades he's performed on the platform which goes a long way to ensure credibility. The fees charged by Coincola is considered to be one of the lowest in the industry. This is one of the reasons several gift card sellers prefer to trade on the platform as they are no hidden charges of any kind.
The data of users and their security is also top-notch as Coincola employs the best security experts around the world while maintaining industry standards.
BONUS: Trading Bitcoin & Gift Cards on CoinCola and Get Free Bitcoin.