How to Make Money on YouTube in Nigeria
Since founded in 2005, YouTube has grown to become the most popular and most visited video website to date. According to a survey by Ominicore, more than five billion videos are watched on YouTube on a daily basis. More so, YouTube boasts as the second most popular social network after Facebook with more than 1.9 billion active monthly users.
However, the truth is YouTube does not only offer a video platform where people can search and watch trending videos, like the video and make comments. YouTube also offers an avenue for people to make money online in Nigeria. You want to know how!
YouTube pays those who upload videos on the platform based on the number of views. That means that as a video is watched over and over again, the creator of the video would probably have earned some cool thousands of Naira.
YouTube offers a really interesting way for Nigerians to make money. And if this is done rightly, it can really be a very lucrative business to venture in. This post will share some basic tips on how to make money online in Nigeria on YouTube:
Monetizing Your Videos For Ads On YouTube
A common and exciting way to make money online in Nigeria on YouTube is by uploading quality, unique, and trending video content on YouTube. People love to watch exciting and engaging quality video content on social media. If your video is trending and engaging enough, it will attract more audiences and earn you cool cash.  
Mind you, to make money from your video on YouTube, you must allow YouTube to place ads in your videos; you must have at least 1000 subscribers; your YouTube channel must have at least 4,000 watch hours within the past 12 months, and you must have a Google AdSense account set up. This way, you can earn as low as 100$ within just 10 days.
Get Sponsorships For Your Video Contents
To earn more money on YouTube, you can get direct advertisements and sponsorships in your video contents. Nowadays, a lot of companies provide sponsorship to YouTube channels for direct advertisements. You may need to develop a detailed proposal to get sponsorship and you must also know well about the company you are approaching for sponsorship. One of the great things about sponsorships or direct advertisements is that the amount of revenue it will generate is substantially more than what YouTube ads would generate. Also, you wouldn't give YouTube a cut from your revenue from sponsorships.
Selling Your Own Products Or Service
Another way to make money online in Nigeria is by selling your own product or service on YouTube. Foremost, you need to learn what your viewers need and then sell them something of value. Most Nigerians visit YouTube for comedy videos, funny videos, movies, and how to do videos. So, if you can create a comedy or funny video, you would be making your cool cash. If you can also create an online training program or video course that you sell.
If you sell your products on Jumia, Shopify, Konga, Amazon, or other e-commerce platforms, you can mention your products in your videos or link your products to your videos. With this, you would get direct traffic to your e-commerce store, generate more sale and also make money from YouTube ads.
Selling Or Marketing Affiliate Products On YouTube
This is the latest and trending way to make money online in Nigeria.  With affiliate marketing, you will be earning a commission in exchange for selling someone else's products. Nowadays, people no longer rely on blogs to drive traffic to affiliate links, people are drifting towards the lively YouTube platform as the major means of driving traffic and generating sales for affiliate marketing.
Lots of businesses offer attractive deals to affiliate marketers in Nigeria who promote their products, including Jumia, Konga, Bet9ja, Aliexpress, eBay, Amazon, and CoinCola, etc.
CoinCola is a P2P(peer to peer) Bitcoin trading platform and allows Nigerians to trade Bitcoin with Naira and Amazon/iTunes gift cards.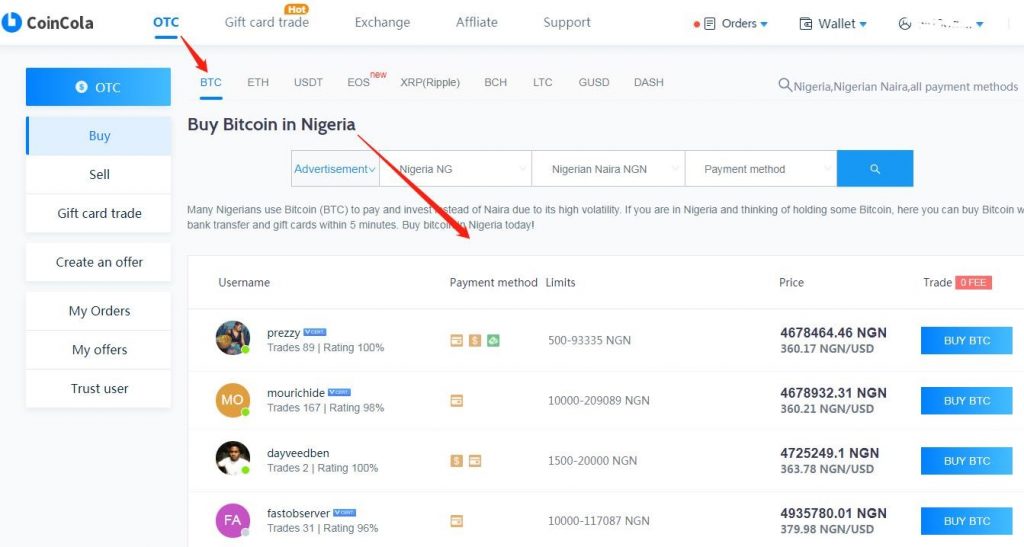 The Buy Bitcoin in Nigeria Page on CoinCola
CoinCola offers more rewarding returns on its affiliate programs than other companies. All you need to do is to first join the CoinCola affiliate program, share the referral link on YouTube, and begin to earn as much as 20% instantly for completed trading during the 1st month. Another benefit of joining the CoinCola affiliate program is you can choose to receive your earnings in Bitcoin.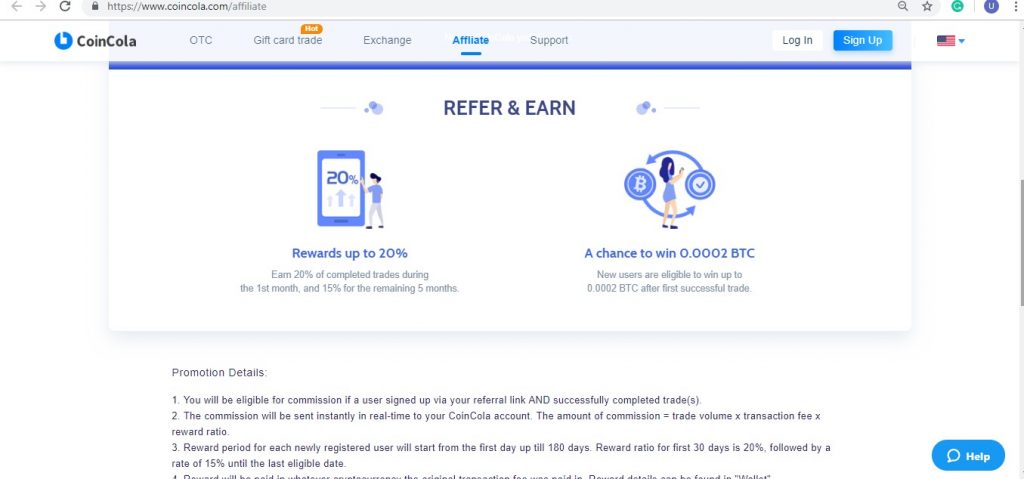 CoinCola Affiliate Program Page
To make money from CoinCola as an affiliate marketer, all you have to do is add your affiliate referral link in your YouTube descriptions of your products, services, or video on affiliate marketing.
As a very creative person, you can create your own YouTube channel and make money than you expect on the platform – imagine you uploaded an interesting and engaging video of your own products or service, monetize the video for YouTube ad, add direct ads from sponsors in the video recording, and include your CoinCola affiliate link in the YouTube descriptions. This is all you need to know about how to make money online in Nigeria on YouTube.