How to Make Money On Facebook In Nigeria
Nigeria is believed to be one of the fastest-growing countries in Africa. There are a lot of digital nomads in this country. Most of the people here are educated or have a certain level of awareness with regard to technology. This is a good thing for the populace as most of the jobs are now turning to ICT and the internet has been used as a great way to generate great income for people all over the world. 
In order to make money online in Nigeria, you need to have access to the internet. There are very notable and great internet service providers in this country and their internet subscriptions are also quite affordable and cheap. Examples include MTN, Airtel and Glo. These are the biggest internet providers that you can get to find in the country. Their services are almost in every part of the country. The social media has gone from just a mere platform to share social life and events to business and marketplace to make money with ease all with the help of an internet-enabled device. With the introduction of Facebook which was embraced by millions of Nigerians who presently have accounts on the platform, there has been a lot to talk about and hope for in terms of business growth via this platform.
However, in this article, discussions will be made with regards to the best ways someone can be able to make money online in Nigeria via Facebook. They are –
Make money via sponsored posts

– in order to achieve great success with this lovely strategy, you have to be able to have very great followership on Facebook. This involves writing great posts for companies that will prefer to use posts rather than graphic ads. These days, Nigerians are starting to develop and appreciate the concept of reading and this means that the era of graphic ads is gradually fading out. Thus, when you are able to make well structured and articulated posts on Facebook, you will be able to see great success and traffic to your business.

Sponsored shares and likes

– This is another great way to make money in Nigeria. Here, you just need to have a considerable amount of friends that can be able to see your posts when you share them. Now, there are a lot of individuals as well as companies that are willing to pay you in order to share their posts and adverts on your Facebook wall. The goal is to get your friends to like and also share these posts on their own Facebook walls.

Facebook management

– Have you ever wondered why is it that a lot of celebrities, as well as prominent figures in the society, will get to write a full and lengthy article and also post on Facebook considering how busy that they are? Well, the truth of the matter is that the majority of them hire the services of Facebook managers that will act in their stance in other to interact with their fans and customers on Facebook. You can also help one of these companies or top celebrities to manage their Facebook account.

Facebook surveys

– Participating in Facebook surveys is another way to make money online in Nigeria via Facebook. There are a lot of companies that will love to get reactions to their goods and services which has been released in the market. What most of them do is to meet popular bloggers and individuals that have high followership or fan page on Facebook. Then, they will reach an agreement which is usually for a paid amount of money to post surveys about their companies to see how people will react. Then they will now use the feedback to improve on their services if there are loopholes or lacunas to fill.

Join coincola affiliate program

– Coincola which happens to be one of the best

OTC Bitcoin trading

platforms has recently been of tremendous benefits to Nigerians that are into buying and selling of bitcoins.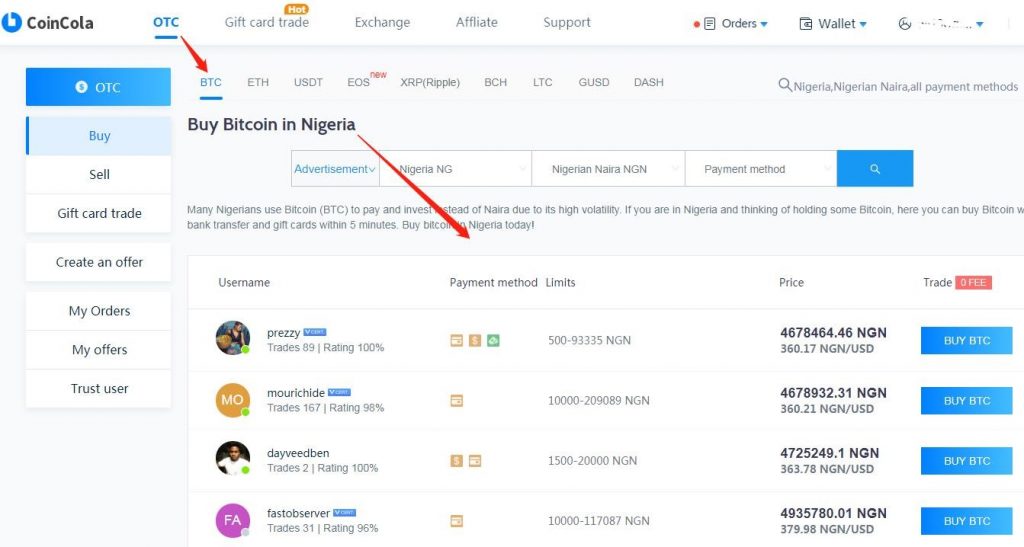 The Buy Bitcoin in Nigeria Page on CoinCola
You just need to sign up on coincola and you stand a chance to earn by just referring your friends via Facebook. When you sign up, you will be given a referral code and this code you can use and post o your Facebook page. Your friends will then click on the code and will be redirected to a page where they will sign up. Once they signup, you will be instantly credited with the cryptocurrency that the person used to signup. The reward will be credited to your wallet and you can see this in "reward history". You should also note that this offer for reward is valid for up to 180 days after you sign up on coincola. So, what are you waiting for?  Signup on CoinCola and make money online in Nigeria using your Facebook account.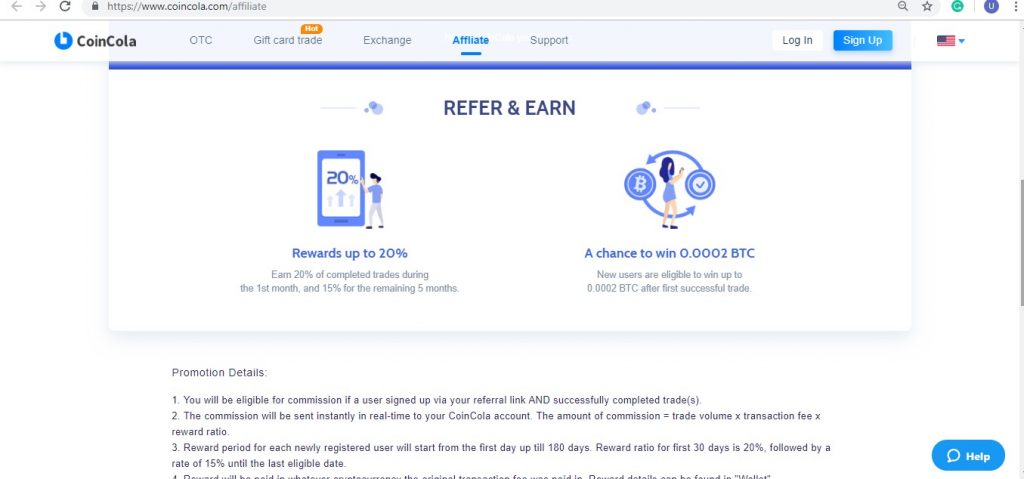 CoinCola Referral Program Page