How to Buy Bitcoin in Nigeria: Step-by-Step Guide for Beginners
Bitcoin is unstoppable.
Created in 2009 by Satoshi Nakamoto, one Bitcoin became worth over $11,000 in July 2019. Buy Bitcoin with naira now and hold or sell it for cash on CoinCola, the best OTC Bitcoin trading platform.
Like any other cryptocurrency, Bitcoin is decentralized. There is no bank that can block Bitcoin, charge tax on it or shut down Bitcoin wallets. More and more people are buying Bitcoin because it can't be confiscated as regular money can.
When you buy Bitcoin in Nigeria, it's yours until you spend, lose or give it away. It's easy to buy Bitcoin with naira on CoinCola, the best OTC Bitcoin trading platform.
Buy Bitcoin in Nigeria
CoinCola enables Nigerians to buy Bitcoin with naira instantly and securely. Founded in Hong Kong, CoinCola offers services to users in more than 150 countries.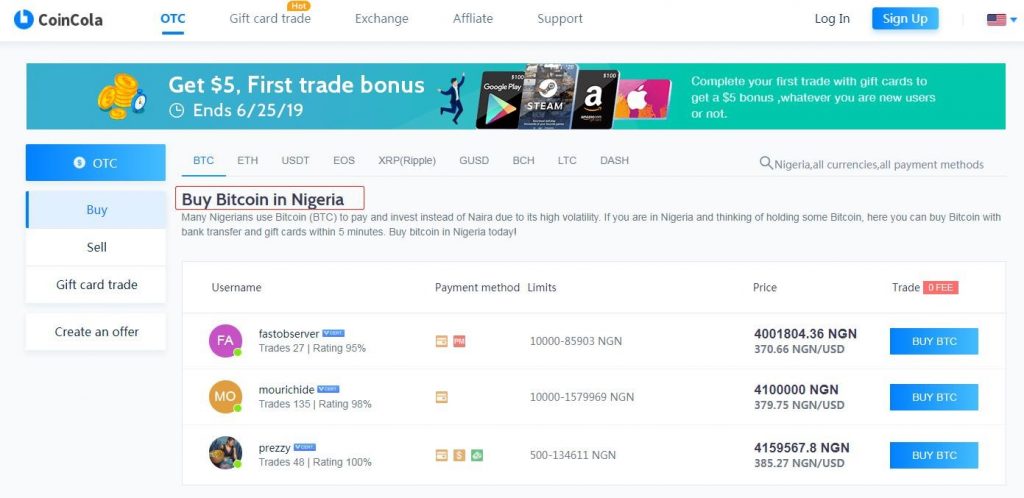 The 'Bitcoin Trading Page for Nigerians' on CoinCola
Payment options for CoinCola users include PayPal, cash deposit in CHF, USD, EUR, GBP and other currencies, national bank transfers and many more options. CoinCola mobile app provides easy and seamless trading of fiat for Bitcoin or other cryptocurrencies. CoinCola also allows trading gift cards for Bitcoin, Ripple and other cryptocurrencies.
More than 100,000 transactions are done on CoinCola each month, making it a reputable and trusted OTC cryptocurrency trading platform. Integrated CoinCola platform has been made from the ground up for the very best trading experience.
You can sell Bitcoin for local currency on CoinCola or keep Bitcoin in your CoinCola wallet until the price gets better. You have many choices that are better than in an ordinary bank.
Chinese people have trouble getting gift cards. Chinese government has strict laws on gift cards, making it hard to send gifts. A lot of Chinese buyers who want to send gifts buy gift cards on CoinCola. They are ready to pay a premium for gift cards, especially Amazon gift cards.
CoinCola, the Best OTC Bitcoin Trading Platform
CoinCola is the best OTC Bitcoin trading platform. CoinCola lets people around the world use local money to sell and buy Bitcoin, Ripple, Dash and other cryptocurrencies. CoinCola lets users buy and sell cryptocurrencies for free. Making deposits to CoinCola wallet is free.
CoinCola supports these cryptocurrencies as of July 2019:
USDT




LTC




DASH




ETH




XRP




BCH




BTC
CoinCola lets you connect your account to identification documents. CoinCola allows 2-factor authentication and SSL to make sure nobody steals your money. CoinCola uses escrow, giving a lot of protection to buyers and sellers. There are no scammers on CoinCola, the best OTC Bitcoin trading platform.
CoinCola knows that Nigerians have trouble with documents. CoinCola introduced identity verification that makes it easy to become verified. Nigerian users can perform face verification to improve their accounts or send documents. After that, they can buy Bitcoin with naira on CoinCola, the best OTC Bitcoin trading platform.
Buying cryptocurrency on CoinCola is free but the seller pays 0.7% after the transaction goes through. CoinCola does not charge for receiving or depositing cryptocurrency. CoinCola users get 0.0001 BTC as a sign-up bonus.
CoinCola offers round-the-clock tech support. CoinCola also has referral and affiliate programs for more rewards.
CoinCola lets you trade these gift cards:
Step-By-Step Guide On How To Buy Bitcoin In Nigeria Using CoinCola
Go to CoinCola.com to register an account. Click "Sign Up".

Register by phone or e-mail. Select the country of residence. Click on "Load more" if you can't find it. Complete the registration process by giving your contact information.
Click "Send code". Verification code will arrive instantly to your phone number or e-mail address. You have 10 minutes to use the code before it expires.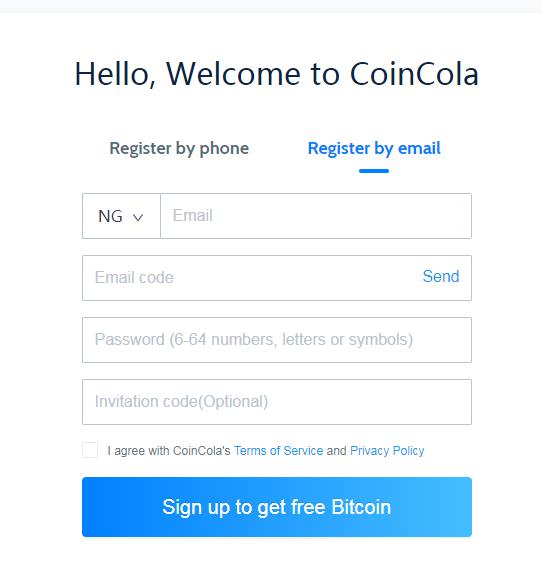 After registration, set up a payment password. Strongest passwords have letters and numbers mixed together. Strong passwords are also very long. Don't tell your password to anyone. Don't write down your password.
Click "OTC" in the top left corner and click "Buy".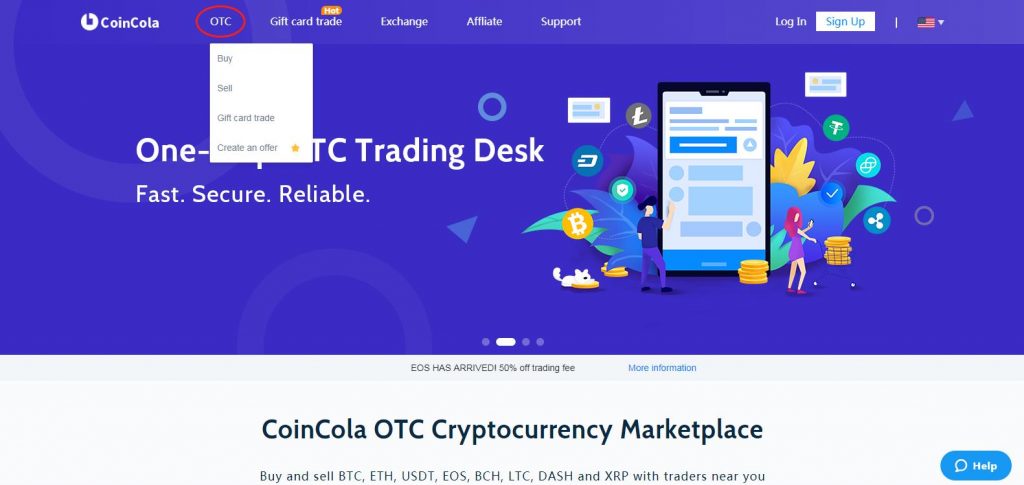 Here you will find all the people selling Bitcoin. You have many options to choose from.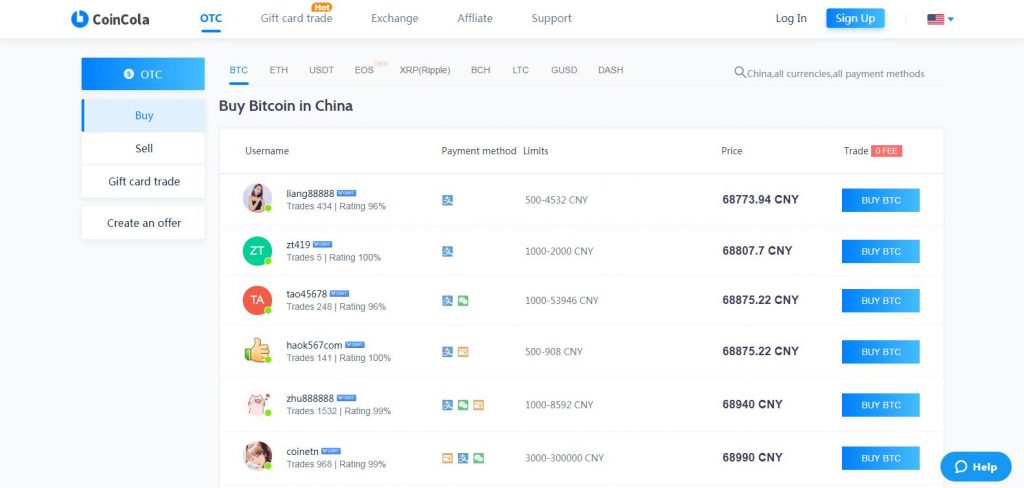 Click the magnifying glass in the top right corner to show search options.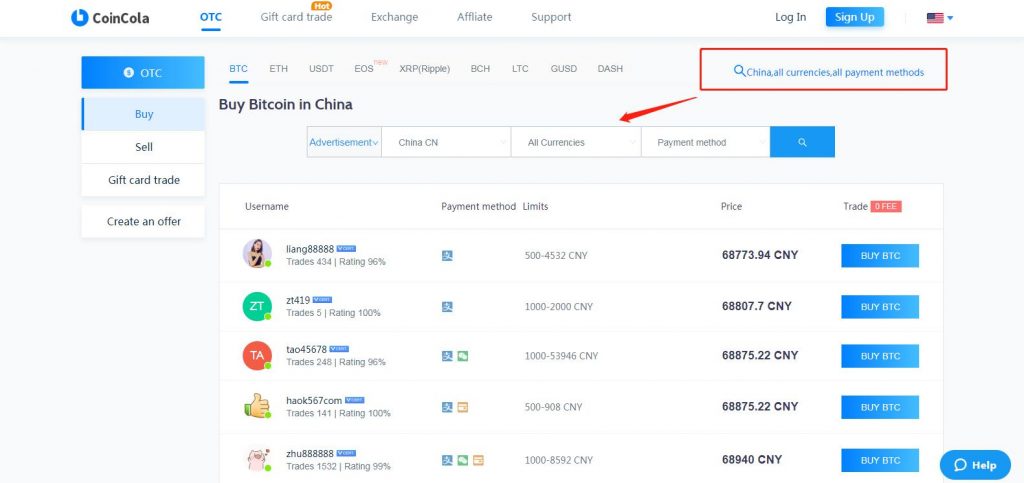 Now you can choose options such as type (advertisement or user), country, currency, and payment method. When you are happy with your choices, click the blue magnifying glass again to refresh. In the following picture, we chose Nigeria under "country".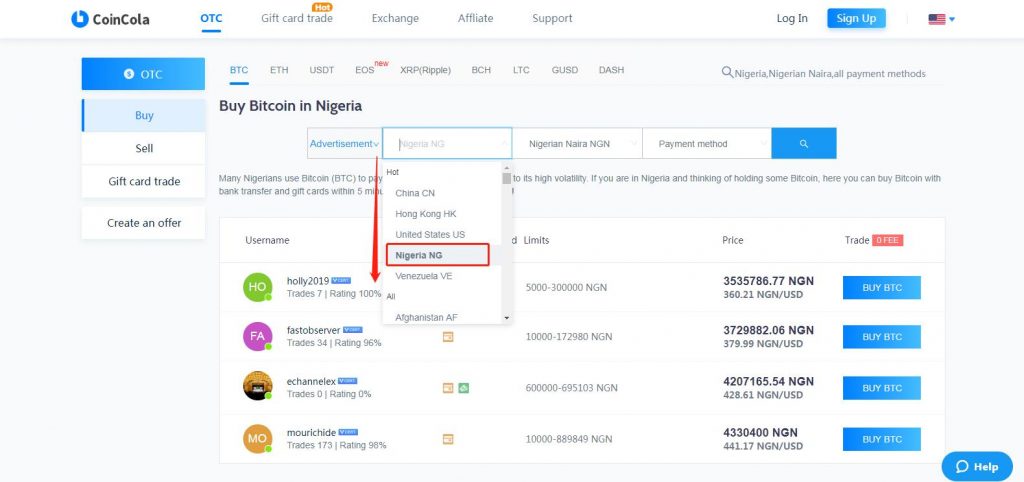 You can see information such as the name of the seller, profile photo, rating, trade history, price and much more. Don't rush any trades, take your time and carefully choose who you work with. If there are any problems, contact CoinCola support.
Buy Bitcoin in Nigeria Today!
Or Use CoinCola's Cryptocurrency Converter Calculator Tool to Check Bitcoin Price in Naira.