How to Buy Cryptocurrency (2019 Updated)
What is cryptocurrency?
There are more than 2,000 kinds of coins and tokens listed on CoinMarketCap, with a total market capitalization of more than USD$130 billion. Behind the market growth is the increasing social acceptance of cryptocurrency. More and more people are aware of cryptocurrency being one of the safe-haven ways of investment. Institutional funds also choose to purchase cryptocurrency to hedge the risk of its portfolio.

Where to Buy Cryptocurrency

Cryptocurrency can be divided into 100 million identical segments, which can be traded as small as tens of dollars. Individual investors can trade cryptocurrency on crypto-exchanges. Currently, there are two types of trading methods: Over-The-Counter (OTC) trading and crypto-pairs trading. OTC trading is done directly between two parties, without the supervision of an exchange. Peer-to-peer OTC trading allows users to trade directly with each other, similar to eBay's model, online payment can be realized through online banking and PayPal. Some users also prefer transferring cash via banks offline. The crypto-pairs trading is similar to the traditional stock trading (the difference is that the crypto-pairs trading is carried out 24h), with the real-time bidding method adopted. Usually, the price is expressed in form of the crypto-pairs trading, such as ETH/BTC, which means the price of ETH is indicated by BTC. Users can set up market price trading and limit price trading online.
How to Buy Cryptocurrency
Understanding cryptocurrency and its trading methods is only the first step. Next is to choose a safe and reliable platform, such as CoinCola. For new users, peer-to-peer OTC is the most user-friendly option as users can simply buy cryptocurrency with fiat currency, i.e. USD and Euro. Here is an overview on how to exchange cryptocurrency through the CoinCola platform:
How to Buy Bitcoin from CoinCola OTC
Step 1 – Create Your CoinCola Account
1- Create an account on CoinCola.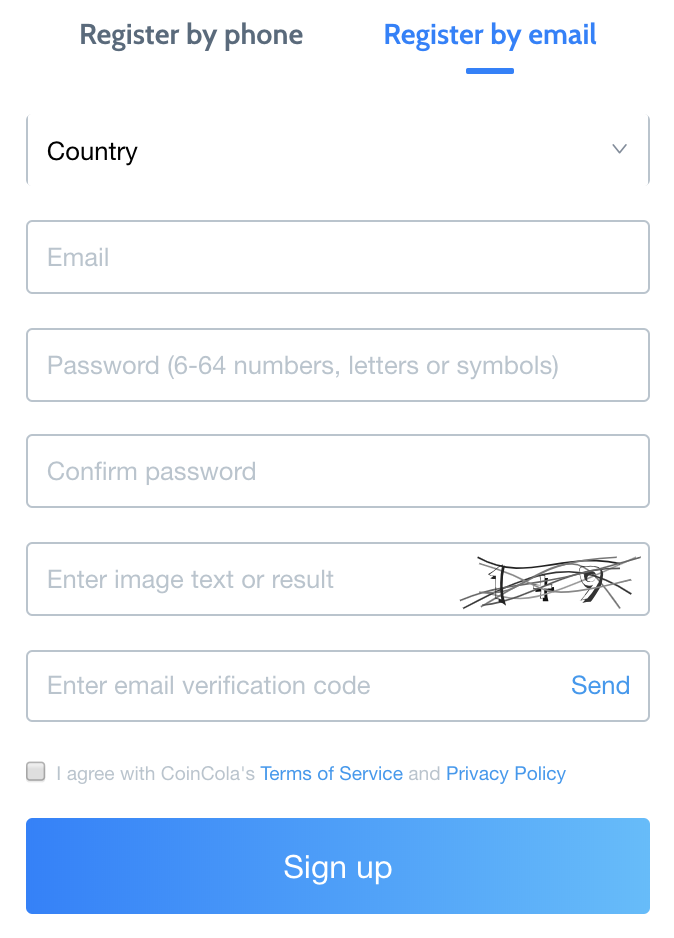 2- Complete your identity authentication (KYC) to ensure user safety.
Step 2 – Navigate to "OTC" Platform
1- Go to https://www.coincola.com and find "OTC" in the header.
2- Choose a seller based on payment method, trader profile, limits and price.
3- Once you decided, click "Buy BTC".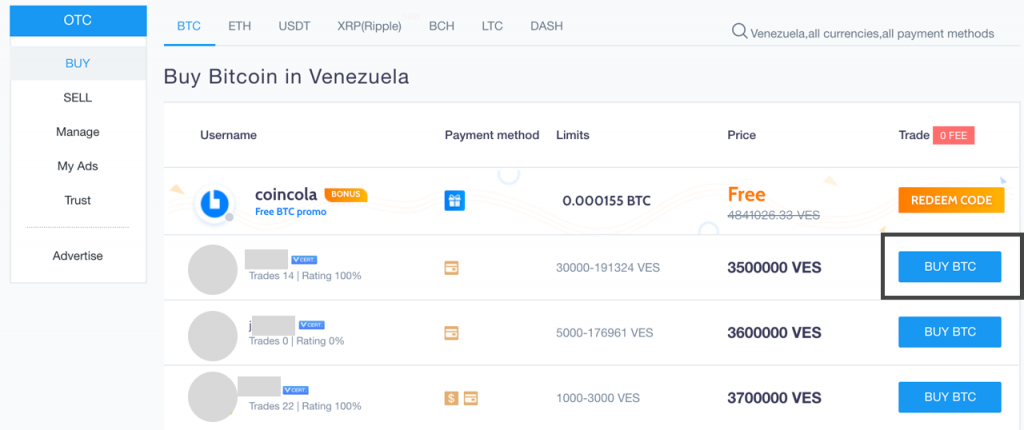 4- Enter the amount you want to purchase and click to proceed to payment.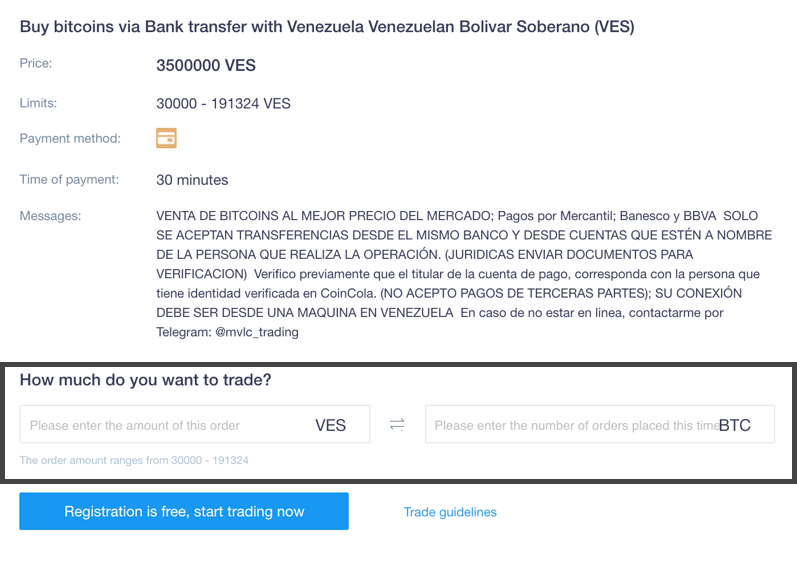 5- At this moment, the amount fo cryptocurrency from the seller profile will be held at our trade escrow, until the transaction is successfully completed.
Step 3 – Complete transactions
1- In the live chat, obtain payment details from the seller.
2- After you completed the payment, click "mark as paid."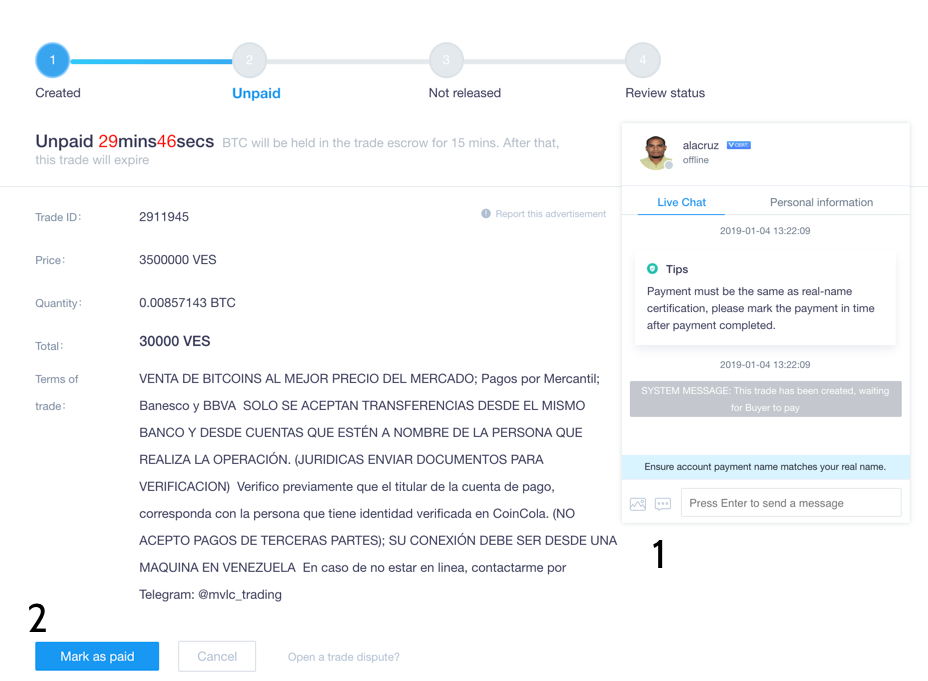 3- The seller will confirm whether payment is received. Upon confirmation, the seller will signal the trade escrow to release the cryptocurrency (BTC) to your wallet.
4- All cryptocurrency transactions are required to be confirmed by the responding network. Note that during times of especially high traffic, your transaction may take longer than normal to be processed. Normally, a transaction will be confirmed within 10 minutes.
There are several key points to remember when trading through a peer-to-peer OTC platform:
it is important to communicate with the counter party (seller) through platform chats, making sure all your chat history is saved.
On CoinCola platform, once a new transaction is initiated, you will have 15-30 minutes to confirm whether payment has been received.
If there is any problem during trading, use the official 24/7 live support to open a dispute.
We recommend that you start with trading a small amount first and familiarize yourself to the process of trading.
See more:
CoinCola OTC Trading User Guide (App)
CoinCola OTC Trading User Guide (Website)


About CoinCola
Founded in 2016, CoinCola is a Hong Kong based company offering both over-the-counter (OTC) cryptocurrency trading and crypto-to-crypto pair trading exchange. CoinCola now serves millions of users from over 150 countries with our fast, secure, and reliable trading services. We support BTC, ETH, BCH, LTC, USDT, DASH, and XRP. Visit www.coincola.com for more information.