XRP's Price Rally: Leaving BNB Behind in the Race for Crypto Supremacy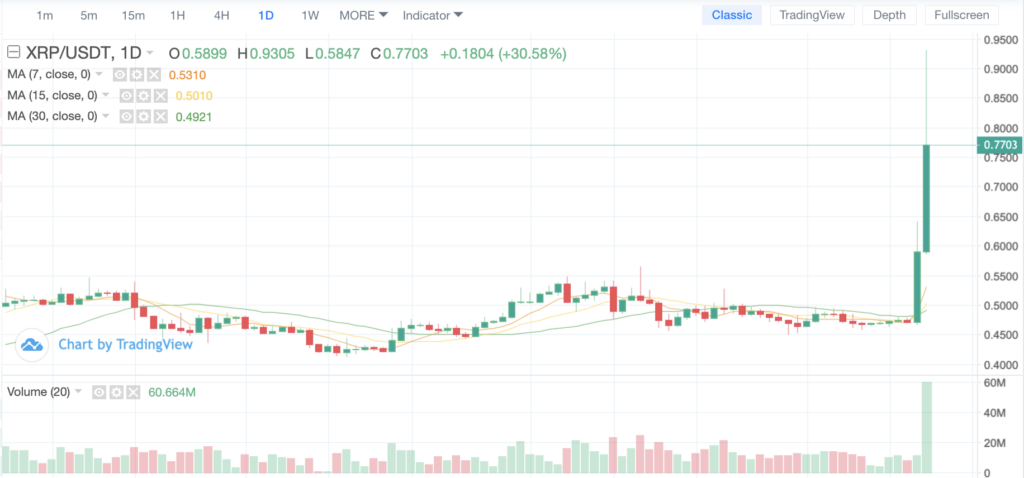 XRP's Market Cap Soars by 60% in 24 Hours
In the last 24 hours, the market capitalization of XRP experienced an impressive surge of over 60%, reaching $41.44 billion. XRP, a cryptocurrency with a focus on payments, has now surpassed the BNB token, securing its position as the world's fourth-largest digital asset based on market capitalization.
According to the latest data from CoinMarketCap, XRP currently boasts a market cap of $40.52 billion, reflecting a remarkable 63% surge in the past 24 hours alone. In contrast, BNB's market value saw a moderate increase of 5.42%, reaching $40.19 billion. The price of XRP also exhibited significant growth, skyrocketing from 47 cents to nearly 77 cents.
You may like How to Profit from Bitcoin Price Fluctuations in 2023
Ripple's Legal Victory and its Impact on XRP's Price
The surge in XRP's value can be attributed to Ripple Lab's recent partial victory in a protracted legal battle against the U.S. Securities and Exchange Commission (SEC) concerning the sale of XRP. The District Court for the Southern District of New York ruled that Ripple's offering and sale of XRP on digital asset exchanges did not qualify as the sale of investment contracts, as alleged by the SEC.
However, the court did find that Ripple's direct sale of XRP, amounting to over $700 million, to institutions, hedge funds, and other parties violated securities laws. The SEC had filed a lawsuit against Ripple in late 2020, accusing the company of selling unregistered securities after they sold $1.3 billion worth of XRP. Consequently, several exchanges delisted XRP, keeping the cryptocurrency under pressure while the broader market thrived.
The first part of the court's ruling has opened doors for centralized exchanges to consider relisting XRP. Crypto.com has already taken this step, while Gemini is exploring the possibility of listing XRP for both spot and derivatives trading.
Conversely, the second part of the ruling has affirmed XRP's classification as a security, according to Townsend Lansing, Head of Product at CoinShares. Lansing noted that Ripple's violation of securities laws, particularly in relation to direct sales to institutional investors, solidifies XRP's status as a security. This outcome raises questions about the legality of XRP's offering. Lansing added that institutional investors who purchased directly from Ripple may face potential class-action litigation as underwriters, especially if prominent venture capitalists were involved.
Despite the court's ruling, traders have yet to fully consider its implications, evident from the surge in price and the prevailing bullish sentiment in the perpetual futures market.
Surge in Funding Rates: Bullish Sentiment in Perpetual Futures Market
Perpetual futures resemble standard futures contracts but lack an expiry or settlement date.
Data from Coinglass indicates that globally aggregated volume-weighted perpetual futures funding rates have reached their highest levels since at least December. Additionally, the open interest-weighted rates have reached a four-month peak.
Both indicators suggest a clear bias towards bullish positions, with leverage predominantly favoring longs.
Funding rates in the perpetual futures market are periodic payments made between bullish long position holders and bearish short position holders. A positive funding rate signifies the dominance of long positions, with longs paying shorts to maintain their open positions.
Disclaimer
Cryptocurrency trading carries inherent risks and should be approached with caution. The volatile nature of the market can lead to significant financial losses. Please be aware that any information provided in this article or related to cryptocurrency trading is for informational purposes only and should not be considered financial advice. It is recommended to conduct thorough research, seek professional guidance, and only invest what you can afford to lose. The decision to engage in cryptocurrency trading is solely at your own risk.