Weekly Updates Vol.7 (2018/12/22 – 2018/12/28)
Weekly Market Review
Market Status quo
As of 17:00 GMT on Friday (December 28th), the total market cap of cryptocurrencies reached 121.852 billion dollars, and transaction volume of cryptocurrencies reached 15.367 billion dollars. Compared with last Friday (with a total market cap of $132.771 billion and 24h trading volume of $27.03billion),the total market cap downed by 8.2% and the transaction volume downed by 43.2%.
Also,The price of mainstream cryptocurrencies dropped, which is shown in the following table.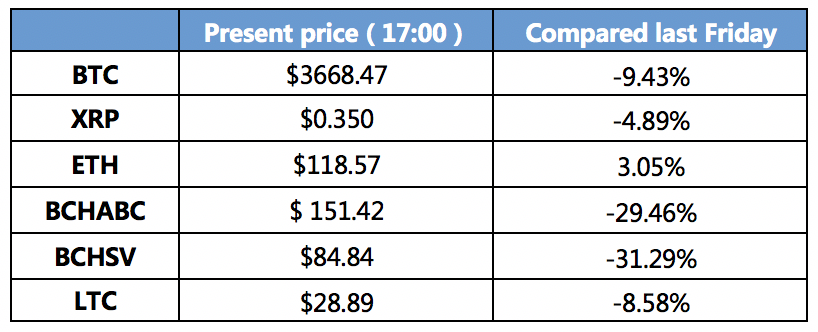 Weekly Industry News
Litecoin Founder Charlie Lee Argues He was not the reason to Blame for LTC's 90% Decline
Charlie Lee, the creator of litecoin (LTC), a cryptocurrency created to be the silver to bitcoin's gold, has recently argued only a "handful of cryptocurrencies" are going to be used as money, and implied he isn't to blame for litecoin's 90% decline. Moreover,Lee noted that he's focusing on increase LTC's use by merchants.
Exploding Cryptocurrency Use in Remittances From US
A new report by research focused cryptocurrency company Clovr, has revealed a significant upsurge in the use of cryptocurrency in remittances across the globe. The study, which surveyed the responses of 707people sought to delve into their remittance habits, uncovering among other things the destination of transfers, the purpose of the transfers as well as the mediums (including cryptocurrency) by which the money was sent.
New Cryptocurrency Aims to Reduce Energy Consumption from Christmas Lights
The innovative ICO Festivus (FEST) aims to address the waste around Christmas lights by reinventing holiday spirit. Using its Festivity Coin, holders can deterministically prove that they have more holiday cheer than their neighbours.
Instead of proof of work, FEST uses a new proof of festivity algorithm (PoF). PoF allows holders to stake cryptocurrency tokens in return for donations made directly to holiday charities, such as Toys forTots, Operation Christmas Child, and Make-A-Wish Foundation.
Mapping Cryptocurrency Prices with Google Trends
The objective of the study is to understand the relationship between cryptocurrency prices and Google trend analytics. The result showed that Google trends and crypto data prices are positively correlated.
Take XRP as an example, the coin reached a 100 trend value on week 12/31/2017. The price at that time was $2.1, 1 week after XRP's price was at $3.09.
Survey: 15% of Americans Send Cryptocurrency Overseas
According to a survey conducted by token-based platform Clovr, over 15% of Americans may have sent cryptocurrency abroad, highlighting the significance of adoption, particularly in Latin American countries.
Policy tracking
More than 90 crypto cases handled by SEC
SEC and state regulators have brought more than 90 crypto cases over the past two years, but tracing funds is hard because of the elusive nature of the currency.
India could change its legislation status on cryptocurrency
Holding cryptocurrency like Bitcoin is banned in India, but that could change, as the second interdisciplinary committee is in favour of legalising it, with harsh riders.
In fact, some of the second interdisciplinary committee members, such as RBI executive director Ganesh Kumar and Finance Ministry officials have already actively participated in G20 and FATF working group meetings. They are expected to include insights they gained from the global deliberations in their report.The panel is likely to meet next in January.