How to Convert Bitcoin to USD in Nigeria
The rise of cryptocurrency has changed the dynamics of making money in Nigeria as its popularity has soared in the nation in the last decade. Bitcoin, which is the premier cryptocurrency, has helped a lot of Nigerians to become rich with its rise in value in the past decade.
Bitcoin's value was less than one dollar when it was launched in 2008. However, the price has gone through highs and lows and currently trades at $11625.43. If you are looking to make money from Bitcoin, you would need to understand that there are several possibilities.
One way that Nigerians utilize Bitcoin is as a source of foreign exchange. The economic recession in 2015 impacted the price of the dollar. Since the country is import-based, as the price of the dollar rose, it leads to issues for importers as many banks did not issue dollars to regular customers.
One way that many were able to beat this economic issue was by converting Naira to Bitcoin and then to Dollar. This process has ensured that many Nigerians can access dollars to pay for goods and services from Nigeria.
The general way in which this process is performed is via the use of an exchange. An exchange is a platform that allows users to trade for different digital assets.
BONUS: Trading Bitcoin in Nigeria and Get Free 0.0001 Bitcoin Instantly.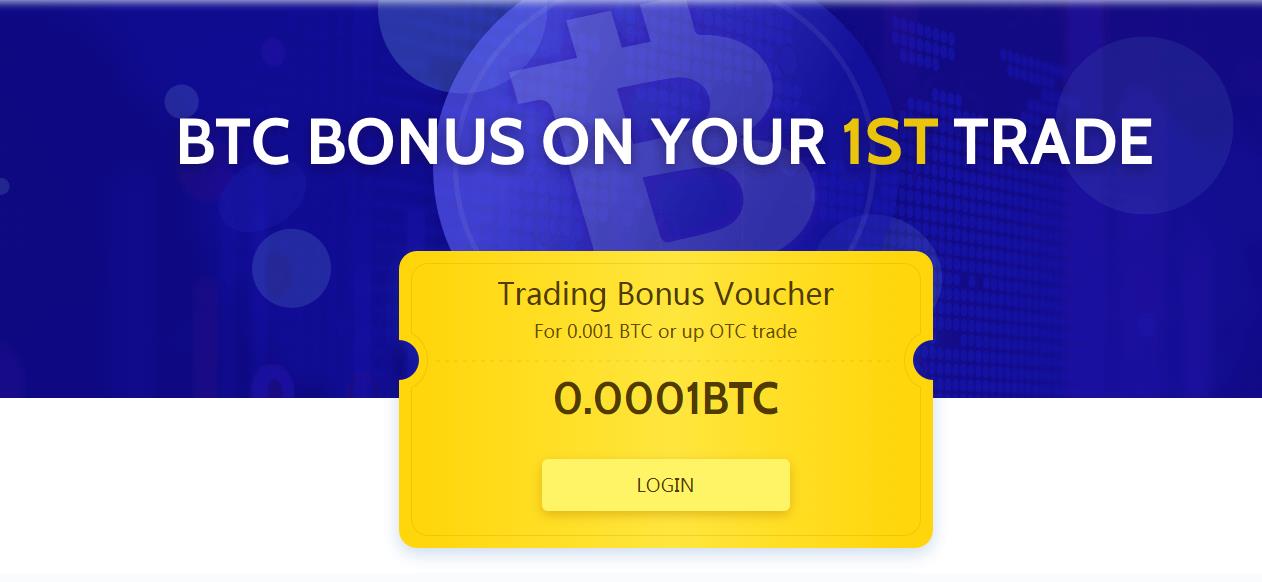 Best Exchanges To Convert Bitcoin to Dollar in Nigeria
There are several Exchanges that permits you to convert Bitcoin to USD in Nigeria. Some of the popular exchanges used by Nigerians includes Paxful, Luno, TrustCoin biz, and CoinCola. These sites have lots of sellers and buyers that are involved in active trade for Bitcoin.
However, the downside of some of the sites (Paxful and Luno) is that there are people that take advantage of porous security measures to execute scams. Therefore it is difficult at times to recommend these sites as you need to be extra careful to avoid scammers.
Why CoinCola?
The Hong Kong-based exchange has increased in popularity in recent years due to its excellent features and accessibility to the Nigerian audience.  CoinCola is a dual platform that combines a peer to peer Bitcoin trading platform in tandem with a gift card market place.
Features of CoinCola
Low Transaction fees
CoinCola trumps other exchanges with its low Transaction fees. This has partly been the reason for its recent popularity. Users can change Bitcoin to Dollar instantly with little transaction fees involved.
The platform has a policy of charging 0.7% for every successful transaction. This is far less than other rivals that charge 2-5% for transactions.
Excellent  Platform for Trading Bitcoin for Dollars
CoinCola uses a user-friendly interface that makes the platform easy for beginners to use. This means that you can easily convert your Bitcoin to Dollars within a few minutes as the process from registration to listing your offer is shortened with simplified menus on its homepage.
In-addition CoinCola gives flexibility in making cross digital assets transact. This means that you can buy Bitcoin with gift cards. This bitcoin can then be sold for Dollars, within the platform.
Secured and efficient platform
Despite its simplicity, CoinCola is secured by strong security algorithm which ensures that your information is kept safe from hackers. Also, the exchange has different identification procedures that allow only owners of a particular account to log into its platform.
Also, an escrow system helps to secure both the buyer and seller as funds are not released until proper confirmation of transactions.
How to convert Bitcoin to USD in Nigeria
In this section, we would be explaining how to convert Bitcoin to USD by given a step by step procedure for this process.
Step 1: Create a Free Account On CoinCola
The first step of converting Bitcoin to USD  on the platform is to register on CoinCola.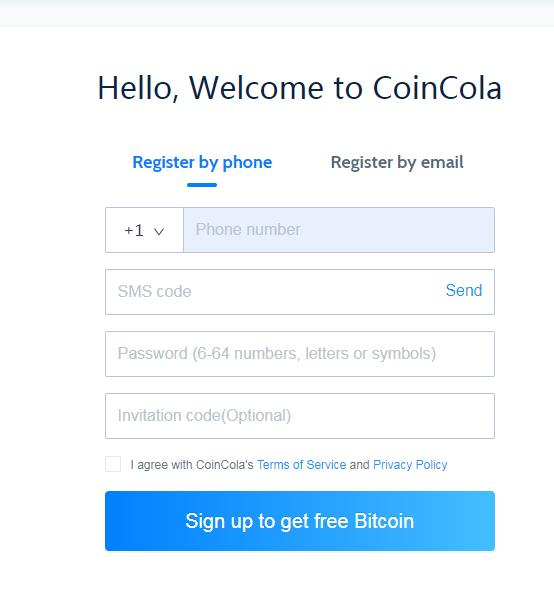 All the relevant information that you need to register on the platform can be seen in the registration page above. You can decide to register with your mobile device or via Email, but the Email option is the most popular form as you would be sent an email code that you would use to confirm your account.
Step: 2 Click On the Wallet Menu within the HomePage
Once your registration is complete, you would be redirected to the main page, which is filled with a different menu. Click on the wallet.  You would be redirected to the wallet section where you would get your account details.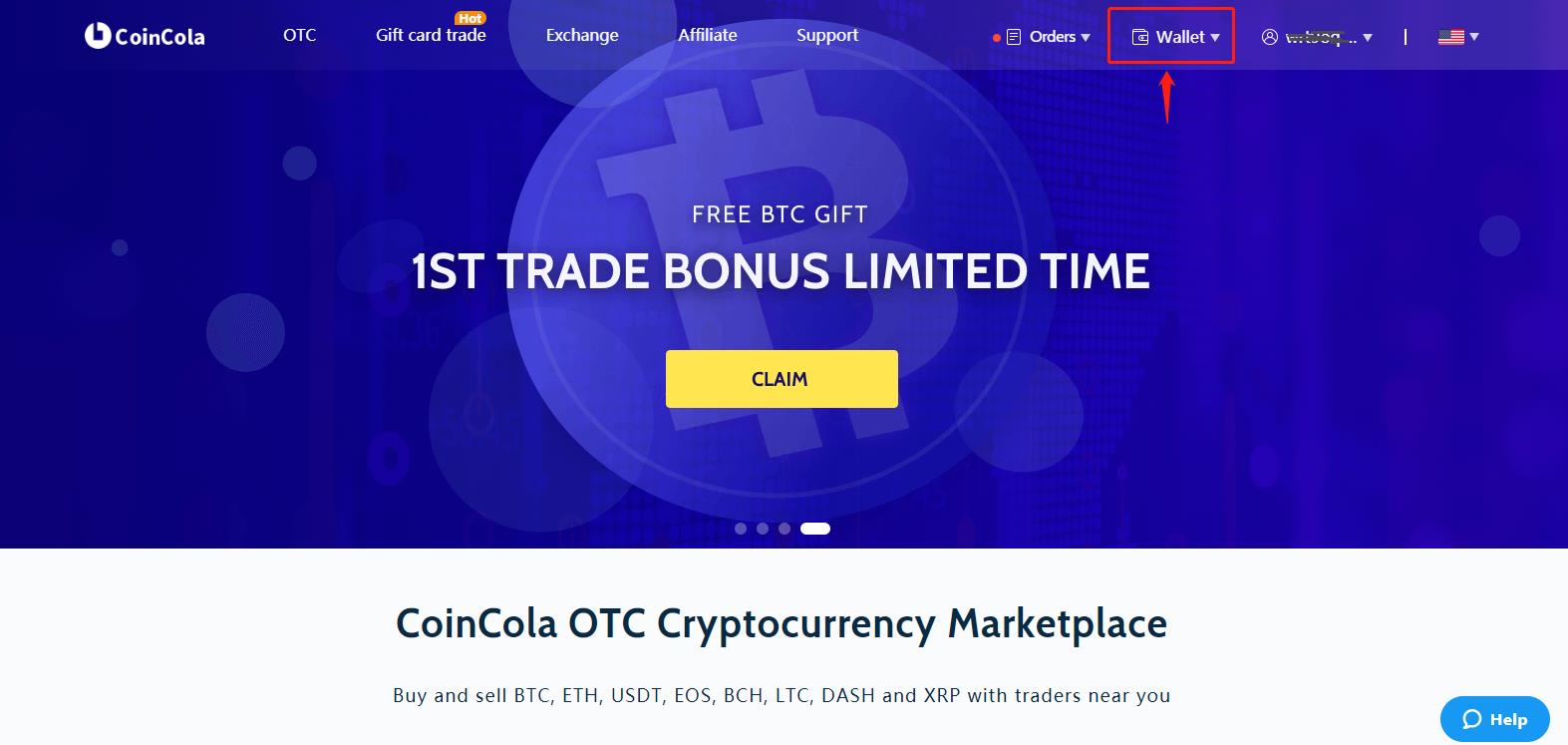 Step 3: Deposit the Bitcoin Amount for Conversion to your Inbuilt Wallet
 In the wallet section above you can deposit bitcoin from your eternal bitcoin wallets to the inbuilt CoinCola wallet.
Step 4: Click on OTC Menu
After depositing the amount of Bitcoin that you want to convert to Dollars, you head over to the homepage and click on the OTC menu.
The OTC Menu contains a lot of features such as Sell, Buy, Gift Card Trade, Create and Offer, My Orders, My Offers and Trust User.
Step 5: click on the Sell menu which would lead you to the market place where you can sell Bitcoin

The Sell Bitcoin Menu is where you can sell Bitcoin for Dollars or any currency depending on your preference. This procedure is easy and simple to follow. You can always repeat these steps when trying to trade Bitcoin for Dollars on CoinCola.