How to Buy Bitcoin in Ghana with MTN Mobile Money
If you're looking to buy Bitcoin in Ghana, using CoinCola's OTC platform and MTN mobile money can make your transactions fast, secure, and hassle-free. With CoinCola, you can bypass the complexities of traditional exchanges and get straight to buying and selling Bitcoin with other users in Ghana. And with the added convenience of MTN mobile money, you can complete transactions directly from your phone. In this article, we'll show you how to get started with CoinCola and MTN mobile money, and how to buy Bitcoin in Ghana with ease.
Introduction

Benefits of Owning Bitcoin Today
In recent years, Bitcoin has gained widespread popularity as a digital asset with the potential for significant value appreciation. As the world continues to shift towards digital transactions and increased financial inclusion, the demand for Bitcoin is only increasing.
Fortunately, buying Bitcoin in Ghana has never been easier thanks to CoinCola OTC and the convenience of MTN mobile money. By using this platform, you can quickly and securely buy or sell Bitcoin without the need for complicated technical knowledge or access to traditional financial institutions.
Furthermore, as the cryptocurrency market continues to mature and evolve, owning Bitcoin can offer several benefits beyond just potential financial gain. With its decentralized nature, Bitcoin provides a degree of autonomy and control over one's finances that is difficult to achieve with traditional currencies. Additionally, many investors view Bitcoin as a hedge against inflation and a potential safe haven asset in times of economic uncertainty.
What is CoinCola OTC?
CoinCola OTC is a peer-to-peer, Over-the-Counter trading platform that allows users to buy and sell Bitcoin directly with each other. The platform offers a range of benefits, including fast transactions, low fees, and a secure trading environment.
For retail users, no fee will be charged when using CoinCola OTC. Vendors can post an offer for free, without any charges. When a trade is completed, a small fee of only 0.70% will be applied. This fee is among the lowest in the industry, making CoinCola OTC an affordable option for buying and selling Bitcoin in Ghana.
CoinCola also prioritizes security on its OTC platform, using a range of measures to protect users' funds and personal information. These include two-factor authentication, cold storage for holding Bitcoin, and regular security audits. Additionally, CoinCola is committed to complying with relevant regulations in the countries where it operates. In Singapore, for example, CoinCola Singapore Pte. Ltd. is exempted by the Monetary Authority of Singapore (MAS) from holding a license to provide Digital Payment Token (DPT) services under the Payment Services Act.
How does it work?
On CoinCola OTC buyers and sellers can create accounts and trade cryptocurrencies directly with each other. To start a trade, a buyer selects a seller and sends a trade request. The seller then confirms the trade request, and both parties deposit their funds into CoinCola's escrow service. Once the funds are verified, the seller releases the Bitcoin to the buyer.
Why use MTN mobile money?
MTN mobile money is a mobile payment system that is widely used in Ghana. By using MTN mobile money, buyers can instantly deposit funds into their CoinCola account and start trading immediately. It is a fast, secure, and convenient payment method that does not require a bank account or credit card.
How to Set Up Your CoinCola Account
Creating an account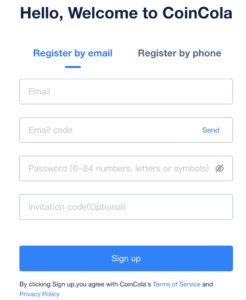 To start trading on CoinCola OTC, you first need to create an account. Go to the CoinCola website and click "Sign Up" in the top right corner. Enter your email address and password, and click "Sign Up." You will receive a confirmation email with a verification code. Enter the verification code on the website to complete your registration.
Verifying your identity
To trade on CoinCola OTC, you need to verify your identity. This is to ensure that the platform is not used for illegal activities such as money laundering. To verify your identity, go to your account settings and click "Verify." You will be asked to provide a government-issued ID, such as a passport or driver's license. Once your ID is verified, you can start trading on the platform.
Buying Bitcoin with MTN Mobile Money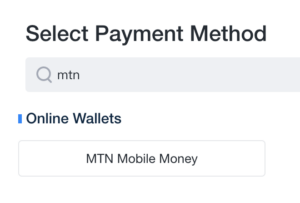 Finding a seller
To buy Bitcoin on CoinCola OTC, you need to find a seller. Go to the Buy/Sell Crypto page and select "Buy BTC". You will see a list of sellers and their prices. You can filter the list by payment method, location, and other factors to find a seller that meets your needs.
Initiating a trade
Once you have found a seller, click "Buy BTC" to start a trade. Enter the amount of Bitcoin you want to buy and select MTN mobile money as the payment method. You will see the total amount you need to pay in Ghanaian cedis, including any fees charged by CoinCola.
Completing the trade
Once you have confirmed the trade, you will receive the seller's payment details. Use your MTN mobile money account to deposit the agreed amount into the seller's account. Once the seller confirms receipt of the funds, they will release the Bitcoin to your CoinCola account. You can then withdraw the Bitcoin to your personal wallet or keep it in your CoinCola account.
Advantages of Using CoinCola OTC
CoinCola OTC offers several advantages that set it apart from other peer-to-peer Bitcoin trading platforms. Here are some of the reasons why you should consider using CoinCola OTC for your Bitcoin purchases.
Fast and convenient
Buying Bitcoin on CoinCola OTC is fast and convenient. You can buy Bitcoin instantly using MTN mobile money, without the need for a bank account or credit card. The platform also has a user-friendly interface that makes trading easy for both beginners and experienced traders.
Secure and reliable
CoinCola OTC is a secure and reliable platform for trading cryptocurrencies. The platform uses advanced security measures, including two-factor authentication and SSL encryption, to protect users' funds and personal information. The platform also has a VIP customer support team to assist users with any issues they may encounter.
Competitive rates
CoinCola OTC offers highly competitive rates for buying and selling Bitcoin. The platform is designed to provide the best possible value for users, with zero fees for retail buyers and sellers. Additionally, vendors can post offers for free without any hidden charges, and a small transaction fee of only 0.7% is applied upon completion of a trade. This means you can enjoy a better deal compared to international exchanges that typically charge higher fees. With CoinCola, you get more value for your money, making it an attractive platform for purchasing Bitcoin in Ghana with MTN mobile money.
User-Friendly Interface
CoinCola OTC has a simple and intuitive user interface that makes it easy for users to navigate and complete trades. The platform also offers a chat function that allows buyers and sellers to communicate and negotiate in real time.
VIP Customer Support
CoinCola OTC offers dedicated customer support to VIP users. VIP users receive personalized assistance from a dedicated account manager who is available to answer questions and resolve issues.
Tips for Safe Trading
Verify the seller's identity
Before starting a trade, make sure to verify the seller's identity. Check their profile and ratings to see if they have a good reputation on the platform. You can also ask them to provide additional verification documents, such as a utility bill or bank statement.
Use CoinCola's escrow service
CoinCola's escrow service is a secure way to ensure that both parties complete the trade. The funds are held in escrow until the seller confirms receipt of the payment. This protects both the buyer and the seller from fraud.
Use a strong password
To protect your account from unauthorized access, use a strong password. Use a combination of upper and lower case letters, numbers, and symbols. Do not share your password with anyone and avoid using the same password for multiple accounts.