Cashless Convenience: How to Use the MTN MoMo App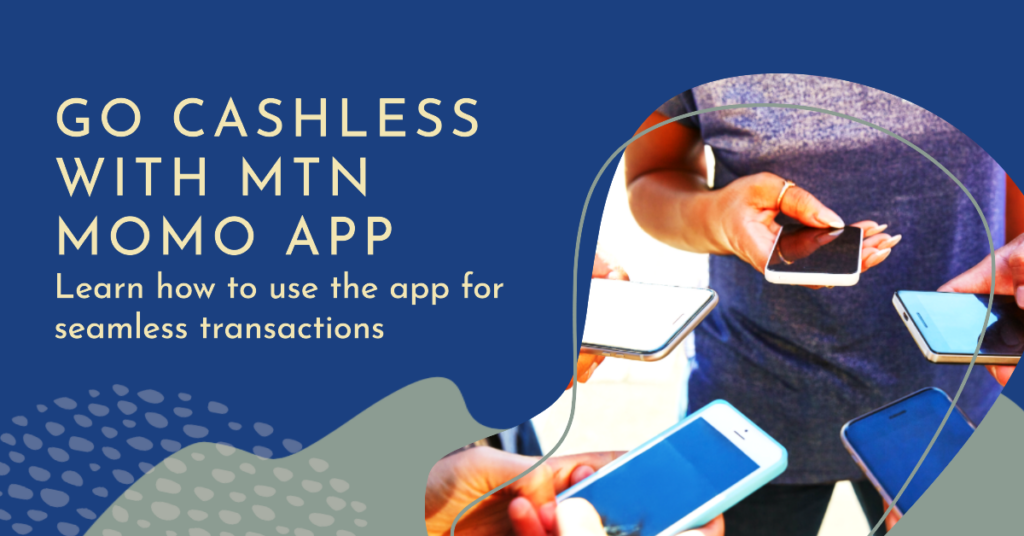 In today's fast-paced world, digital payments have become a necessity for convenience and efficiency. MTN MoMo app, offered by one of Africa's leading telecom giants, MTN Group, has emerged as a game-changer in the digital payments landscape. This comprehensive guide will walk you through the ins and outs of using the MTN MoMo app to simplify your financial transactions.
Introduction
Imagine having the power to send money, pay bills, top up airtime, and even withdraw cash, all from the palm of your hand. That's exactly what MTN MoMo (Mobile Money) app offers. This user-friendly application has gained immense popularity due to its simplicity, security, and accessibility.
The Advantages of Using MTN MoMo App
The MTN MoMo app isn't just another mobile payment platform; it's a versatile tool that offers several compelling advantages.
Seamless Transactions: MTN MoMo app offers a hassle-free way to send money, pay bills, and top up airtime, all from one platform.
User-Friendly Interface: Its intuitive design ensures that users of all tech backgrounds can easily navigate and utilize the app.
Enhanced Security: With PINs and biometric authentication, your financial data is safeguarded against unauthorized access.
Cost-Effective: Compared to traditional banking methods, MTN MoMo often incurs fewer fees, saving you money.
Convenience on the Go: Access your finances anytime, anywhere, directly from your mobile device.
Bill Payment Versatility: Pay a wide range of bills, from utilities to online subscriptions, with just a few taps.
Payment History Tracking: Keep tabs on your financial obligations with a convenient record of your payment history.
Recurring Payments: Set up recurring payments for regular bills to avoid late fees and missed due dates.
Getting Started with MTN MoMo App
Getting started with MTN MoMo is a breeze. First, you'll need to download the app from the Google Play Store or Apple App Store, depending on your device. Once installed, you'll be guided through the account setup process.
During setup, you'll create a secure PIN that will be used for authorizing transactions. Make sure it's something memorable but not easily guessed. With your account set up, you're ready to dive into the world of convenient digital payments.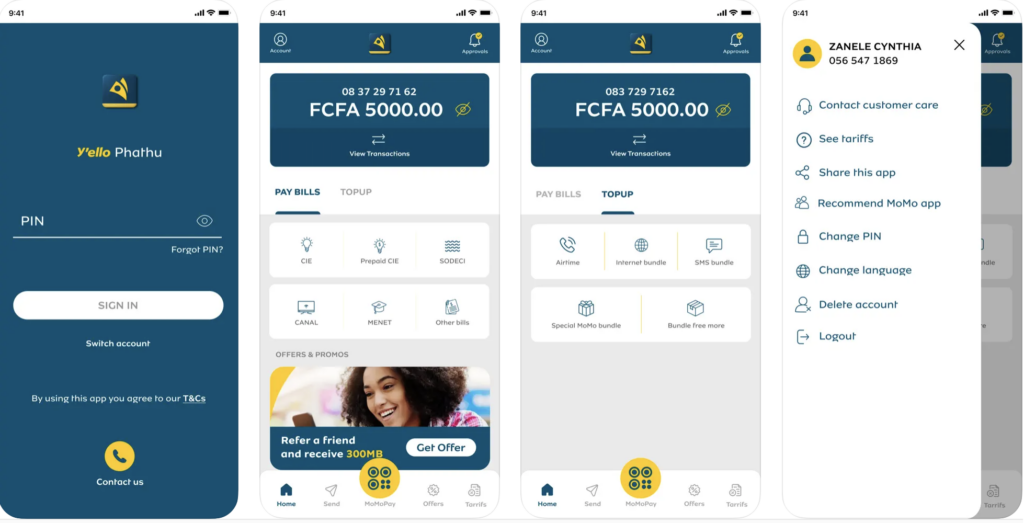 The user interface of MTN MoMo app is designed with simplicity in mind. After logging in, you'll find yourself on the home screen, which displays your account balance, recent transactions, and quick access to key features.
The main menu allows you to explore different functionalities of the app, such as sending money, paying bills, or topping up your mobile phone credit. It's all laid out logically, so you won't feel lost while navigating the app.
How to Send Money Using MTN MoMo App
Time needed: 15 minutes
Sending money to friends, family, or anyone else is one of the primary reasons people use MTN MoMo app. To do this, simply follow these steps:
Open the App

Launch the MTN MoMo app on your mobile device. It's the green icon with the "MoMo" logo.

Log In

Enter your login credentials, which typically include your phone number and PIN.

Navigate to "Send Money"

On the app's main menu, locate and tap on the "Send Money" option. It's usually represented by a money transfer icon.

Select Recipient

You can choose to send money to someone in your contacts or enter their phone number manually.

Enter the Amount

Specify the amount you want to send. Double-check to ensure it's accurate.

Confirm Details

Review the recipient's details and the amount you're sending. Make sure everything is correct.

Authorize the Transaction

To complete the transaction, you'll need to enter your secure PIN or use biometric authentication if available on your device.

Transaction Confirmation

Once authorized, you'll receive a confirmation message. The money is now on its way to the recipient.
And just like that, your money is on its way securely and swiftly.
Making Bill Payments with MTN MoMo
Paying bills with the MTN MoMo app is a breeze. You can settle your utility bills, purchase goods and services, or even pay for your online subscriptions. The app keeps a record of your payment history, making it easy to keep track of your financial obligations.
Setting up recurring payments for regular bills is also an option. Say goodbye to missed due dates and late fees with this handy feature.
Exploring Additional Features
Beyond the basics, MTN MoMo app offers a range of additional features that enhance its utility. You can top up your mobile phone with airtime or purchase data directly from the app. Cash withdrawals are also possible, making it easy to access your funds when you need them.
If you're a fan of rewards, you'll be delighted to know that MTN MoMo often offers loyalty programs and incentives for its users. It's a win-win situation – you enjoy the convenience of digital payments while reaping additional benefits.
Ensuring Security and Privacy
Security and privacy are paramount when handling financial transactions. MTN MoMo app has robust security measures in place to safeguard your information. Regularly change your PIN and never share it with anyone. Rest assured, your financial data is in good hands.
Conclusion
In conclusion, the MTN MoMo app is a powerful tool that puts control over your finances right at your fingertips. With its user-friendly interface, security features, and a wide range of functionalities, it has become an essential app for anyone looking to simplify their digital transactions.
So, why wait? Download the MTN MoMo app today, and experience the future of digital payments. It's time to unlock the convenience and efficiency you deserve. Embrace the power of MTN MoMo and take charge of your financial world.
FAQs
1. Is MTN MoMo app available for both Android and iOS devices?
Yes, you can download and use MTN MoMo app on both Android and iOS devices.
2. Are there transaction limits when using MTN MoMo app?
Yes, there are transaction limits in place for security purposes. These limits may vary depending on your account type and region. You can find detailed information within the app.
3. What security measures should I take to protect my MTN MoMo account?
It's essential to keep your PIN confidential and avoid sharing it with anyone. Additionally, make sure to log out of your account when not in use, and enable biometric authentication if your device supports it.
4. Can I withdraw cash from ATMs using MTN MoMo app?
Yes, you can withdraw cash from ATMs by generating a withdrawal code within the app. Simply visit a participating ATM and follow the on-screen instructions to access your funds.
5. Are there any rewards or loyalty programs associated with MTN MoMo app?
Yes, MTN MoMo often offers rewards and incentives to its users as part of loyalty programs. Be sure to check the app for any ongoing promotions or offers.