CoinCola Lagos Campus Ambassador Needed
CoinCola has a long term vision and goal in the global crypto space and Nigeria in particular. This goal and vision propelled the Chinese team of CoinCola to make an effort towards entering the African crypto space. After the first meet-up in Unilag, we thought it necessary to increase the presence and brand of CoinCola in Nigeria and Africa through our Volunteer Ambassador Program.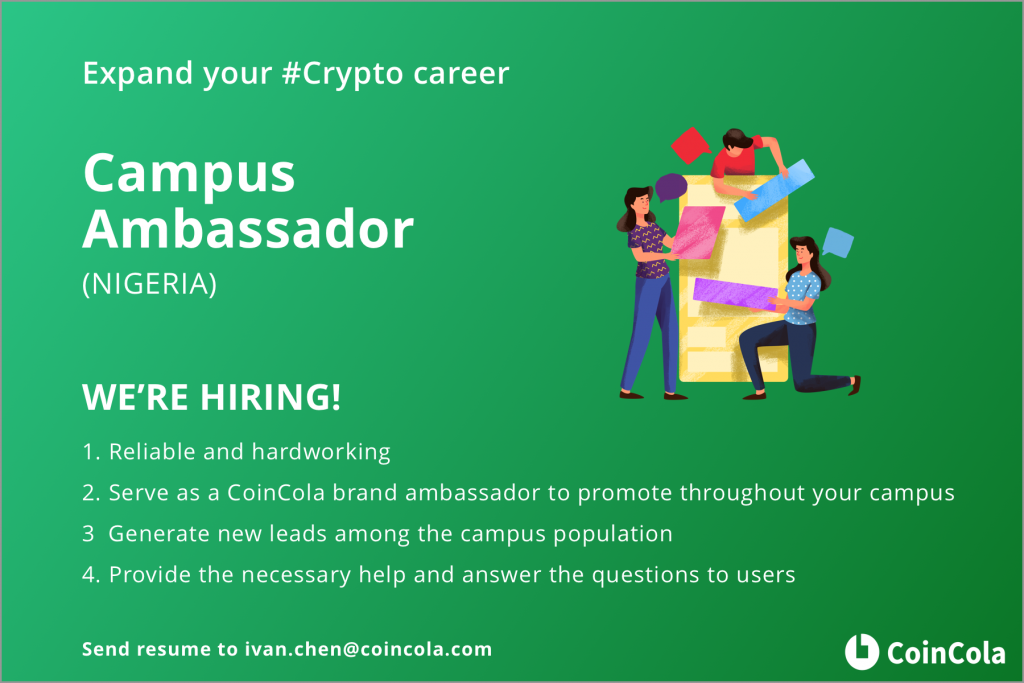 CoinCola Ambassadors are volunteers who will have the responsibility of promoting cryptocurrency education, blockchain education and helping students in their campus understand how to make money with CoinCola. CoinCola campus ambassadors will have practical sessions on how to use CoinCola OTC, EXCHANGE and MARGIN TRADING.
We're looking for influential Ambassadors in higher institutions within Lagos State that are passionate about the Cryptocurrency, passionate about the blockchain and willing to learn how to make money with CoinCola. The ambassadors will be hosting or participating in events to promote the CoinCola and cryptocurrency within Lagos campuses.
Campus Ambassadors will be provided with educational materials and the logistical needed to help organize and run successful events in their campus. Subsequently, Ambassadors can improve their educational materials so that others can benefit from their acquired practical knowledge through this program.
Campus Ambassador Volunteer Description
Responsibilities
Serve as a CoinCola Volunteer ambassador to promote CoinCola throughout their campus community by
Promoting CoinCola in the campus and student communities and engage users to sign up. 

Organizing and hosting branding meetups in campus.

Onsite advertising like hanging posters, distributing flyers or table tents, distributing postcards inside campus and target user areas. 

Providing content – articles, stories, poems, photographs, etc. – for campus newspapers or blogs

Promote and spread CoinCola information in campus and student related social networks. 

Assist new users on using our products and understanding the promotions and campaigns. 
Generate new leads among the campus population using the following tactics:
Identify and actively introduce CoinCola to campus groups/leaders 

Increase campus penetration via on-campus tabling, email distribution and social media promotion

Promote and convince students to sign up 

Represent CoinCola in campus events.
Provide the necessary help and answer the questions to users about
General usage

Activities and campaigns
 Qualifications
– An active participant in campus clubs or student organizations
– Well-networked or outgoing member of the campus community
– Goal-oriented individual with excellent interpersonal skills
– Fair knowledge of cryptocurrency. 
– Existing crypto or gift card trader or user.
– Social network influencer.
Benefits
– Earn commission share from your referrals
– Gain experience and build your resume or e-portfolio
– High tendency of getting a job opportunity with CoinCola
How to become an Ambassador?
Submit an application

HERE

Review of social media & Biography by CoinCola Team

Video Call interview/discussion

An official announcement of Ambassador onboarding on our social media sites
Join CoinCola's Social Groups