CoinCola Crypto Tour – We Are Coming To A City Near You
The use of cryptocurrencies in Africa has greatly increased significantly with Nigeria leading the pace in bitcoin search on Google. According to research, the age range of cryptocurrency users are between the ages of 18 and 35 and these users are located in the cities and universities around Nigeria. The purpose of this tour is to bring cryptocurrency and blockchain knowledge to these people in their cities(join our ambassador program).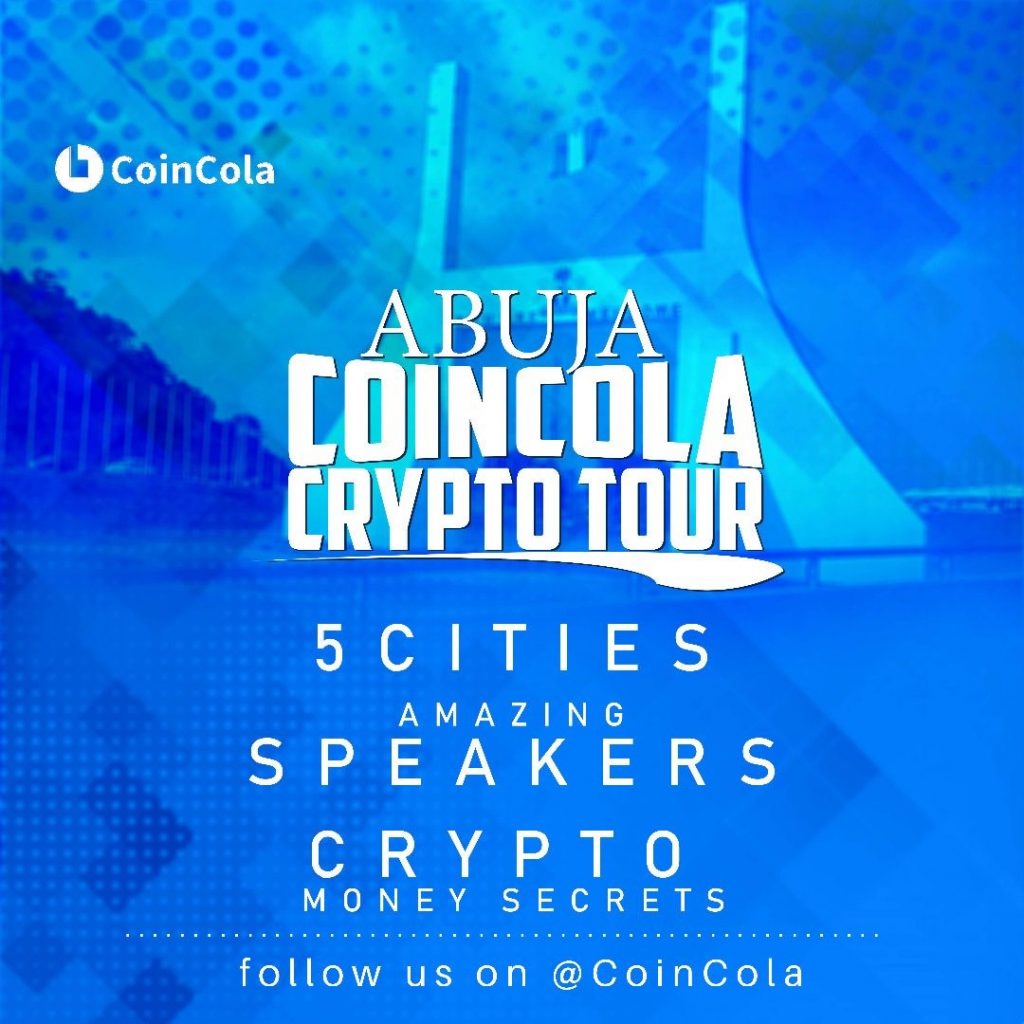 Owing to its database storage (blockchain) and geographical freedom as an internet-based ecosystem, cryptocurrency is up for more positive adoption by the young crowd who currently make up a major part of Africa's young population.
The leading global coin brands for cryptocurrencies are Bitcoin, EOS Litecoin, XRP, and Dash, but Bitcoin is the obvious market favorite. Many investors are hoping that Bitcoin will become the leading coin for transacting in the digital age. 
COINCOLA CRYPTO TOUR 2019 NIGERIA
CoinCola is dedicated to helping eradicate the mystique and misinformation that the cryptocurrency sector has been wrapped up in. This need birthed a 5- state tour initiative across 5 major cities of the country viz; Abuja, Lagos, Enugu, Port- Harcourt and Kaduna.
The tour will:
Educate the populace on how trading Cryptocurrencies works using the CoinCola Exchange and escrow.

Target a young audience who have some trading experience with gift cards, knowledge of Bitcoin and trading environment know-how.

Create value for participants and teach them how to utilize the CoinCola education platform for their crypto trading benefit.

Build partnerships with trading coaches who will become "tutoring influencers" using the CoinCola platform.
RESERVE YOUR SEAT HERE
FEATURES ON THE COINCOLA EXCHANGE
All registered users on CoinCola's trading platform utilize their local fiat currency to buy and sell  Bitcoin (BTC), Ethereum (ETH), Bitcoin Cash (BCH), Litecoin (LTC), Dash (DASH), Tether (USDT) and Ripple (XRP).
The trades carried out via the platform are done on a person-to-person (P2P) basis. Vendors are charged a 0.7% trading fee of the traded amount for all completed transactions and they can also post adverts for free.
CoinCola offers bitcoin (BTC) and Tether (USDT) as base currencies and supports crypto-to-crypto trading pairs with Ethereum (ETH), Bitcoin Cash (BCH) and Litecoin (LTC). A trading fee of 0.1% is charged for an exchanged amount.
However, there is a fixed withdrawal fee. As a result of the growing demand by users on the CoinCola platform in Africa, a feature was added which allows users trade bitcoin with gift cards. Users can now buy bitcoin in Nigeria, Guana and everywhere else in HERE. 
At CoinCola, security is of utmost priority hence there are multiple layers of security including bank-level encryption, cold storage, and SSL, ensuring that customers can trade with 100% confidence.
CoinCola provides an intuitive and easy verification process by building trust and transparency in the Blockchain ecosystem and ensuring compliance using KYC/AML regulations.
A mobile app is available to enable users to transact and trade comfortably while on the move.
You can reserve a seat here for the crypto tour. 
CoinCola Viral Video Challenge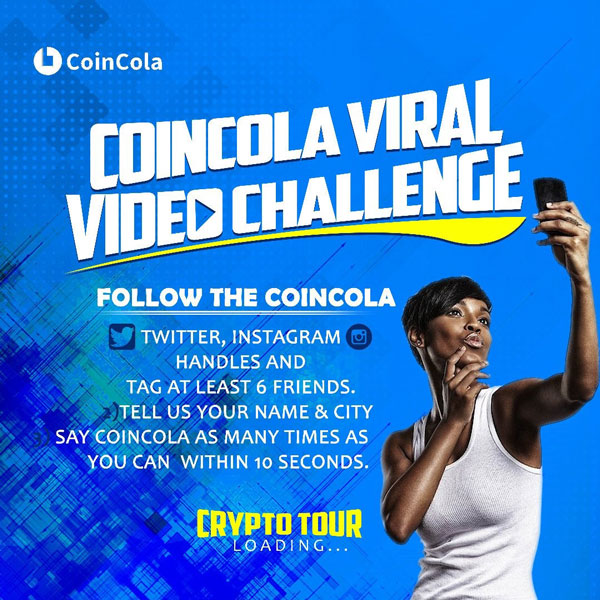 To celebrate and add fun to the upcoming crypto tour, we've decided to start a viral video challenge. The winner of Viral Video Challenge will win special prizes. Find out more here.