CoinCola Ambassador Program
CoinCola believes that cryptocurrency and blockchain is one of the leading technological revolution this 21st century that will leap the financial world into a new era of digital cryptographic payments with instant settlement. Consequently, our team is working towards raising awareness and growing the CoinCola ecosystem through community engagement and education.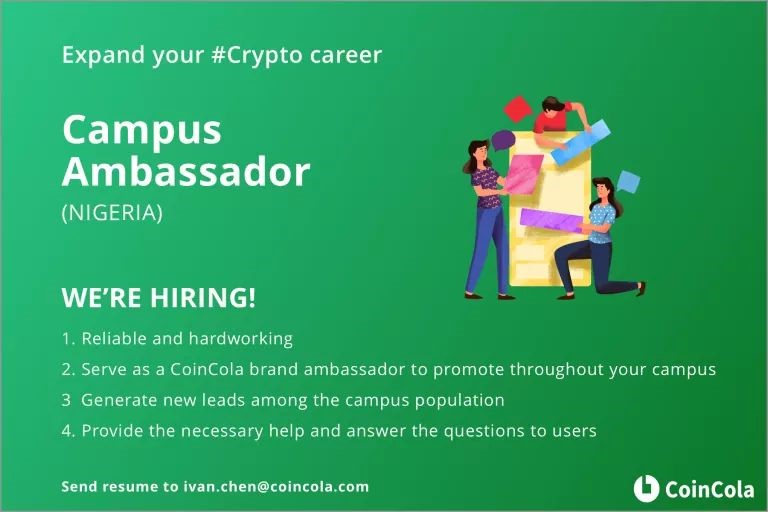 Over the course of the coming weeks and months, CoinCola will be hosting a variety of casual meetups and conferences across Nigeria and possibly across the world.  We want to disseminate cryptocurrency and blockchain knowledge far and wide and are looking to collaborate with various persons and groups to accomplish this goal through our ambassador programme. 
A CoinCola Ambassador is an individual that is passionate about cryptocurrency and blockchain and wants to play a part in the ecosystem by hosting or participating in events to promote the cryptocurrency and blockchain adoption through CoinCola's platform. Ambassadors will be provided with educational materials and the logistics needed to organize and run successful events. Subsequently, Ambassadors improve the educational material so that others can benefit from their acquired practical knowledge around cryptocurrency and blockchain. 
If you think you can bring value to CoinCola and Cryptocurrency space as a whole by hosting an event in your city we would love to hear from you – apply to become an Ambassador today!
What we are looking for?
Meetup Organizers (new or established);

YouTube content creators (new or established);

Social Communities (Facebook, Twitter, Instagram);

Bloggers / Writers; and,

Technology Developers (DApps, Apps, Protocols).
How to become an Ambassador?
Submit an application

HERE

Review of social media & Biography by CoinCola Team

Video Call interview/discussion

An official announcement of Ambassador onboarding on our social media sites
Join CoinCola's Social Groups
Facebook Group:
https://www.facebook.com/CoinCola/
Telegram Chat:
Twitter : https://twitter.com/CoinCola_Global