6 Intresting facts about Ethereum 2.0
Ethereum is one of the most well-known blockchain projects in the cryptocurrency industry with lots of successful DApps and thousands of developers around the world. Ethereum whose native token is ether has had a rough bear market together with other cryptocurrencies. The price of ethereum crashed from $1300 to $179.98 and market cap also declined greatly as a result of the overall crash in the last bear market.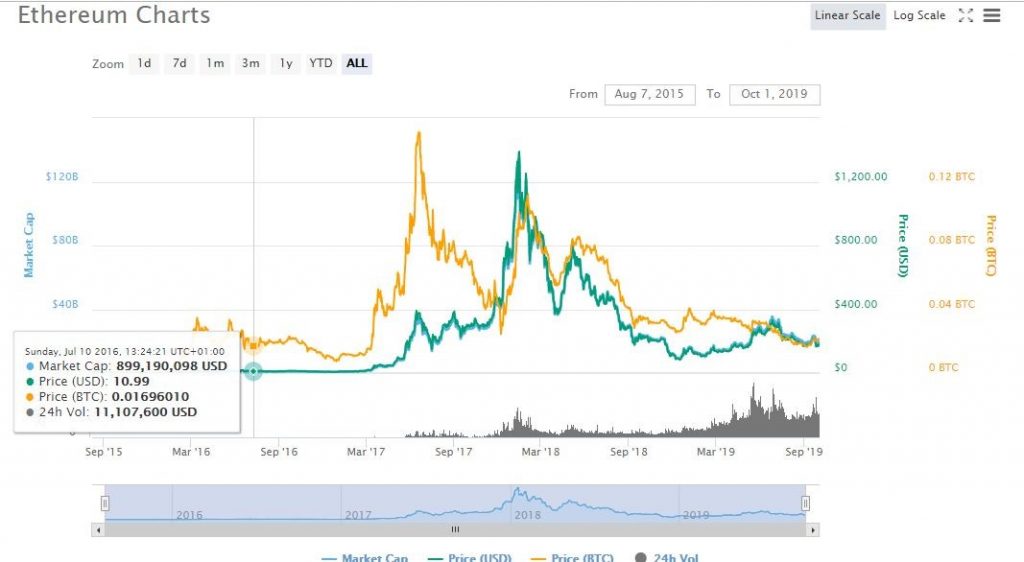 Source: coinmarketcap
One of the issues with ETHEREUM during the last bull run of 2017 was scalability. Ethereum could only handle a maximum of 15 transactions per second and that was a serious concern for dapp developers and investors in the network. However, the ETHEREUM team came up with a plan to solve it's scalability problems. Below are some of the interesting features ethereum 2.0 will have:
ETHEREUM 2.0 needs 2 million 2 ETH to come alive:

For ETHEREUM 2.0 to activate, a total of 2 million ETH grouped into 32 ETH per validator (62,500 nodes/validators) will need to be deposited into a contract. The period of deposit is expected to be in about 4-5 months.

Validators can't easily get hacked:

When a potential validator deposits 32 ether, the validator is also expected to send in the details about the exit account where funds will be paid to by the network. This provides extra security to validators when they exit the system voluntarily or are kicked out. With this system security set in place, validators will have no fear of losing funds on ETHEREUM 2.0

Validators Penalty Fee:

There is a security penalty check for validators who are unserious on the network, this check scans for Inactivity leaks when a validator node goes offline for 18 days, and the beacon chain is not finalizing as a result. Defaulters will get a reduced reward by up to 60% slash in 18 days. Also when validators behave maliciously, then they are slashed by having their balance reduced linearly when their malicious behavior is provable. 

An Average PC owner can be a validator

: running a validator on NanoPC is very possible, but you can't run a beacon node on it. With this, it will be super easy for an average ETH  holder to join the network with no supercomputer.

Faster ETHEREUM block time

: The block time in Ethereum 2.0 will vary around 6 to 15 secs which will obviously be faster than ETH 1.O and increase the number of on-chain transactions.

Queuing Mechanism:

To prevent mass exits of validators, a queuing mechanism will make sure that validators are slowed down during exit. This means validators can't leave all at once, whether kicked out or legally exited. When a mass exit is noticed, the block reward will increase to incentivize newer validators to join the network, just like in the mining difficulty adjustment in Proof of Work.
How to buy ETHEREUM
Create an account on

coincola.com 

Choose any vendor and start your trade
Note: Please make sure you follow all trade instructions while buying or selling and use the dispute button when necessary.
COINCOLA VIRAL VIDEO CHALLENGE
How fast can you say CoinCola in 10 seconds? ?Join the Viral Video Challenge and you could win N50,000 and lots of other prizes. ?Click here for game rules ? http://bit.ly/2mxRPQK
 Register for CoinCola Crypto Tour here ➡️ http://bit.ly/2lx8q6X