Voice – A social media platform by Block.one
Social media was created with a goal to help people meet online, share content, thoughts, and opinions. It provides a borderless platform through which people can interact with each other better irrespective of their physical location.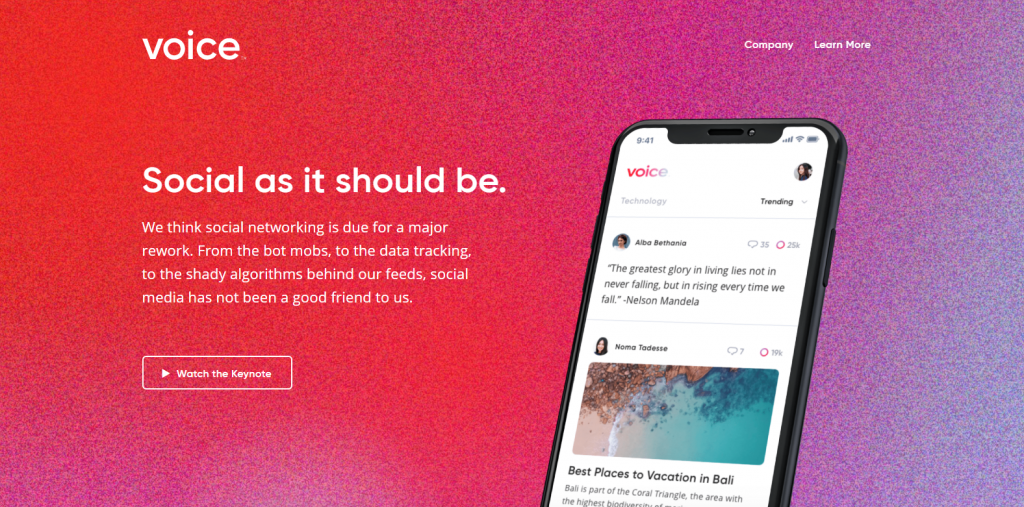 Despite its obvious benefits to society, some users like internet trolls, anonymous boards, big companies have used this as an opportunity to create fake accounts with fake identities, create content that they want us to see. Others have taken advantage of it to promote their businesses, brands and also earn money as a result of advertisements.
BONUS1: Get $5 Bitcoin Instantly After You Buy Bitcoin With A Gift Card On CoinCola.

In the Blockchain Space, individuals and companies have decided to leverage this platform effectively and create more social media platforms to enable real users to post quality content and earn as they post.
Founded and Built by Dan Larimer and Ned Scott, Steemit 1.0 was conceived with the goal to build a community of users that deliver quality content and also earn via cryptocurrency called steem. However, due to fake users who abuse social platforms, an upgrade was required to help identify real users who drop real content that will be liked by real people.
What Is Voice?
Voice is a social network built Block.one, the company behind the creation of EOS blockchain. Voice was launched on the 1st June during an event tagged #B1JUNE.
Unlike every other social platform, setting up an account is pretty easy. All that is required is to provide your name, email, and location for the beta access.
Voice is designed to prevent abuse and fake users by making sure authentication is carried out before an account can be successfully created. On voice, a million followers are not needed to have an impact. The community, the people who use this platform decide what gets to the top and which contents get voiced.
Voice token was created to reward unique users with unique content. These rewards can be used to raise your voice on the platform. Once your account has been created and verified, you can create long or short content with pictures and videos which will be visible to other users so they can comment and like the post. Compared to other platforms the authors on voice are rewarded with voice tokens for their valuable contents. As more users like your content, you earn more and your content becomes more visible.
As a user, you can use your tokens to make your post more visible, Just the same way you pay for your ads to be promoted and be more visible to a large number of the targeted audience. Or you could use earned voice token to promote content that you find valuable. You can also voice your comments. When you voice your comments, you spend your tokens to get your comment to the top and when voiced by another user, your token is refunded back to you with some extra money (about 10% back).
At CoinCola, we are thrilled by the new development EOSIO. Creating a social media platform that comes with an identity thus giving social media platform a whole new experience. We all are looking towards a future through the Blockchain, where transparency is key in all sectors with less abuse, no more fake identities and we are glad to know that EOSIO community are developing Dapps in that light.
In addition, CoinCola looks forward to opening our services to the EOS community in the future.
BONUS2: Start Your Bitcoin Trading On CoinCola Today And Get 0.0001BTC Instantly!