How To Buy XRP in Nigeria
XRP is a cryptocurrency focused on solving problems related to cross border payment. XRP was released in 2012 by XRP Labs Inc for the purpose of providing one frictionless experience to send money globally using the power of blockchain technology.
XRP is different from both Bitcoin and Ethereum because bitcoin is just a digital currency while ethereum is a platform for developing smart contracts and decentralized applications. XRP, however, is a payment infrastructure targeted towards cross border payment.
Unlike bitcoin and ethereum, XRP was already pre-mined and available globally for anyone to buy through coincola.com.

Source: coinmarketcap
Ripple has been on the radar for a long time and has experienced both bull and bear market. With a market cap of $9,358,576,984 USD and circulating supply of 43,285,660,917 XRP , the coin as seen an all-time high at the price of around $3.45  in 2018. Anyone who invested just $100 into XRP in 2017 when XRP was $0.006 would have made $47,500  from their initial investment.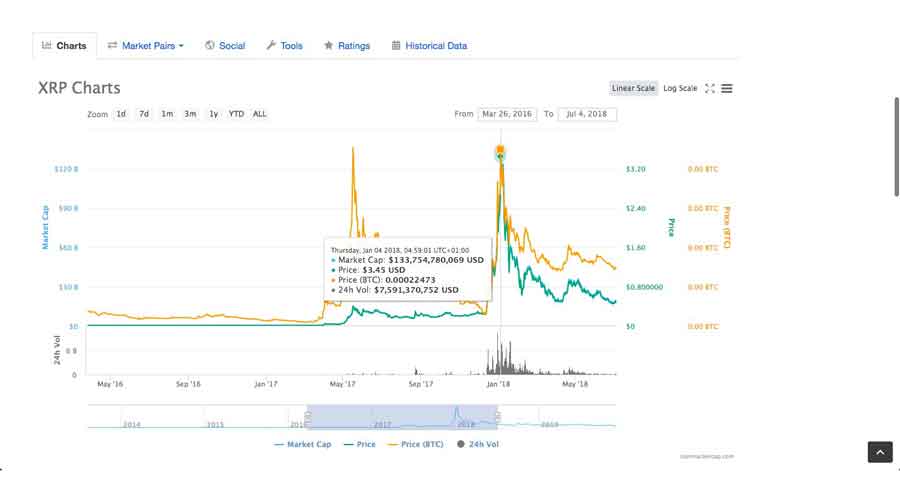 Source: coinmarketcap.com
What will the price of the XRP in the future ?
This question is one constant question that always comes to the mind of mostly new investors into crypto. everyone who is investing in crypto now hopes to make good gains in the future and this is quite understandable. 
However, in this article we can't give a future price prediction for XRP, but we have shown you the XRP history price chart and its proof positive XRP grew to as high as $3 from $0.002 in the last bull run and most crypto experts believe another bull run might be around the corner, so such moves can repeat itself as XRP is currently at $0.2.  
Learn to learn more about price prediction, join our crypto academy today.
How to buy XRP on CoinCola
Create an account on

www.coincola.com

or download the app

here

Go to

OTC

Click Buy or Sell 

Type in the amount you wish to Buy in the Buy section or Sell in the sell section
Note:please pay attention to all trades instructions. If you are buying, make sure you click "mark payment complete" as  soon as you make payment. Do this before the time runs out.