CoinCola is hiring in Nigeria!
CoinCola is currently looking to fulfill these 3 positions for the Nigerian market. If you are interested or know anyone who may be interested, please send us an email at [email protected]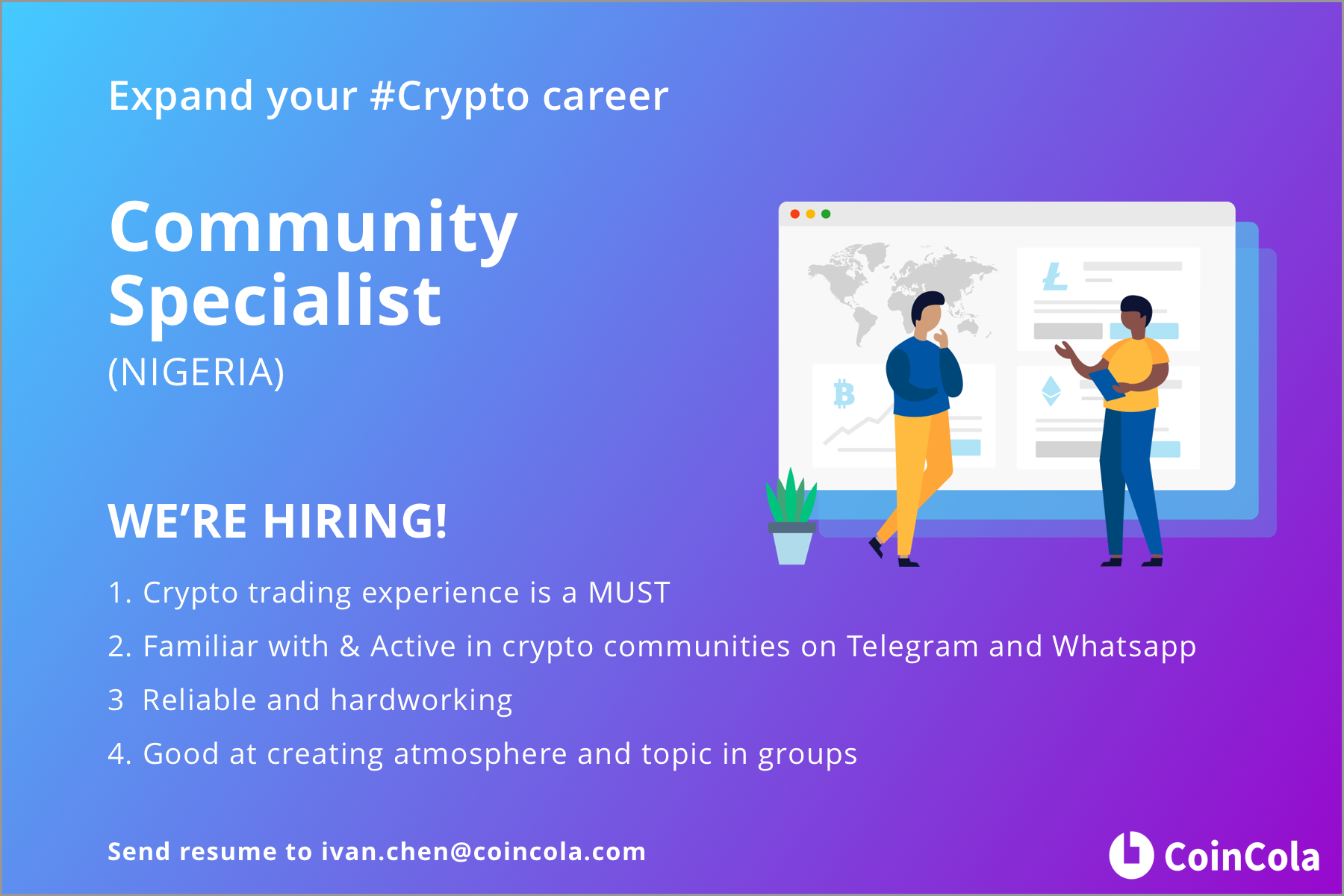 COMMUNITY SPECIALIST
Role Description
Growing our community across numerous social media groups, keeping it fruitful and organized.
Maintain relationships with our users and find opportunities to involve their opinions in marketing and product decision making
Be a strong Bitpanda ambassador to our users. Represent our values and communicate clearly about our products and updates
Collaborate with the wider marketing team to drive growth campaigns relevant to our community
Requirements
Be an excellent, savvy, social media communicator
Passionate about blockchain and fintech
2+ years of experience in community management, customer support, social media or communication field
Fluent in English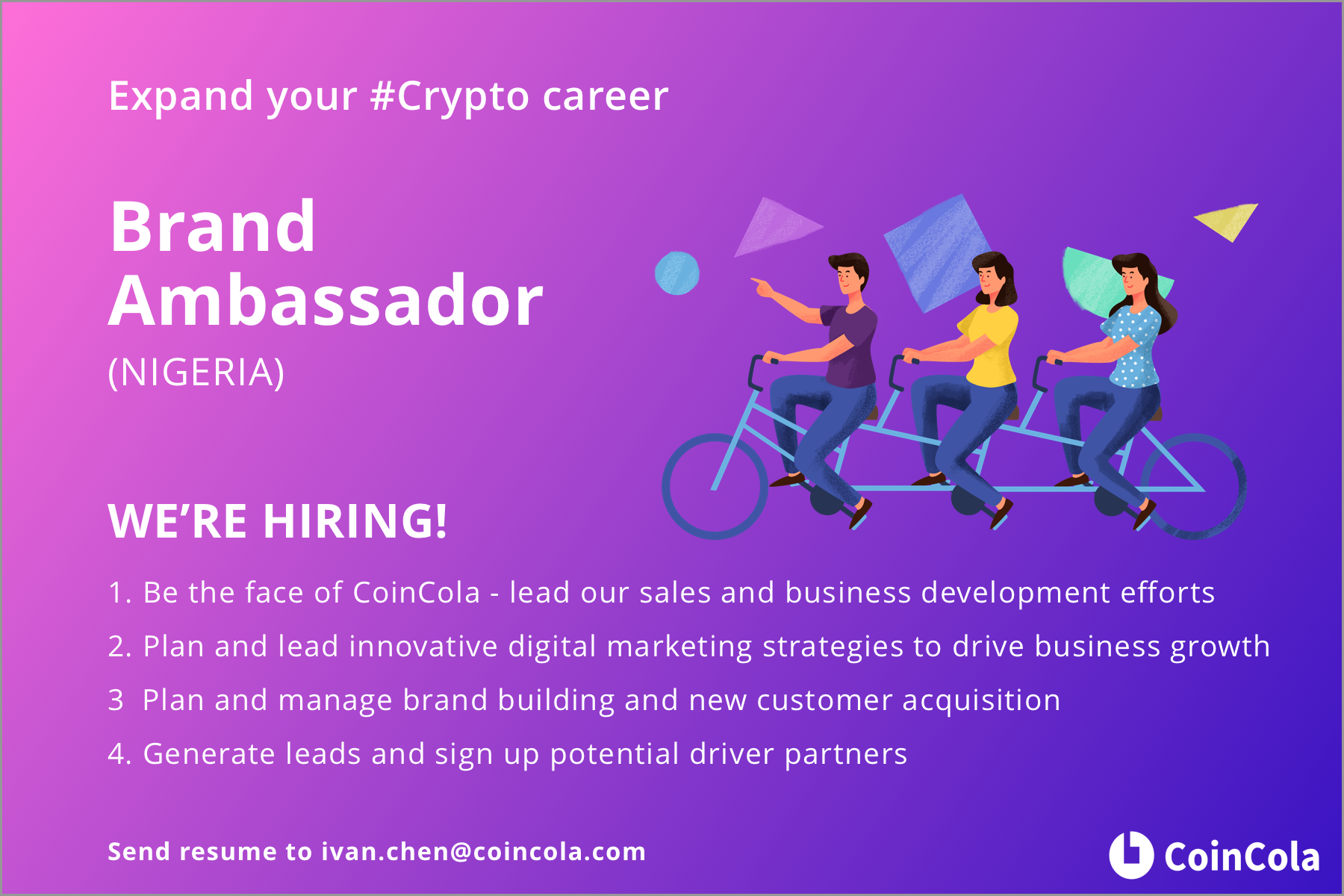 BRAND AMBASSADOR
Role Description
Be the face of CoinCola – lead our sales and business development efforts
Work closely with our sales and marketing division to achieve its marketing goals and objectives, such as communicating the value of our products to customers, tracking customer feedback, and representing the brand at launches and events.
To excel in this role, you will have excellent communication and networking skills. Previous experience as a brand ambassador or similar role is strongly desired, as well as knowledge of sales and marketing principles.
Requirements
Familiarizing yourself with the company's mission, vision, and goals.
Working closely with sales and marketing staff to conceptualize marketing campaigns and strategies.
Educating customers, retailers, and distributors about our products.
Building rapport with traders and partners.
Monitoring customer feedback and escalating complaints to the marketing department.
Tracking customer preferences, metrics, and media campaigns.
Representing the company at product launches, events, and trade shows.
Brainstorming ideas and participating in training and workshops.
Maintaining a positive image of the brand at all times.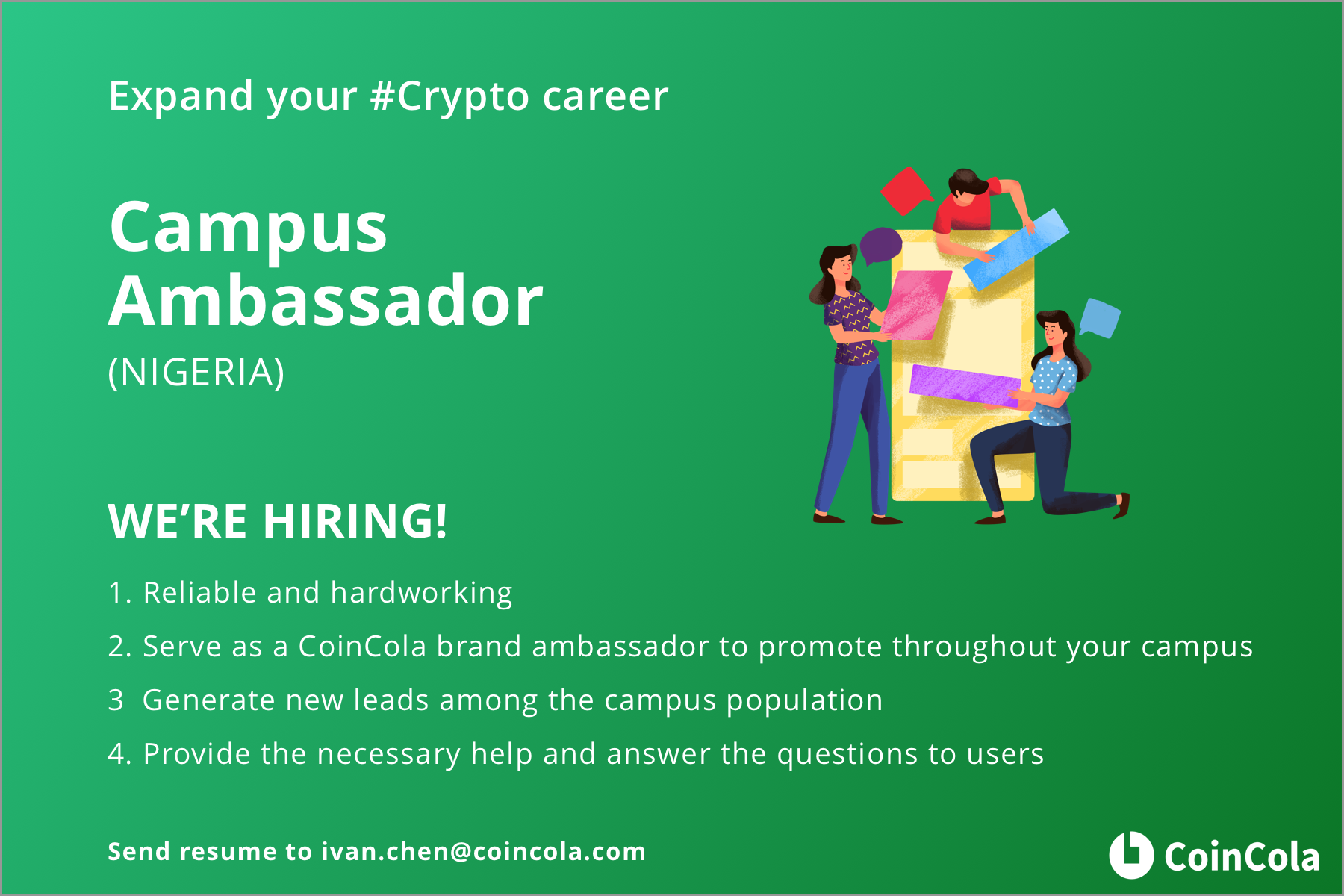 CAMPUS AMBASSADOR
Role Description
Use your existing connections and networking skills to promote CoinCola platform on campus.
Coordinate and execute events on campus. This will include social events, job fairs, campus interviews, talks and lectures, and social media activations
Serve as CoinCola liaison. You will work with the marketing team to educate students on the importance of financial growth.
Track and report all engagement activities with the marketing team through different marketing channels.
Be an active participant in brainstorming and shaping active campaigns.
Requirements
A confident self-starter with strong interpersonal, and oral communication skills
Proactive and quick learner who can work independently
Able to handle multiple tasks at once
A proven leader with a strong social network on and off campus
Currently enrolled in college