Bitcoin Price Shot past $65k as Bitcoin Futures ETF Launched
Bitcoin rose toward the all-time high of over $65,000 as the U.S.first Bitcoin futures exchange-traded fund (ETF) launched this Tuesday.
As of press time, Bitcoin is trading around $65k.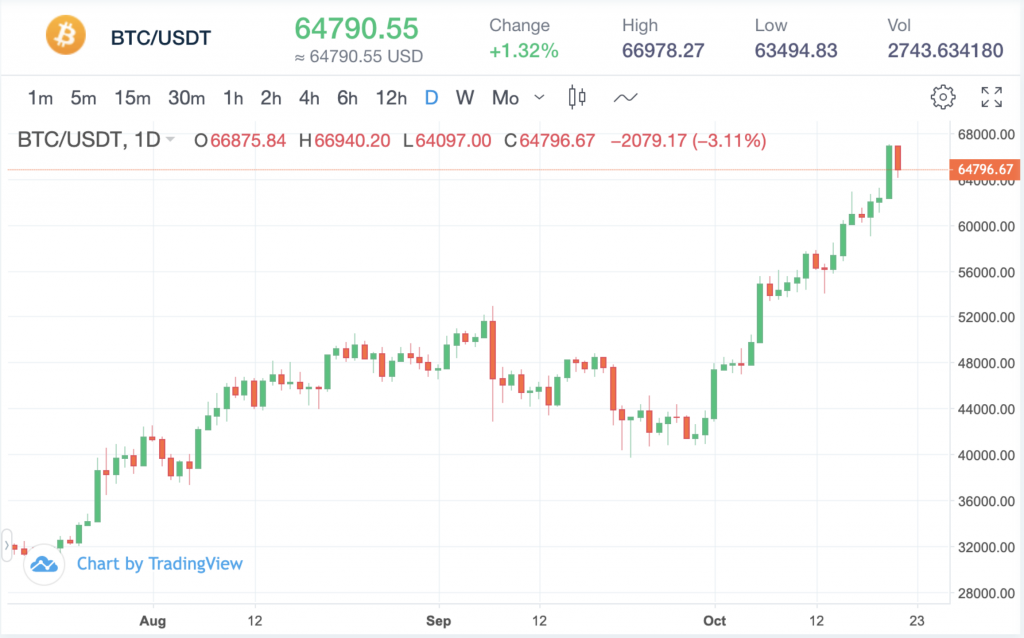 Data Source: CoinCola.com
Data from CoinCola TradingView showed bitcoin surpassed the $60 position after a six-month period of ups and downs. The price climbed rapidly during October which was up about 53% this period. Before the upward price action began, the price swang around $42,000 for about 10 days. The largest cryptocurrency started rising up on October 1.
The total cryptocurrency market performance
The total crypto market capitalization reached an all-time high of $ 2.62 trillion, which has made a 38% increase since October 1. Its previous attempt at an all-time high was in May. However, the total crypto market cap remained above $1 trillion since January this year.
Cryptocurrencies were mostly higher recently. Make Etherum for example, as the second-largest cryptocurrency by market capitalization, it is also the run-up to the all-time high price, holding price support above $4,000.
What drives the price of Bitcoin?
Most of the price rally was attributed to the U.S. Securities and Exchange Commission's (SEC) approval of the ProShares Bitcoin futures ETF last Friday, which started trading on the New York Stock Exchange this Tuesday ( October 19).
Bitcoin price tried to break through 60k while the positive indications had issued last week that the SEC was likely to approve several Bitcoin futures ETFs. Along with the announcement of the first bitcoin futures ETF, the bitcoin price rushed out the 60k and climbed to the all-time high position.
Actually, the ETF by itself won't introduce any new demand for bitcoin. However, traders might buy more bitcoin as they look to hedge against the futures price or take advantage of pricing disparities.
Bitcoin Futures ETF's (BITO) market performance
ProShare, a premier provider of ETFs, launched the first Bitcoin futures ETF called BITO in the United States on October 19, 2021. BITO's launch actually marked a milestone for ETFs.
BITO started trading at 9:30 am on October 19 with an opening price of $40. After a three-day performance, it has already climbed to $43.28 at close October 21, up about 8.2%.
The trading volume in BITO also appeared strong. On the first day, BITO's trading volume reached 24.1 million shares, worth more than $1 billion based on the closing price.
Owing to the expectation in the first Bitcoin ETC performance, inventors are confident in the future of Bitcoin, which drives the price to rise up to the all-time high.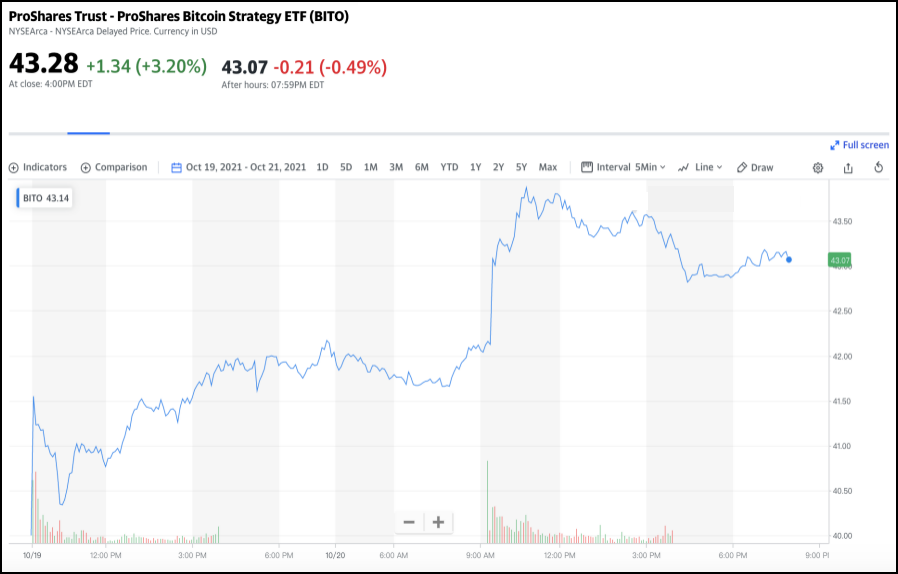 New Hope for Bitcoin ETF
A bitcoin futures ETF won the first approval from the U.S. Securities and Exchange Commission (SEC) and marked the milestone for ETFs. According to Bloomberg report, the SEC is likely to approve at least four ETFs this month.
Meanwhile, there is genuinely an immense amount of hope that the SEC would finally approve an actual physical ETF. Also, some ETF experts on Twitter say sometime in the fourth quarter of 2022 may be a reasonable expectation. Whether this hope can come true, it deserves our attention.
If you are interested in Bitcoin and want to take part in it, you can Sign Up CoinCola Account and start your investment trip.
Also, feel free to contact me when you have any questions.