CoinCola $10,000 Bitcoin Giveaway to Nigerian Fans
Hey CoinCola fans,
Do you know many Nigerians are making money by trading gift cards on CoinCola? Last month we had a meet-up in Lagos and many gift card/Bitcoin traders expressed their fondness for our escrow service and were willing to recommend CoinCola to more friends. 
To appreciate our fans' support and let more Nigerians know CoinCola, we've decided to give away $10,000 totally between August 12th and August 31th HKT. You can share the $10,000 via the following two ways:
Get 2 USD trade bonus.

1 USD reward and 20% commission if you refer your friends.
Way 1: Get 2 USD bonus by making a gift card trade if you have some gift cards.
Step 1: Go to CoinCola's Gift Card Trade market.
Step 2: Register an account with your invitation code.
Step 3: Create a Gift Card order.
Step 4: Finish your trade.
Step 5: Receive the $2 bonus.
For more details, check 5 Steps to Sell a Gift Card on CoinCola and Get $2 Bonus
Way 2: Get 1 USD reward and 20% commission by referring a friend.
Step 1: Get your invitation code or referral link (https://coincolahelp.zendesk.com/hc/en-us/articles/360033589374)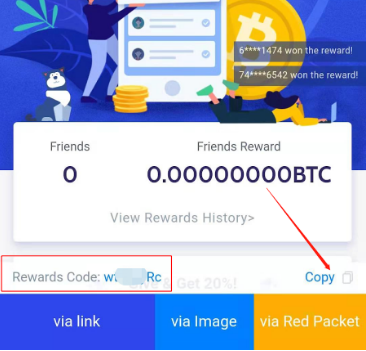 Step 2: Create  your personalized image here: https://getdp.co/coincola_giveaway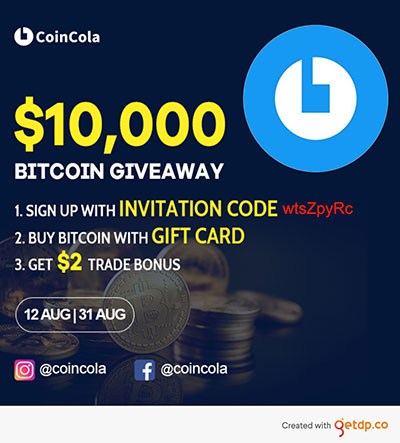 Step 3: Share the picture or link in your social media accounts
Step 4: Your friend signs up with your invitation code and buys bitcoin with a gift card.
Step 5: Wait for CoinCola to send the bonus to your and your friend's OTC wallet accounts in the next working day. 
FAQ:
How much can I earn from the Affiliate program?
See the details in here:  https://www.coincola.com/affiliate
How to trade your gift cards on CoinCola App?
https://coincolahelp.zendesk.com/hc/en-us/articles/360021925754
How can I have a valid invitation code?
Ask a friend who is already using CoinCola or use this invitation code: wtsZpyRc
How to receive the bonus:
The bonus will be released to your CoinCola wallet->OTC account within 24 hours after you finish the trade.
How to contact us:
Contact us through WhatsApp:+852 5166 2291 or online customer service if you need any support from CoinCola.
Terms & Conditions
Promotion Period: 07:00 August 12 to 07:00 August 31, 2019 (HKT). 

This promotion cannot be combined with any other promotional offer and is subject to our Terms of Service.

Any duplicate or fake accounts will not have bonus or rewards on these accounts. Duplicate or shared credentials will cause disqualification.

CoinCola reserves the right to investigate any suspicious or inappropriate activities related to any CoinCola promotions, and disable any inappropriate accounts at any given time. 

CoinCola expressly reserves the right to amend the terms under the CoinCola Refer your friends and get exclusive awards both! promotion, without notice due to changing market conditions, risk of fraud, or other reasons.
Social Media:
WhatsApp https://chat.whatsapp.com/LG9Aho9MrOQD99RzoMQS10 
Telegram https://t.me/coincolainternational 
Facebook https://www.facebook.com/CoinCola/ 
Twitter https://twitter.com/CoinCola_Global 
Instagram https://www.instagram.com/coincola/ 
YouTube https://www.youtube.com/channel/UCK-aOrnp_fth2W8ssGys3VQ