Cryptocurrency Market Analysis Report—Week in Review(Apr.19-Apr.25)
Market Review Recap
The value of crypto market fell from $2 trillion to as low as $1.7 trillion last Friday but later bounced to $1.8 trillion at the close of this weekend. As a result, the total crypto market value still declined about $200 billion last week. The drop appeared on Thursday of April 22.
Performance of Main Cryptocurrencies
According to the crypto market data of CoinCola, the major cryptocurrencies dropped hardly last week.
Crypto Market Data Weekly View
(From Apr.19 to Apr.25)

From the bitcoin price chart below, the price waved last week by most since Thursday. Bitcoin broke the $50,000 support, going back to the early March price levels, which declined by as low as $47,515. This correction brought some panic in the crypto market. And the lower price lasts for a short term. Later, bitcoin bounced off a week low and climbed over $50,000 on weekend, but was still dropped 9.42% a week.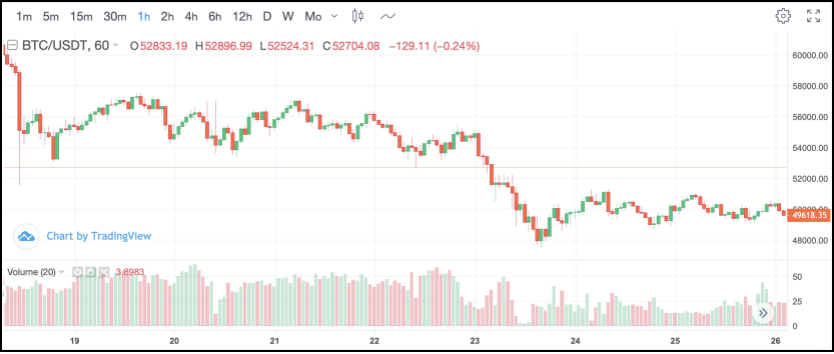 Another thing needs to be concerned. The Bitcoin dominance sunk below 50% for the first time since 2018 which happened on Thursday, April 22. But as of press time, the recovery price has increased its dominance to above 50%.
As bitcoin prices crashed below $50,000, the price of XRP also broke down to the lowest level of $0.86 last week. No long ago, owing to Ripple Labs won a discovery motion from the U.S. Securities and Exchange Commission(SEC), XRP's price was droved to the highest price in more than three years. But the failure of maintaining the highest price, its price shocked also rapidly and dropped over13.88%.
Unlike BTC and XRP, the price of ETH still sustained the level over $2,000 and rose up 9.2% last week. It climbed the highest price of $2,643 in this period. ETH was also down around $2,050 this week. However, in the term of its strength, ETH recovered very quickly.
Last but not least, as long as you keep an eye on the crypto market, you can easily join the campaign "Refer Friends to Win $100". CoinCola is giving away bonuses to new users. Join now and win the bonuses for the first trade on bitcoin.
Guide to join the campaign: https://bit.ly/3dQ1oSR