Weekly Updates Vol.3 (2018.11.19 – 2018.11.23)
Weekly Market Review
As of 17:00 GMT on Friday (November 23th), the total market cap of cryptocurrencies reaches 139.779 billion dollars, and transaction volume of cryptocurrencies reaches 15.258 billion dollars. Compared to last Friday, the total market cap downed about 24.8% and transaction volume also downed about 23.3%.The mainstream cryptocurrencies' price is volatile, which is shown in the following table. Therefore, compared to last Friday, BCH had still hit the biggest drop.
Price of Cryptocurrencies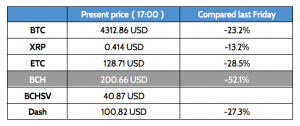 Weekly Industry News
Young Generation in America Favors Digital Assets
The Holiday 2018 report released by company Piper Jaffray reveals that the younger generation preferred cryptocurrency and V-bucks to cash, gift cards, and gas money for Christmas wish list, first time ever in the history.
Source link:https://www.ccn.com/fortnite-v-bucks-crypto-are-replacing-gift-cards-on-christmas-wish-lists/
This $3M Palazzo in Malta Can Be Bought Only for Bitcoin
The owner of a $3 million building in the heart of Valletta – the country of Malta's capital, is reportedly accepting only Bitcoin $4309.12 -0.22% for its purchase. The building is 421 years old and it's a traditional palazzo which could serve a range of different purposes, according to the owner.
Source link: https://bitcoinist.com/palazzo-malta-valletta-sale-bitcoin/
BCHABC is currently 1 block ahead Only
According to the latest data on coin dance, current block heights of ABC and SV are 557,841 and 557,840 respectively, with the gap getting closer as it continues to grow.
Source link: https://cash.coin.dance/
Policy tracking
India will Spell out Draft Cryptocurrency Regulations
Quartz reports that the Indian government is set to lay out a draft of its regulations for cryptocurrencies next month – clarifying its stance on how these digital assets can be used and traded in the country. This draft report and bill are about "virtual currencies, use of distributed ledger technology in (the) financial system and framework for digital currency in India.Source link: https://thenextweb.com/hardfork/2018/11/20/india-to-spell-out-draft-cryptocurrency-regulations-in-december/
Saudi-UAE Cryptocurrency to be almost Ready
Saudi Arabia's cryptocurrency project with the United Arab Emirates (UAE) will be almost finalized by mid-2019. This cryptocurrency backed by the Saudi central bank will be launched to enable cross-border payments in a certain number of banks.
Source link: https://www.argaam.com/en/article/articledetail/id/581844
Venezuele Issues Framework to Strengthen and Promote Petro
According to news of Prensa Latina, the Constituent National Assembly (ANC) in Venezuela is progressing on Thursday in the legal projects to strengthen and promote national and international cryptocurrency Petro. The legislative progress is focused on strengthening the Program for Recovery, Growth and Economic Prosperity promoted by the Executive.
Promotions
Calling for Russians and Portuguese
We are looking for Russian and Portuguese translators! Our rate is US$50 per 1,000 words translated, paid in USDT or BTC.
Earn $10 Trading Bonus
CoinCola launched a promotion to earn up to $10 trading bonus – valid for Latin American countries only and subject to KYC verification. The promotion will end on November 30 2018. Source of information