Crypto Weekly, April 20 – April 26: Price Movements, Industry Highlights & Stories
This week highlights:
Market cap dropped to $170 billion
24h trading volume rose by 30%
Top 10 coins experienced sharp market reversal, finding support level
Bitcoin ABC protocol upgrade is happening on May 15th
I.Price Overview
Most cryptocurrencies saw a sharp market reversal this week. The combined value of the cryptocurrency market fell by 6.1% to $170 billion as of press time. The market has attempted to test the $180 billion mark for the third consecutive week but failed to achieve so. There were several pumps stopping at the that mcap resistance.
BONUS1: Get $5 Bitcoin Instantly After You Buy Bitcoin With A Gift Card.
Daily trading volume rose from $40 billion to $50 billion amid major sell-off. 24h trading volume was at $56.7 billion, rose by 30.4% as of press time.
Chart 1: This week crypto market cap & daily trading volume
Source:coinmarketcap,CoinCola Research Center
Most major cryptocurrencies experienced significant sell-off on 24th and 25th. Though the overall market is still growing, breakthrough resistance is persistent, resulting in price reversal in most cryptocurrencies.
Other than BTC seeing a less decrease in price, ETH, BCH, & LTC have dropped by 10%. With that fluctuations in major coins, XRP is seeing a rise in daily trading volume by nearly 48%.
Chart 2:Prices of this Week Cryptocurrencies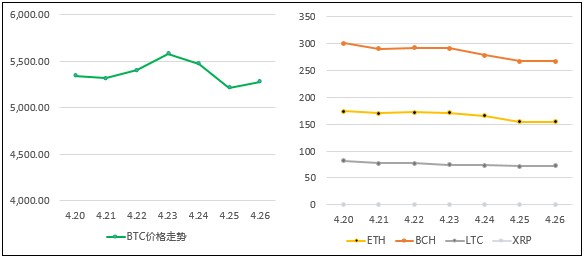 Source:coinmarketcap,CoinCola Research Center

II.Market Trends Analysis
CoinCola Research Center summarized a few major stories affecting this week's price movement:
BTC strong resistance exists, market finding new support level
Despite the upwards momentum in the overall market, most coins are still being caught in a sideways trading for over 3 weeks, with BTC trading at the strongest level of resistance existing between $5,400-$5,600. The $5,600 marker was set back in the significant sell-off happened last December. The selling pressure is constantly pushing the price down to its new support level.
Ripple selling XRP
David Schwartz – CTO of Ripple – has reportedly sold his XRP holdings. Since the beginning of this year, rumors of XRP trading volume have been circulating in the market that it has increased by 31%. Concerns that the recent sales might be signs of lack of confidence in growing supply and liquidity.
III. This Week Recap
Ethereum 2.0 will be completed on 2021
Delphi Digital Report reported the short and long term sustainability of Ethereum according to its future updates and rising market competition. The serenity update will possibly be completed by 2021 with its focus on PoS implantation and scalability improvements.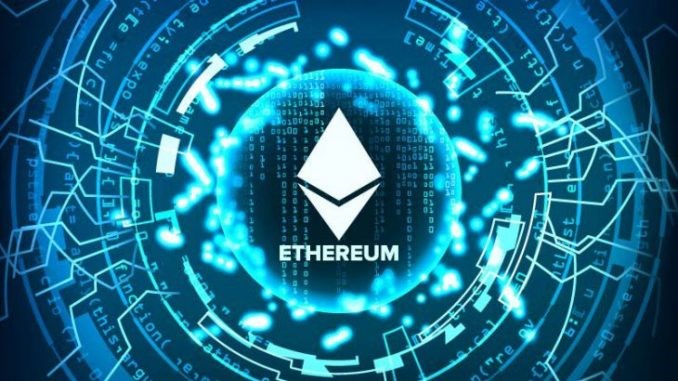 Bitcoin ABC V0.19.4 Released
Bitcoin ABC development team announced of twitter that the newest version Bitcoin ABC 0.19.4has been released, including bitcoin-clibatching, Schnoor Java bindings, and more. The protocol upgrade will take place on May 15th.
BONUS2: Get 0.0001BTC Instantly After Making A Bitcoin Trade In Nigeria
Shop with Bitcoin on Amazon Using Lightning
Bitcoin holders can now shop on Amazon and check out with Bitcoins using the lightning network. Moon, the crypto payment processing stratup, announced the lightning feature that allows shoppers to use Moon's browser extension to pay.
Japan proposed crypto regulations at G20 Summit
Japan is proposing a set of crypto regulations to the G20 leaders, drawing the legal framework of data security of trader database, universal regulatory, and information system security. The G20 Summit will take place on 28-29 June 2019 in Osaka.